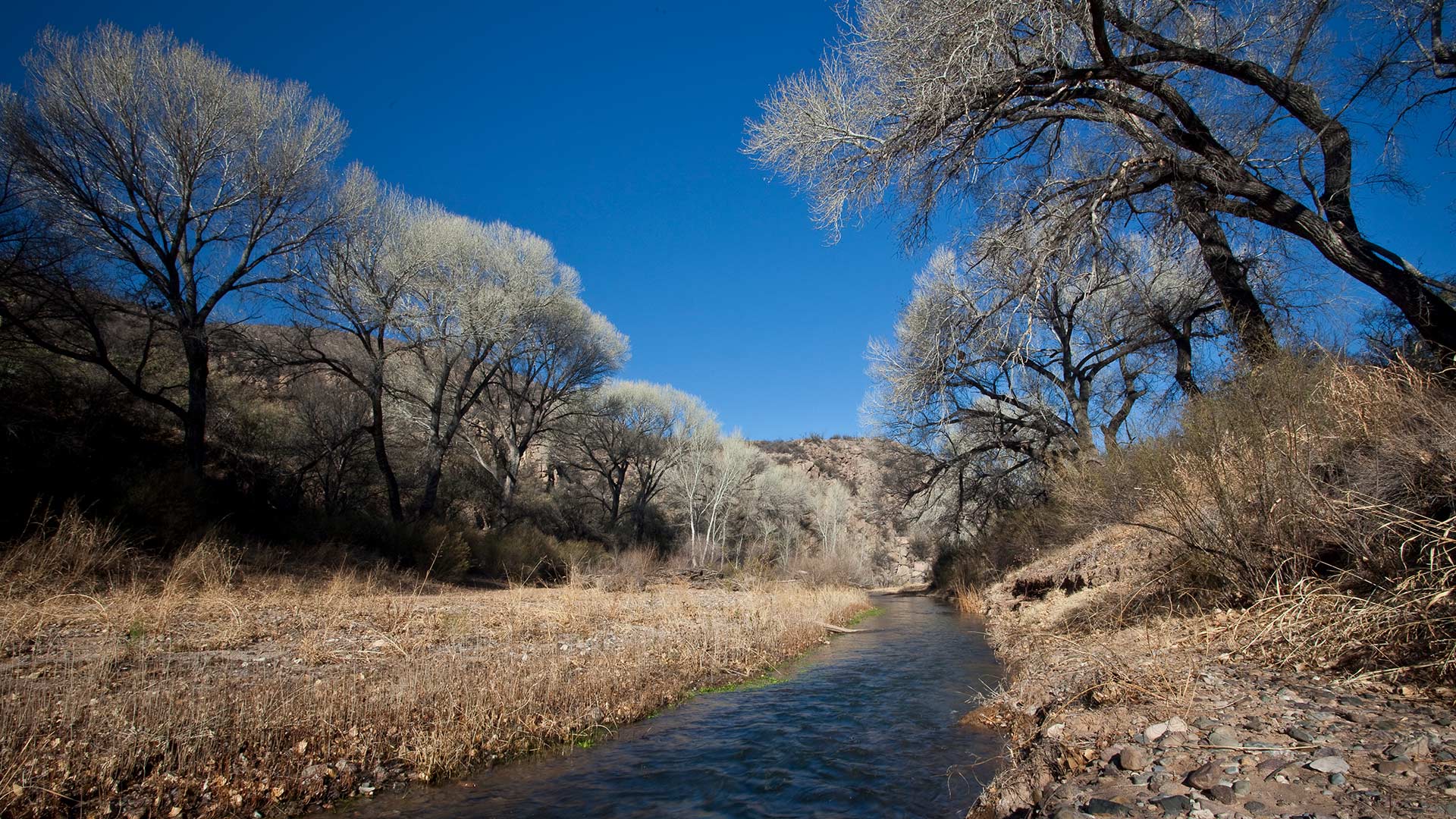 The San Pedro Riparian National Conservation Area in Cochise County, Arizona.
Bob Wick/BLM
Conservation projects in Arizona are set to receive funding through the America the Beautiful Challenge (ATBC), a collaborative program spearheaded by the National Fish and Wildlife Foundation (NFWF), Department of the Interior (DOI) and other federal agencies and private partners. The goal is to bolster land and water restoration efforts across the nation.
In its second year, the ATBC issued a call for proposals ranging across a broad spectrum of conservation and restoration of diverse landscapes, wildlife corridors and overall outdoor accessibility.
This year, there were five categories for proposals covering implementation, planning, sentinel landscapes, national forests and natural resources conservation.
Rachel Dawson, program director for the NFWF, said about 456 pre-posals were received, collectively seeking about $883 million.

"We sent out a request for about 175 applicants to send us full proposals," Dawson said.
After the review process, 74 full proposals were awarded this year including five in Arizona.
"There's all kinds of stuff that's going to be implemented in Arizona that really covers the spectrum of the kind of work that the America the Beautiful Challenge can support," Dawson said.
Awards were given to two indigenous communities in the state, including the Cocopah Indian Tribe located south of Yuma, who received $5 million to restore 431 acres of native habitat in the floodplain of the Colorado River Delta and establish a Tribal youth conservation corp.
The White Mountain Apache Tribe received $33,800 to address environmental and cultural concerns at Fort Apache and to develop a plan to re-Indigenize 300 acres of farmlands, woodlands, grasslands and rivers.
Due to a partnership between the NFWF and the Native Americans in Philanthropy (NAP), the NAP will cover match requirements for tribally-led initiatives.
The Arizona Game and Fish Department received $1 million to establish wildlife corridors in northern Arizona by improving 11 miles of fencing and developing three overpasses on two interstates with high wildlife-vehicle collisions.
The matching funds for this project are $111,100.
The City of Sierra Vista was awarded $1,050,000 to restore groundwater across 43 miles of the U.S. Bureau of Land Management's (BLM) San Pedro Riparian National Conservation Area, in addition to supporting groundwater recharge projects in the Fort Huachuca Sentinel Landscape.
Notably, this sentinel landscape grant does not require matching funds because it receives funding from the U.S. Department of Defense (DOD).
In Coconino County, the American Conservation Experience was granted $1,404,700 and matched $351,200, to develop two crews for invasive species management and watershed improvement projects on 1,000 acres along with 15 miles of riparian restoration.
American Rivers, an environmental nonprofit, received $802,900 and matched $200,700, for aquatic habitat restoration in the U.S. Forest Service lands, including Region 3.
The announced grants encompass projects in 46 states, three U.S. Territories and 21 Tribal nations, totaling over $141 million in funding.
These projects are expected to generate at least $12 million in matching contributions with an overall impact anticipated to exceed $153 million.
The grant-funding opportunity consolidates funding from federal agencies as well as matching opportunities from some grantees, operating on a reimbursable basis.
NFWF helped applicants develop nature-based solutions to address priority conservation needs that would help safeguard ecosystems and communities.
Launched by the Biden-Harris Administration in 2021, America the Beautiful is a 10-year initiative that looks to conserve 30% of U.S. lands and water by 2030.