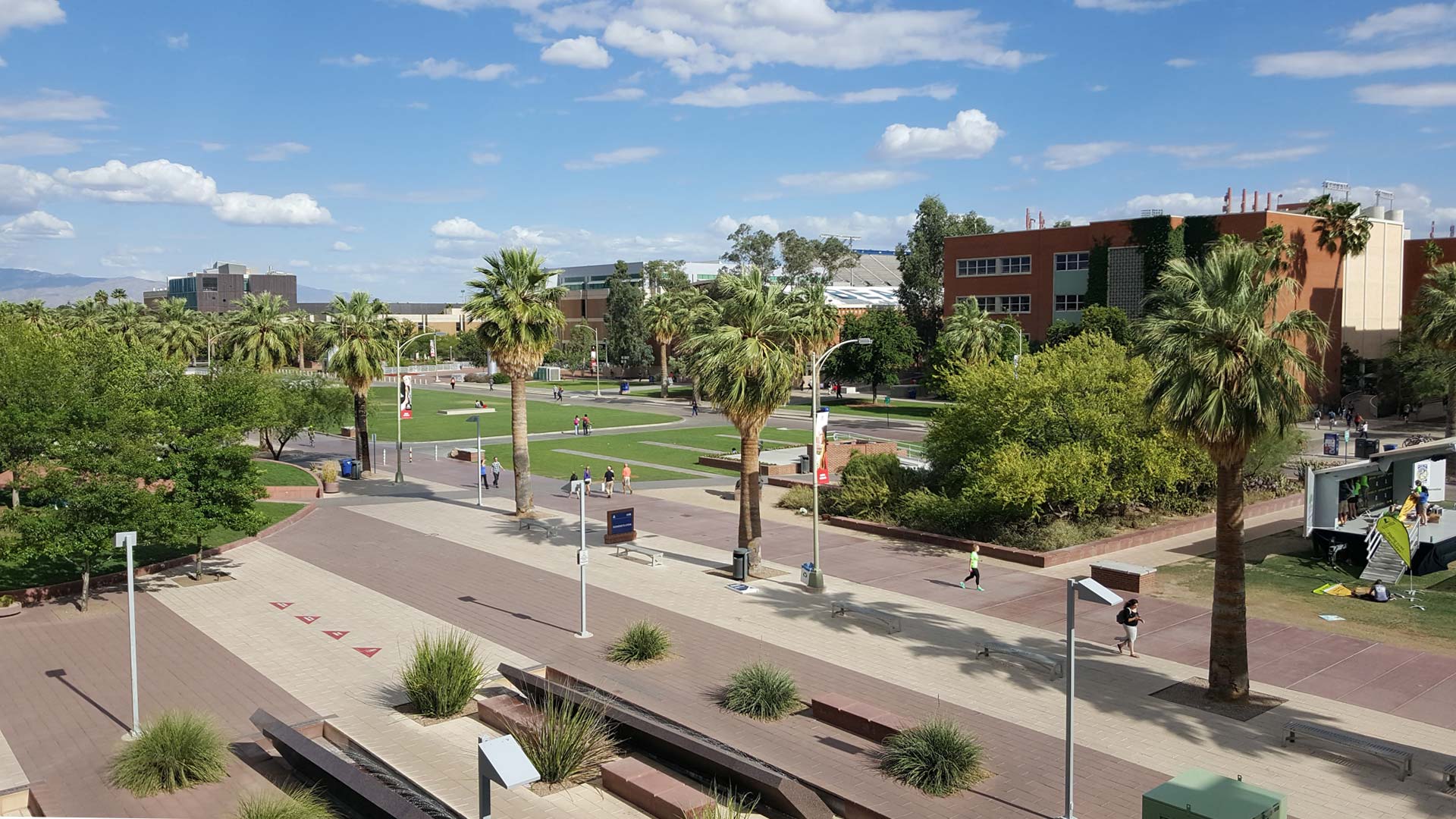 A view of the mall at the University of Arizona taken from the Student Union.
AC Swedbergh / AZPM
University of Arizona leadership is looking to simplify tuition and fees and create a streamlined structure.
Right now, undergraduate students are paying different fees each semester depending on the courses and program they are enrolled in. The new structure would instead make undergraduate student tuition and fees three components: base tuition, student engagement fees that will combine all mandatory fees and a college fee model that will eliminate course/program fees, except for the W.A. Franke Honors College.
If approved by the Arizona Board of Regents, students enrolled in the W.A. Franke Honors College should expect to see their program fee increase to $600 a term in order to provide expanded honors courses, faculty fellowships, support for research projects, extracurricular activities, and more.
Before Tuesday's public comment began, UA President Robert Robbins said the proposal is a culmination of significant planning and thoughtful reflection from leaders throughout the UA community.
"The goal for our proposal was to provide clarity and predictability for students and their families," Robbins said.
Graduate students may also see the benefits. Under the new model, they would then only have to worry about two fees: their base tuition which will combine both tuition and previously approved mandatory fees, and a program fee depending on the student's primary program.
President of the Graduate and Professional Student Council Jeremy Bernick urged the Arizona Board of Regents to approve the model.
"In short, Christmas may come early for my community this year," Bernick said. "By eliminating this barrier to accessing higher education, the Board of Regents will be changing the lives of thousands of students overnight."
Fees for the College of Nursing would change from a fixed rate of $48,000 per program for residents and $68,000 per program for non-residents to a financially equivalent program fee of $5,000 per term for both residents and non-residents.
In addition, students enrolled in the College of Medicine graduate program would pay a new fee of $750 per term and the Eller College of Management would increase the per-credit cap to $1,350 for residents and $1,600 for non-residents to keep its new Master of Science in Business Analytics competitive with high-quality instructors and career coaching.
The move comes after ABOR asked UA to create a model that is simple and consistent with fee structures from Arizona's other public universities, Arizona State University, and Northern Arizona University. ABOR will vote on the proposal on November 16.