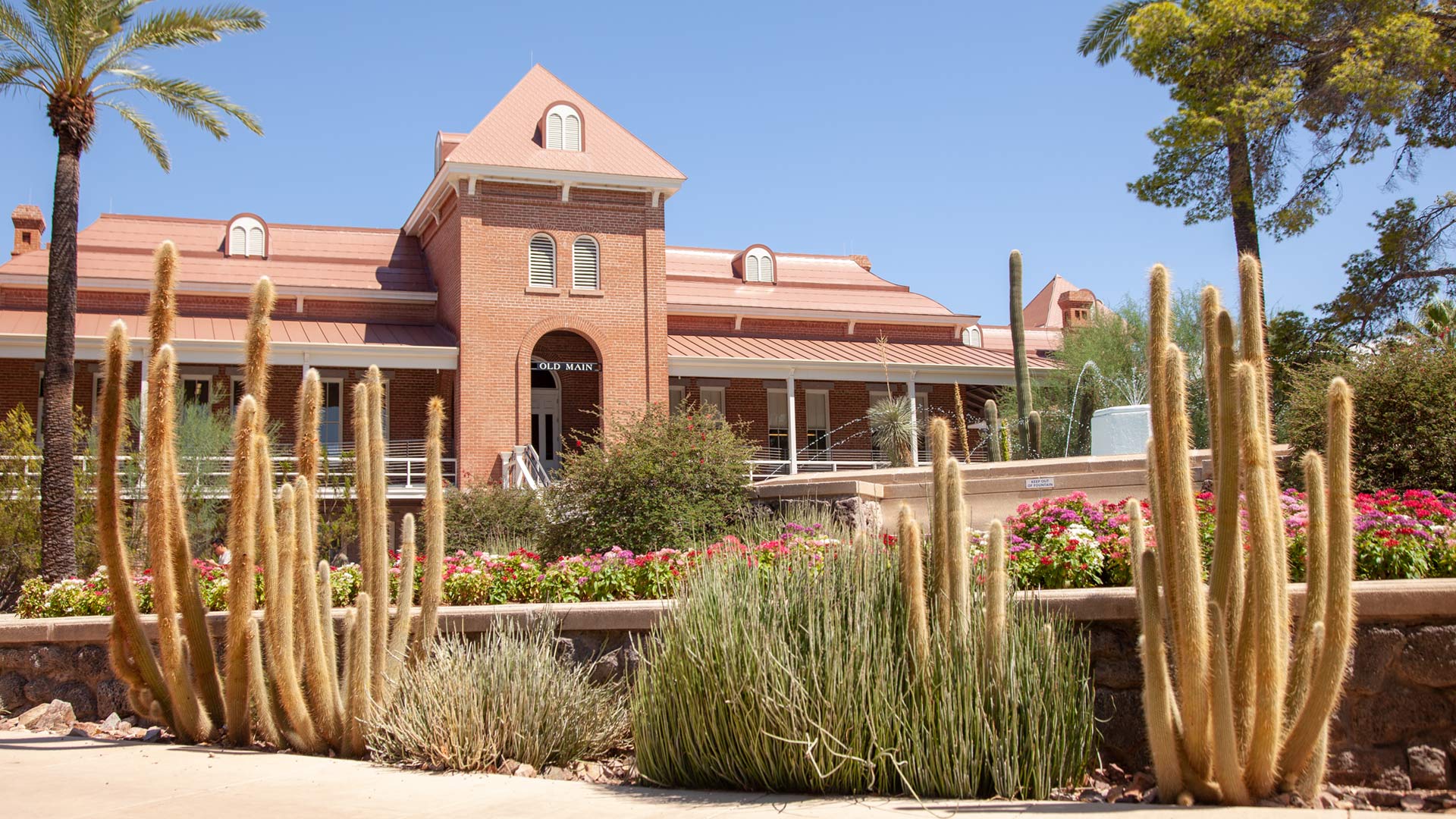 Old Main on the campus of the University of Arizona.
AC Swedbergh/AZPM
Clarification: This story was updated to reflect that the University of Arizona is projecting it will only have 97 days' worth of cash on hand at the end of its fiscal year. That is not the current amount.
The University of Arizona is entering its worst fiscal year since 2013.
Officials project they will only have 97 days' worth of cash on hand at the end of the fiscal year. The four-year decline is forcing university leadership to re-examine its budgeting and financial future.
"Our financial health is fragile," UA senior vice president and chief financial officer Lisa Rulney said during an Arizona Board of Regents meeting on Thursday, Nov. 2nd.
The Arizona Board of Regents asks its universities to be within the board's target range of 110 days cash on hand in fiscal year 2023. UA is at the lowest financial standing among Arizona's three public universities. Arizona State University is projected to sit at 172 days and Northern Arizona University at 175 days. UA forecasted 156 days of cash on hand but fell significantly short, pointing towards a faulty review model.
ABOR Chair Fred DuVal said the news is a "wake-up call."
"Please don't underclub this crisis," DuVal said. "Hit it, turn this thing around."
DuVal said tough choices will need to be made with people they care about, using postponing salary increases and re-examining retirement as examples.
"The urgency of getting control of reclaiming dollars, and getting control over more of your budget is more present than ever. This is no longer let's get to it when we can. It is let's get to it now. We will take the heat with you," DuVal said.
According to an ABOR report, the major causes associated with the decrease include inflationary cost increases on travel, supplies, and services, market pressures to raise salaries faster than underlying revenues, and the recently acquired UArizona Global Campus, an online university affiliated with UA. That acquisition, which was finalized this summer, added $265.5 million in operating costs.
Now, university leadership is looking at taking what they call "hard choices," including a 2% budget cut for fiscal year 2024. Rulney said different tactics will need to be considered for fiscal year 2025, including hiring pauses and re-examining salary increases.
"We need to focus our efforts and that will mean deciding what to do just as much as what not to do," Rulney said.

Among some financial considerations include cutting UA's guaranteed tuition, which promises students a constant tuition rate and mandatory fees for eight continuous semesters.
"That's a great differentiator for us, but if it's going to cost us money, which it does, then I think we've got to look. That's another hard decision," UA President Robert Robbins said.
Robbins also said athletics is also being re-examined, but that it is not unique to UA. He used Ohio State University as an example.
"The Ohio State University had to borrow $50 million from the university to fund athletics."
According to Robbins, fundraising for athletics has underperformed.
The Thursday meeting followed UA's public announcement of a $3 billion campaign called Fuel Wonder. Over $2 billion has been raised and will be used to fund "moonshot" type programs and scholarships.
"That money won't be used for operating budget, it will free up some of the money that we currently use from our reserves, to fund scholarships and things like that," Robbins said.
ABOR regent and secretary Robert Herbold told UA leadership that they should be in "panic mode" and creating "something that stops the hemorrhaging."
"All bleeding stops, eventually," Robbins, who was a cardiothoracic surgeon, said. "That's a basic tenet of cardiac surgery."
Some of UA's plans to address the declining cash on hand include instituting hiring freezes that will gradually reduce its employees, consolidating physical spaces, and selling property in downtown Tucson that houses several administrative units.
UA has until December 15th to submit a written, outlined plan on how to restore cash levels and ensure better financial planning.