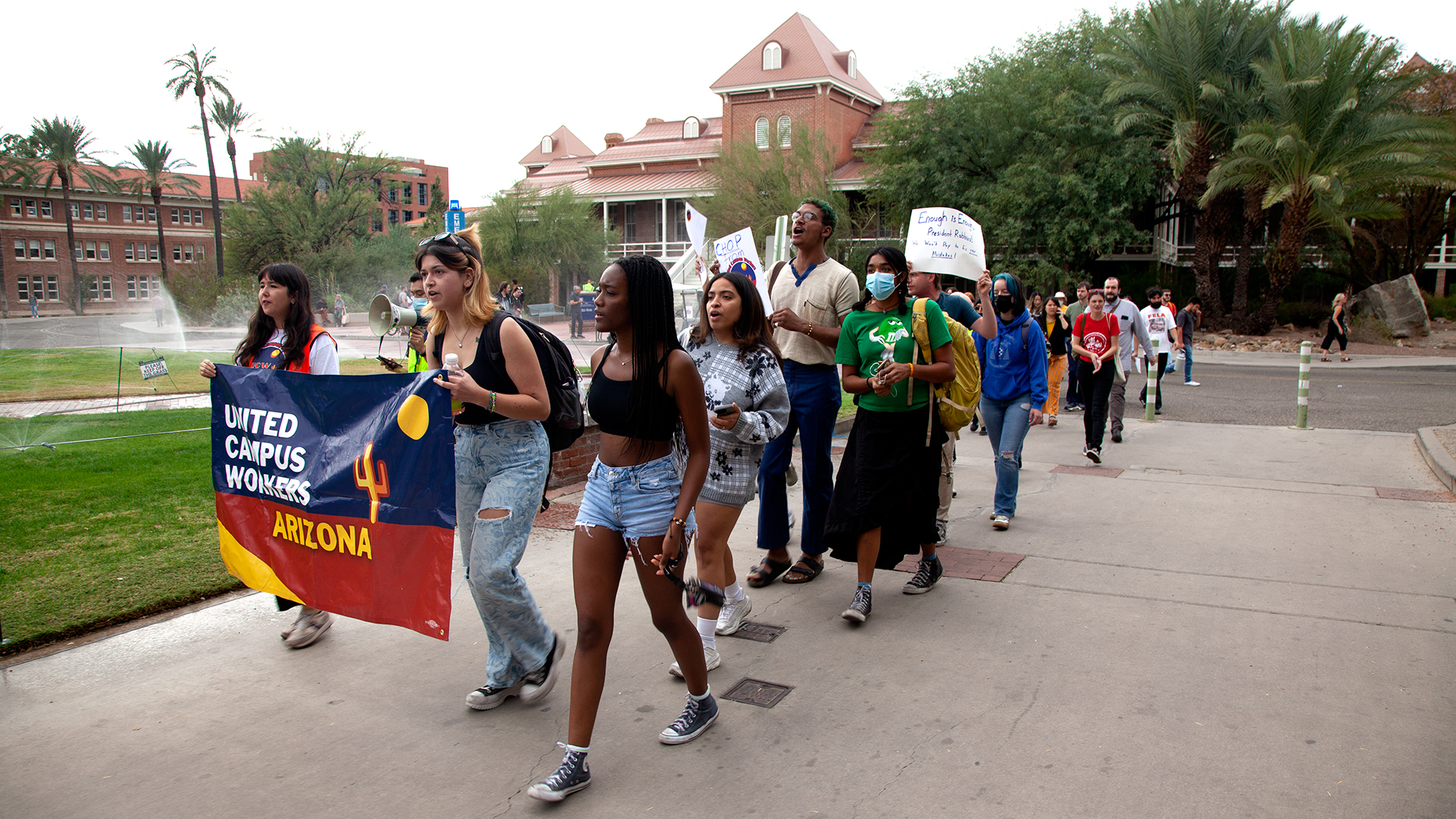 Protests from the United Campus Workers of Arizona and the Arizona Students' Association move from Old Main to the North Ballroom just before the Arizona Board of Regents begin the public portion of their November meeting on Thursday, Nov. 16, 2023.
Paola Rodriguez/AZPM News
Chants of "chop from the top" filled the Student Union halls leading to the North Ballroom as the Arizona Board of Regents set to begin their public portion of their November meeting. The issues at hand: the University of Arizona President's State of the University address and a new tuition model.
State of the University
The president touted the university's strategic initiatives looking back on investments that were made throughout the 2022 to 2023 academic year. However, lingering throughout his speech were hints as to contributing factors to the university's current financial crisis.
"We've heard a lot about our financial challenges and we'll continue to talk about that during this meeting and beyond," Robbins said. "It's not the time for me to go through and describe all the issues around our financial challenges. But, I thought I would look at where we've made investments, oftentimes from the Strategic Investment Fund, which is from our reserves."
Robbins highlighted three of the university's five pillars within its strategic plan: the Wildcat Journey, which tackles preparing students with skills for the future, Grand Challenges that are meant to enable discoveries and exploration, and finally the Arizona Advantage, which is meant to advance the university's mission as a land grant institution.
Most notably, Robbins highlighted enrollment growth, retention, and diversity within this year's student class. For example, Native American student enrollment saw a 22.4% increase in comparison to demographics in 2022. Robbins said this was due to the Arizona Natives Scholar Grant, which ensures that tuition, mandatory fees, tuition differentials, and program fees are covered for Native, Arizona resident, undergraduate students seeking their first bachelor's degree.
Those investments were proven to be successful through UA's numbers. Since the fall of 2017, full-time one-year retention rates grew from 81.2% to 87.7% last year. In addition, 30% are first-generation college students and 49% of first-year students identify as non-white, making this class the most diverse in the school's almost 140-year history.
But as the university reaches new heights, Robbins said investments toward retention and graduate rates came at a price.
"This is one of the things that we're going to focus on around how much aid we've provided, particularly merit aid. We have no interest in reducing our need-based aid."
Despite the need for cuts, Robbins said graduation and retention efforts are going "to require continued investments in students, and what I've said in many of the meetings that I've had with faculty members, staff, and students, we need to focus on our core mission, which is teaching and research. I think we will see continued growth in these rates with continued investment."
Robbins also called attention to initiatives in space sciences like the OSIRIS-REx mission to the asteroid Bennu, the giant Magellan Telescope, and the James Webb Space Telescope. According to his presentation, the economic impact of these investments rivals that of the Super Bowl, generating $560.5 million every year for the local economy.
However, Robbins did not hide from saying these types of ventures cost, even joking that astronomers are "almost as expensive as football coaches because they require lots of equipment." Now, UA ranks number one in astronomy and astrophysics expenditures and number five in NASA-funded activity.
As well, Robbins shared excitement for the new Center for Advanced Molecular & Immunological Therapies (CAMI) which is expected to bring at least 20,500 new jobs and economic gains as high as $4.8 billion.
"This one all of a sudden, found its way to prominence," Robbins said. "It'll be a site for startup companies, whether locally or around the globe, and even multinational drug companies, biotech companies to come is a center of focus for the state…so we believe that there's a good reason for investing in things like CAMI."
It was clear that Robbins believed these types of ventures paid off or would pay off. The university projects it will reach $940 million in research and development expenditures, ranking it 20th among public universities and 36th overall.
"This doesn't happen without investment. You've got to be able to put the seed money in (and) allow professors who write the grants and win these grants to get preliminary data to develop collaborations…That's why the strategic plan looks so favorably on investing in these grand challenges and research projects so that we could grow our research expenditures and it's great for not only discovering new knowledge but for training the next generation of postdocs, graduate students, and even undergraduates to be leaders in research."
Robbins closed his remarks with Fuel Wonder, a new funding campaign meant for building renovations and student success programs. So far, the university has raised 68% of its $3 billion goal. Robbins is confident that they will reach their goal and maybe even surpass it.
But, as Robbins has said before, that funding will not be used for UA's operating costs and financial crisis.
AZPM's Bridging Communities campaign is part of Fuel Wonder.
The board of regents applauded Robbins following his speech.
"In light of the current controversy, this is so helpful when you frequently say we've been investing in mission success, understanding precisely what that means and why it is that many of these investments are ROIs (return on investments) that are not immediate," Chair Fred DuVal said.
Regent Larry Penley even said that Robbins' "love of students is evident in the scholarship increase" that they have seen. Now, financial aid is being re-examined following UA's miscalculation.
New tuition model
The Arizona Board of Regents voted unanimously to approve a new tuition model for the University of Arizona. That model will simplify and consolidate fees, streamlining costs into three categories: base tuition, student engagement fees, and a college fee model.
UA President Robert Robbins said the new model will provide clarity and predictability for students and their families. The move will match other tuition structures shared across the university system.
Community backlash
As the board moved along in their agenda, protests occurred just outside of the room including calls for "chops from the top" following news of UA's current financial crisis. Just before the meeting, the United Campus Workers of Arizona Union and Arizona Students' Association rallied in front of Old Main calling on issues like UA's finances, freedom of speech, wages for contingent faculty, and the recent attack that occurred on ASU's campus against an LGBTQ faculty member.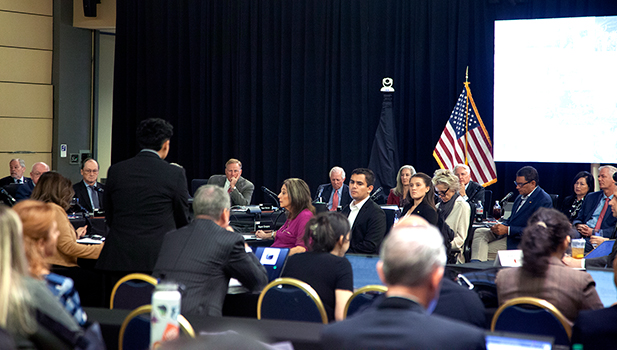 A student is speaking during the call to the audience portion of the Arizona Board of Regents' November meeting in the North Ballroom of the Student Union on Thursday, Nov. 16, 2023.

Paola Rodriguez/AZPM News
Earlier this month, Robbins along with Chief Financial Officer Lisa Rulney reported to the board that UA is entering a fragile financial health. An outdated model incorrectly projected 156 days cash on hand, which is about a $240 million miscalculation. In reality, UA is projected to reach 97 days cash on hand by fiscal year 2024. At the time, UA leadership pointed to several issues as to why UA is in a financial downfall, including overspending in academic units, athletics and financial aid. However, according to ABOR documents, the acquisition of UArizona Global Campus added $265 million in operating costs.

During the call to the audience, students, faculty, and staff called for accountability and action from both ABOR and UA leadership.
One faculty member said, "I didn't run the stop sign, but you did. I didn't speed, but you did. And I didn't buy a car I couldn't afford, but you did. You should receive the citation, you should pay the fine and your car should be repoed. I did my job for 40 years, now you do yours."
Others like Ted Downing, who is a former member of the Arizona Legislature, questioned larger issues, like whether ABOR should remain appointed.
"How do we get accountability? We get accountability through elections…I think that level of accountability is the only one. It's a democracy…maybe it's time for the Board of Regents to the state of Arizona to be elected."
Sophomore Eddie Barron, who is the executive vice president of the Associated Students of the University of Arizona, remarked on his fears.
"When the thought of less opportunities for scholarship crosses my mind, I think of my little sister, my younger cousins and the opportunity of obtaining higher education that will be ripped from them simply because they cannot afford it," Barron said. "Students are sick and tired of constantly footing the bill for this university and getting the short end of the stick time and time again."
"This is on you, President Robbins. Students shouldn't be burdened by having to bail out an administration that treats this institution of higher education, like a business by prioritizing athletics and failed investments in online universities while being so willing to cut scholarship funding for students at the snap of their fingers."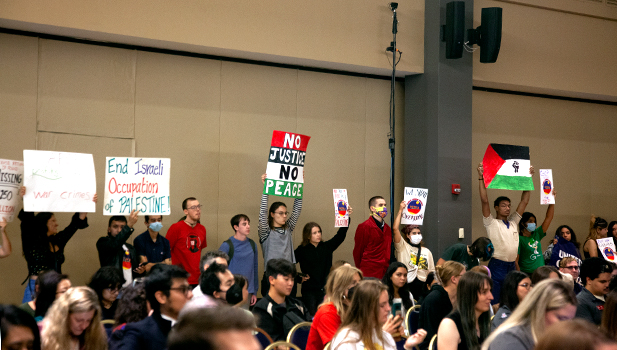 Protests from the United Campus Workers in Arizona and the Arizona Students' Association moved inside the North Ballroom in the Student Union just before an Arizona Board of Regents meeting on Thursday, Nov. 16, 2023.

Paola Rodriguez/AZPM News