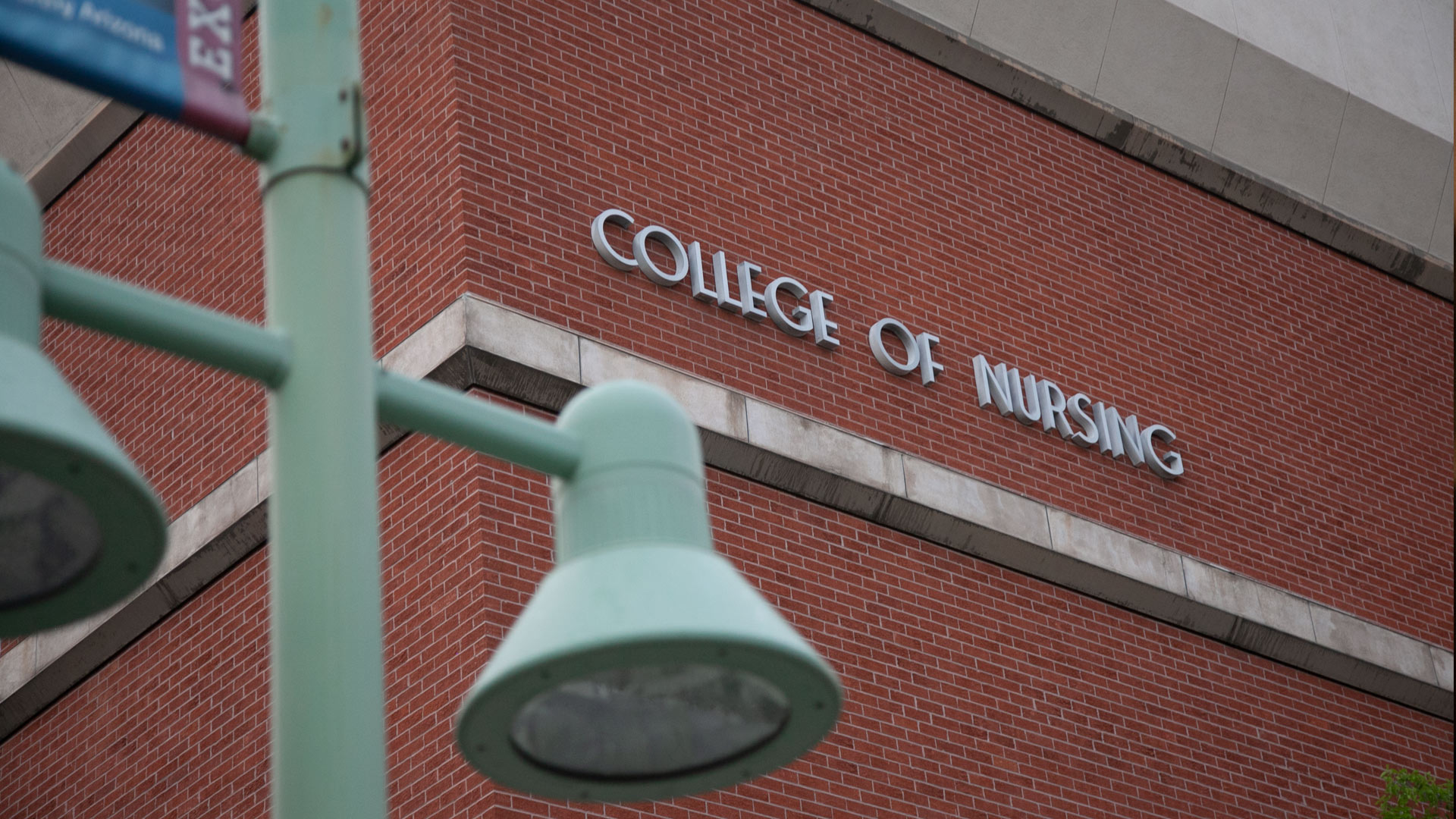 The east facade of the University of Arizona College of Nursing.
AZPM
A University of Arizona Faculty Senate Committee is now calling for university officials to take stronger stances against threats made to faculty and curriculum after a College of Nursing slide went viral on social media.
The committee report comes after a viral social media post last month showed a slide from a clinical immersion class that addressed gender identity in the pediatric care setting.
SCOOP: University of Arizona nursing school is teaching future nurses that 3-year-olds can know they are transgender. They're also being taught to start questioning patients as young as 3 about their gender.

.@UAZNursing did not respond to our request for comment. pic.twitter.com/KlNtwsBWjO

— Libs of TikTok (@libsoftiktok) September 6, 2023
The post gained pushback from Republican lawmakers, like Senator Justine Wadsack, calling the curriculum a "disgusting use" of "taxpayer dollars."
FOR IMMEDIATE RELEASE: Senate Republicans Condemn University of Arizona Nursing School Curriculum Aimed at Stealing the Innocence of Young Children ⬇️ @AZSenatorShamp @Wadsack4Arizona @BennettArizona @TJShope pic.twitter.com/317jum2E7a

— AZSenateRepublicans (@AZSenateGOP) September 8, 2023
During Monday's faculty senate meeting, Senator Carol Brochin echoed concerns faculty shared about UA's lack of response to violent threats made to staff following the post.
"If a hate group comes for the slides of another faculty member, if they come for my slides, if they come for your slides, are our senior leaders going to have our back?" Brochin said. "If they don't, I hope that the faculty senate will intervene so that another valued colleague is not forced to resign from their position."
The faculty member who taught the class has since resigned following the incident. But now the Senate DEI Committee says that "university leaders need to take a stronger and more proactive stance against these threats" to better support faculty after its initial response to the post."
"This issue, rather than being an isolated incident, is part of a larger attack on higher education and DEI efforts (e.g., attacks on DEI statements in job postings)," the committee said. "Cowering and accommodating these attacks does not stop them. Rather, they embolden these attacks."
The committee is also calling for faculty forums in the college and other academic units to discuss "topics around academic freedom."
"A threat to one part of our academic community is a threat to us all. We must not tolerate repression of ideas, or violence or intimidation of any kind," the committee said.
The College, in consultation with UA, made a statement on Sept. 8 saying that it "does not recommend or advocate for young children to be asked gender-related questions in wellness checks."
"The college does not have a policy or position on this issue and does not integrate this type of training or education into its curriculum," the statement said. "The College of Nursing faculty members share evidence-based information but do not recommend any specific practice guidelines related to gender-related issues. Students are taught that providers need to choose their own approach to such issues."
That statement gained criticism from campus faculty, staff and students who said the college's Sept. 8 statement "did not defend academic freedom" and "further contributes to the violence against transgender people, including transgender youth, and University of Arizona's transgender employees and students."
During the Senate meeting, Assistant Clinical Professor Lisa Kiser said the statement goes against what evidence-based information says.
"Over 100 medical associations, including the American Medical Association, the American Nurses Association, and the American Academy of Pediatrics, recommend gender-affirming care across the lifespan, including the screening of children for gender concerns."
Kiser said there is a range of ages that can have the recommended screening and that it is "always done with parental consent."
In response to such criticism, on Sept. 22, College of Nursing Dean Hyochol "Brian" Ahn and Senior Vice President for Health Sciences Michael Dake sent an email to the faculty and staff at the college that affirmed its dedication "to the health, safety, and well-being of all, including members of our LGBTQA+ community, and their medical care."
"In addition, we fully support – and expect – our faculty to use evidence-based research in their teaching," the Sept. 22nd statement said. "We further respect the professional discretion of our faculty in teaching our students to engage in a wide variety of topics they may encounter in the field. We remain committed to upholding the fundamental principles of academic freedom, which foster an environment where intellectual curiosity thrives, diverse perspectives are valued, and the pursuit of knowledge remains unrestricted. To clarify, at no time were these core university ideals ever called into question."
Since then, the United Campus Workers union has circulated a petition that calls on UA President Robert Robbins and UA administration to "issue a statement committing themselves to protecting the safety and well-being of faculty, staff and students at the College of Nursing," including a call for commitment to "care for trans and all youth, as defined by the respected medical associations of our nation." The petition has garnered over 700 signatures.