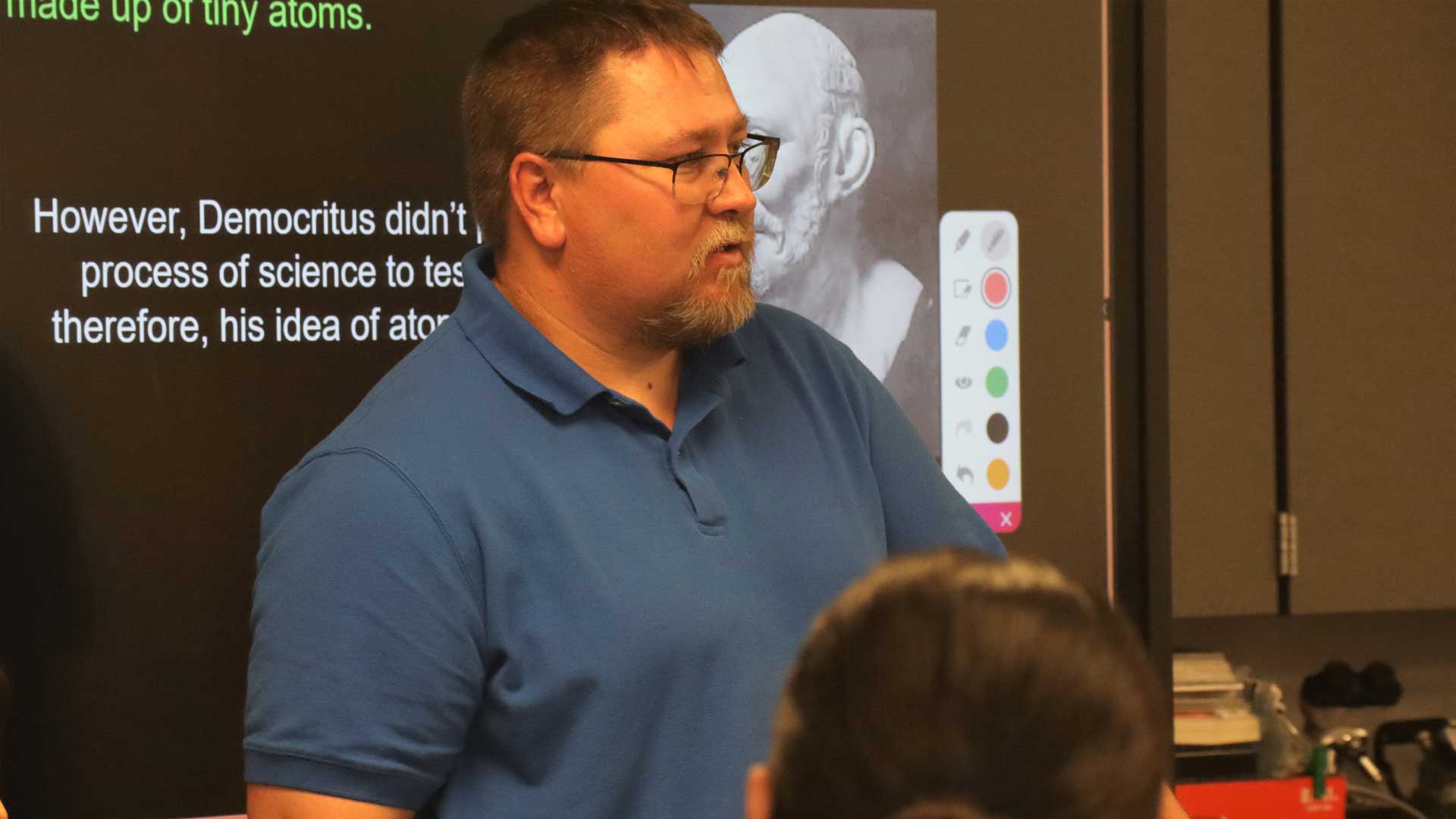 Willcox High School teacher Ty White is the Arizona Teacher of the Year.
Summer Hom, AZPM
The world is complicated. Let's be real. But who do we turn to to help us make sense of it? Often some of the main figures who bridge this gap and give us the foundational knowledge are teachers.
Ty White, Willcox High School's Chemistry Teacher, is doing just that: opening doors and bridging gaps through making science accessible and relatable to all. In October, White was awarded the title of Arizona Teacher of the Year by the Arizona Education Foundation (AEF), which provided him with $15,000 from AEF, a trip to the International Space Camp in Huntsville, Alabama and the opportunity to meet President Joe Biden.
"Science doesn't happen in a vacuum," said White. "There's a lot of other factors … Ernest Rutherford grew up on a sheep farm in New Zealand. Well, that's very relatable kids who live in Willcox, working on cattle, farms, and cattle, ranches and farms, and things like that."
He said that he's prioritized making science more relatable to his students.
"It really just gives the kids a stronger context for what science is and how science develops over time," he said. "We will get into electron densities and we'll get into things like electron configurations. But for the kids to understand that science isn't a fixed body of knowledge, it's something that's always changing, gives them a better understanding — a better ability to recognize science in their daily lives."
White, who grew up in Globe, AZ, has been a teacher for 16 years. He said that he initially had ambitions to be a Veterinarian. But when his father suffered a work accident, White returned home to help take care of his family and made a change from Veterinary school to education.
"And when I moved home to help take care of my family, I just ended up, you know, I worked as a Spanish translator at Holbrook Unified, and then, I worked for a charter school in Pinetop," White recalled. "And I just kind of like, 'I've always enjoyed explaining things to people.' I was like, trying to break it down and try new ways of expressing it to make it more clear. And so I just kind of figured out that maybe this is what I should be doing."
Science, he said, was his calling.
"So the question was biology or chemistry, and I just really enjoyed the chemistry a lot," he said.
White has been at Willcox Unified School District for 11 years. He moved to WIllcox when he met his wife.
During the 11 years White has been at WUSD, he's made strides to help students from the rural community gain opportunities to travel and learn more about opportunities in STEM careers. He is one of the founders of InSimEd, a nonprofit that provides students with "Industry Simulation Challenges" according to the AEF press release. InSimEd is affiliated with Aerospace Education Corporation (AEC). White is also the Southwest Regional Space Settlement Design Coordinator.
He said that in his first year as coordinator back in 2019, he held events at Willcox Gym. Now he says "We have moved up our location and we now host our regional event at The Biosphere 2 …"
"I'm doing everything I can. I'm shaking a lot of hands and meeting a lot of people and keeping the cost of our event at the biosphere a fraction of what it actually costs," White continued. "I don't want any kid missing our event for financial reasons, I want to be available for everybody."
The Willcox Cowboys have an actual cowboy for their Chemistry teacher, as White says that he competes in team roping. Outside of the classroom, White says that he coaches soccer, keeps a garden, goes hunting and fishing and loves to help his students and his daughter with science fair projects.
For White, what keeps him going is seeing his students thrive.
"The feedback from kids and being able to see their successes is really what motivates teachers, what keeps us going," White said. "And so here's another shout out to whoever is listening: go back and thank that teacher you had. It means a lot more than you'll ever understand."
Dr. Pamela Roggeman, the AEF Board President, said that White was a stand-out candidate of the highest character and skill.
"Mr. White really, he is a master at putting the students in the driver's seat of where they want to take their learning and their explanation," said Dr. Roggeman. "The interviewees had the opportunity to bring a couple of artifacts with them that they really felt represented who they were as a teacher. And one thing that Mr. White brought was a letter from one of his students, one of his female students, and the opportunities that she talked about that were the results of the programs and the extra things that Mr. White does around their school. It was it, he brought me to tears. He had us in the palm of his hand."
White will now be eligible to be considered for the 2023 National Teacher of the Year award, which will be announced next year. He said that when he meets with the President, he will tell him a chemistry joke, but which one, we will all have to wait and see.