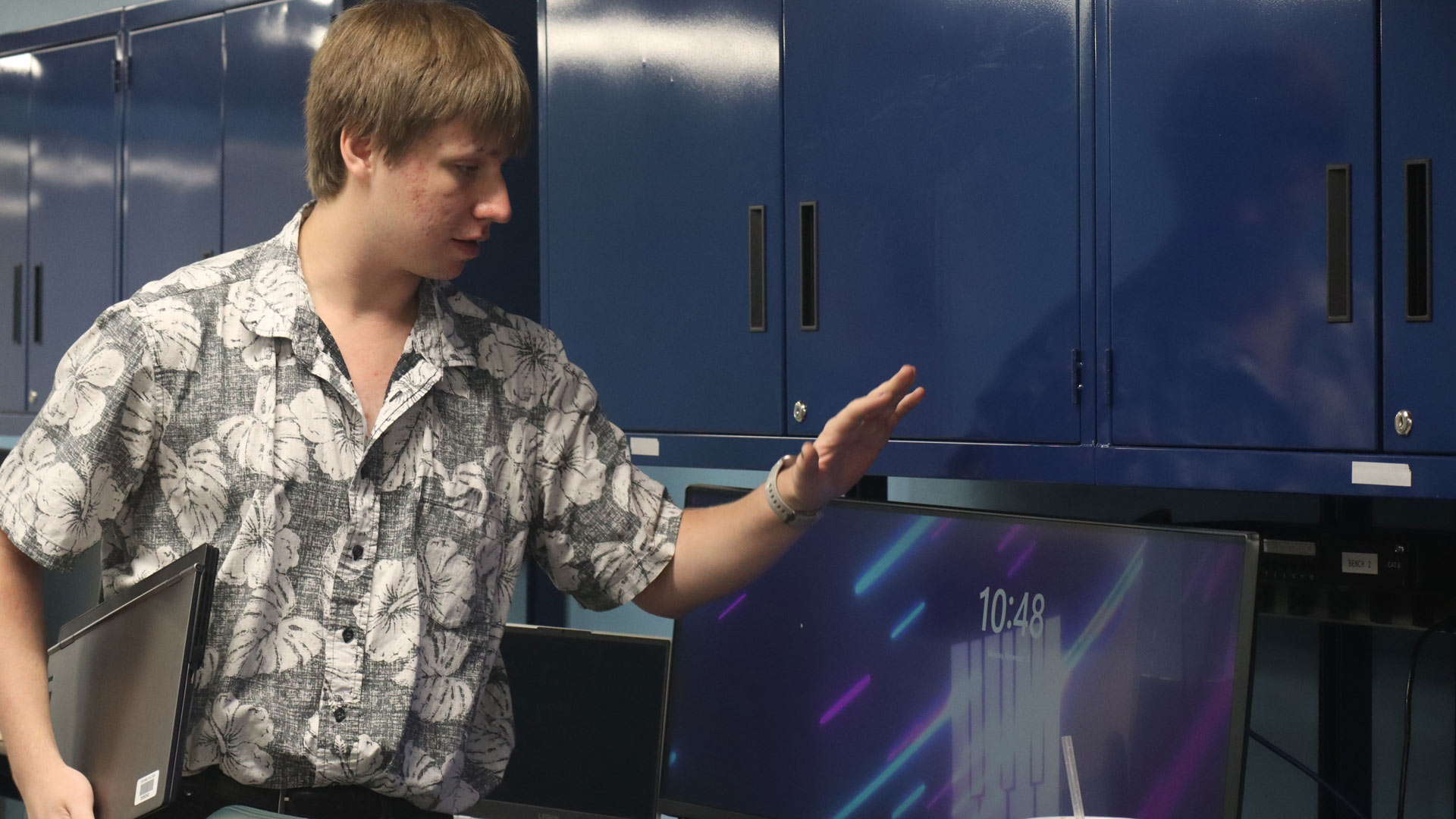 Fred Chitwood, 20, a Cochise College student is a member of the college's virtual reality club which meets inside the college's VR lab.
Cochise College achieved validation from the National Security Agency for its cybersecurity program this fall; it's the first step for the college to complete all the requirements for the National Center of Academic Excellence (CAE) distinction for the program.
We live in an ever more digitally connected world where cyber attacks have become ever more common. Cochise College cybersecurity instructors Dr. Rodney Alexander and Dave Dolifka said that this validation from the NSA further helps launch Cochise College students directly in the workforce.
"It ensures that the students have a high standard of cyber security education," said Dr. Alexander. "So, they know what they're doing and they're ready for the workforce … And we're doing things like certifications, CompTIA, Security Plus, CompTIA Network+ also, to help the students find a job … That's one of the requirements that Fort Huachuca has, is the Security Plus. So, that will make them available for jobs on base."
The cybersecurity program is a two-year program, of which, Dolifka said students can go directly to the workforce and expect to get a job with minimum pay of $18 per hour. Students also have the option to transfer to a four-year university after graduating with an AAS degree in cybersecurity from Cochise College.
"Being certified by the NSA when NSA is actually the standard out there, you can call it the gold standard," said Dolifka. "What it does is that when a student graduates from Cochise College, they actually have the knowledge and everything they need to step right out and either work for the government because they've been approved [by] the NSA … So, by having that excellence here at Cochise College, it makes a student more marketable when they graduate from a program such as ours."

The Bureau of Labor Statistics reports that information security careers have a projected growth rate of 35% in comparison to the average occupation growth rate of 5%. Both Dolifka and Dr. Alexander said that the college is trying to do its part to meet the demand.
"The other thing that it affords us, once we maintain that excellent standard or a center for excellency, it increases funding," said Dolifka. "We can develop more partnerships with other businesses and stuff. Because what happens is that now, it's a name — Cochise College would be a name out there that is a component of cyber security."
The college's NSA certification is set through 2027. Dr. Alexander said that they hope the college will complete its requirements to achieve its CAE designation in December.