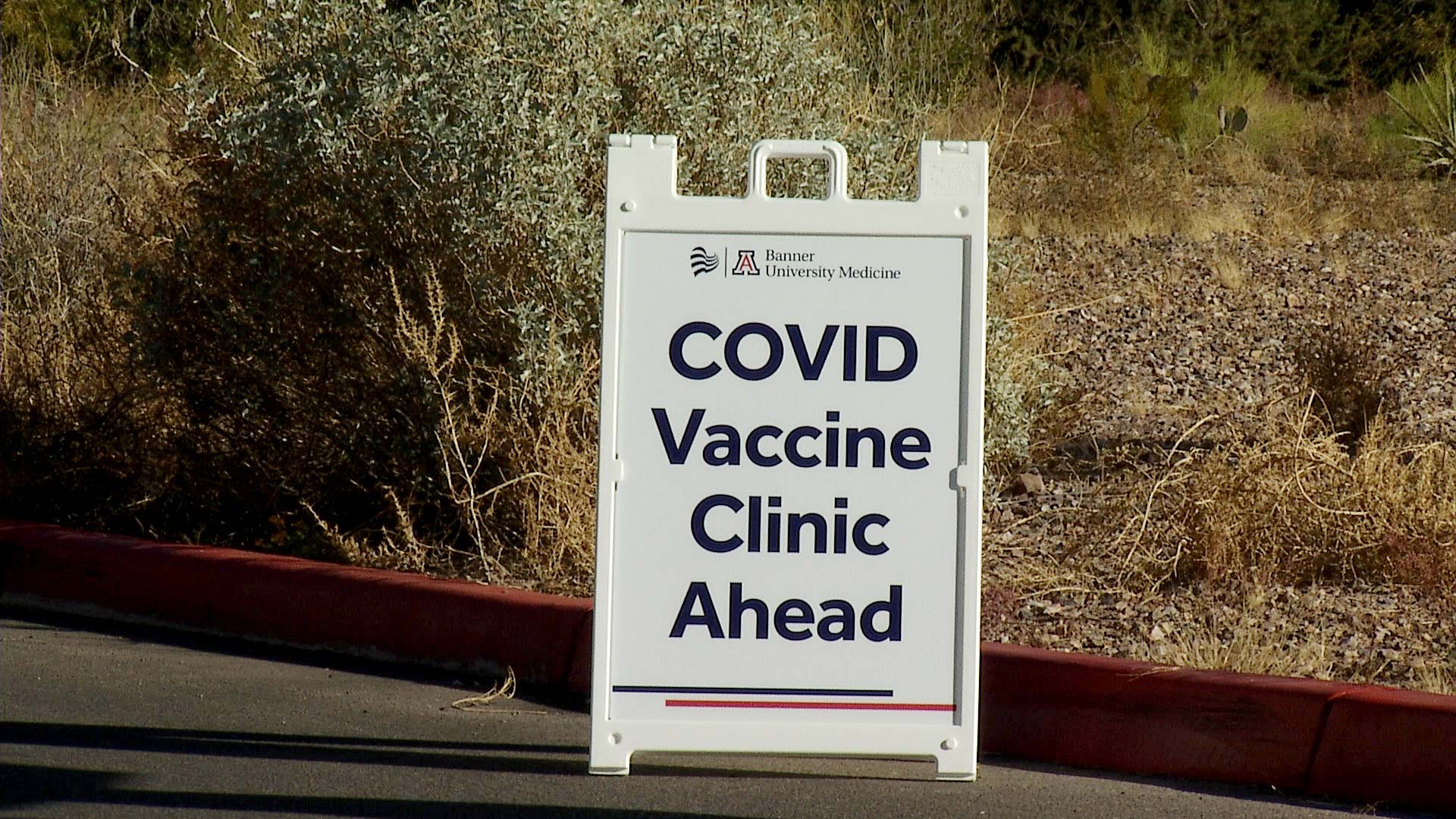 A sign outside Banner - University Medicine North in Tucson for the hospital's COVID-19 vaccine distribution site. Dec. 17, 2020.
Tony DiRusso/AZPM Staff
The Arizona Department of Health Services notified FEMA on Friday afternoon, that the federal agency could work directly with Pima County to open mass vaccination sites.
The reversal came two days after Governor Doug Ducey said he would reconsider the decision while visiting the state vaccine pod at the University of Arizona.
State officials said they were concerned that Pima County could not handle the demand of helping staff a FEMA site with security, pharmacists, and storage.
The letter also said the state has concerns Pima County cannot handle the financial needs that it could have to lay out in advance. That concern comes from an on-going argument between the state and the county over who is paying for COVID-19 testing in the county. That concern caused the county to reduce the amount of testing available.
The state also said it wants assurances, in writing, from Pima County that it can handle any costs the FEMA sites could bring.
"Pima County has provided their assurances that they will be able to support these sites we are hoping that is without having any impact on any of the other currently operating sites or activities that they have planned. And to have in writing that FEMA said that this would remain federally allocated vaccine was reassuring," said Dr. Cara Christ, the director of the Arizona Department of Health Services, when she made the announcement.
In the letter, Christ said the state still does not think it needs FEMA's help but also said the federal sites must comply with Governor Doug Ducey's Executive Orders on vaccine reporting.
Last week, Pima County Administrator Chuck Huckelberry told AZPM that the county had the necessary infrastructure to help FEMA.
Huckelberry responded to Christ's concerns with a statement of his own.
"I will be responding directly to Dr. Christ about her unfounded reservations and unwarranted criticisms expressed in her letter. Pima County has been operating multiple vaccination PODs since December without incident and with little to no state assistance," he said
The federal agency, known for disaster response, usually does not work directly with local governments. County officials know all eyes will be on them.
"So, we will be working everything we can to make this a success for all of us," said Dr. Theresa Cullen, head of the Pima County Department of Health.
Pima County officials want FEMA to open to sites that will target underserved communities. The first planned site would be across the street from the county's vaccination site at Kino Stadium. The second site would be at the El Pueblo Center.
County officials were caught off guard by Christ's announcement because they had not been told the state was sending the letter to FEMA.
No timetable was announced for when the new sites will open. They are expected to bring hundreds of thousands of COVID-19 vaccine doses into the community.
Read the ADHS letter to FEMA

View at Google Docs
|

Download File