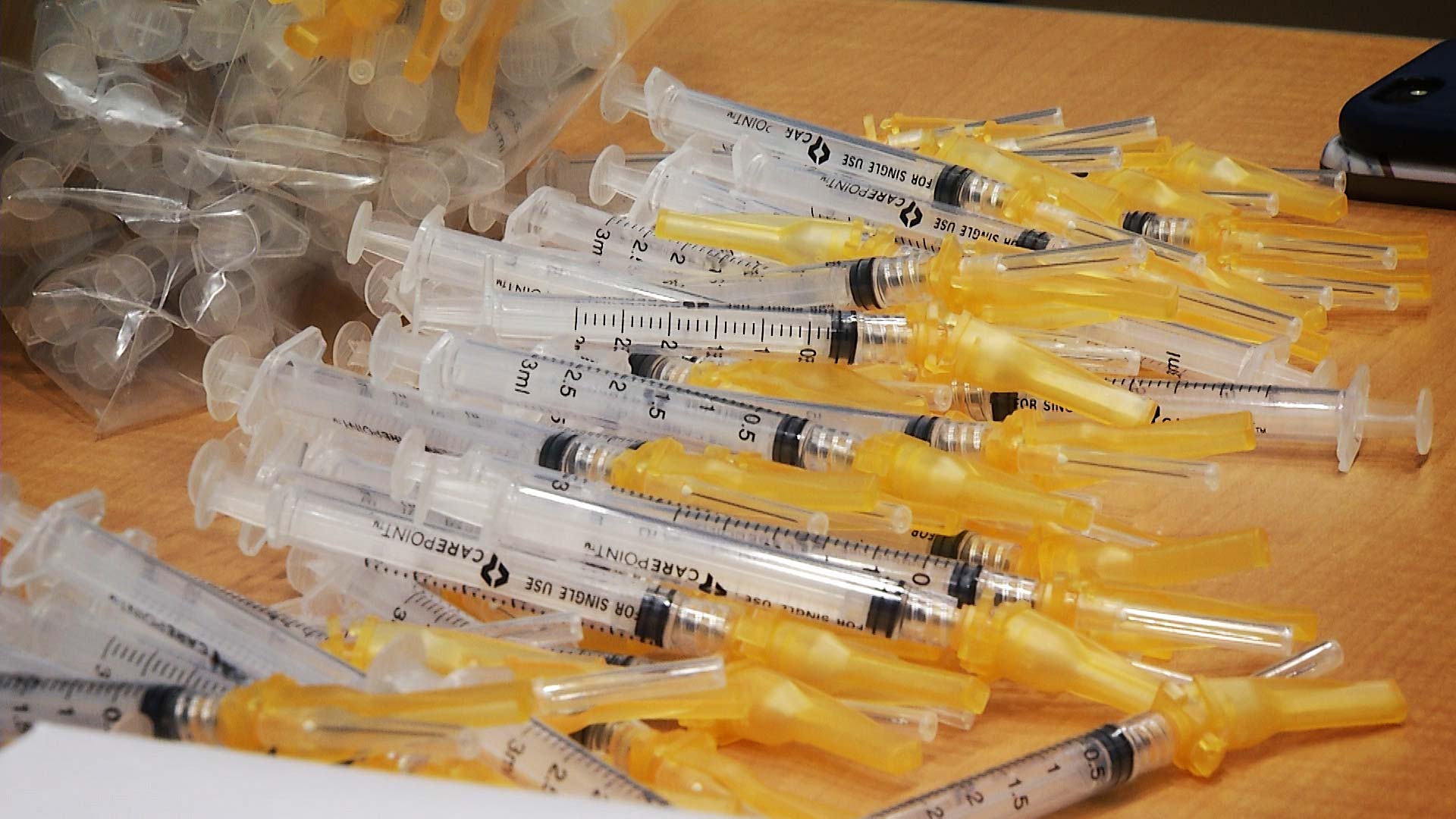 A bundle of syringes at a COVID-19 vaccination site at Tucson Medical Center. January 2021.
AZPM Staff
Pima County residents over the age of 16 are now eligible to get the COVID-19 vaccine so long as they meet certain criteria.
Those criteria include certain medical conditions, or living in a congregate facility, or working as an essential worker. A full list is at the bottom of this article.
Any Pima County resident over the age of 55 is eligible to get a vaccine with no job or health restrictions.
Earlier this week, the state announced it would vaccinate anyone over the age of 16 at its four vaccine pods, including the one at the University of Arizona.
County officials worry that the wide-open state qualifications with cause some confusion with their more nuanced approach.
"Anytime that we are just a hair's difference it creates challenges and confusion for our community," said Dr. Francisco Garcia, Pima County's Chief Medical Officer.
Garcia said the county decided to move to the restricted 16+ category to get closer in line with what the state is allowing at its sites.
The state decided to allow those age 16 and older to get the COVID-19 vaccination now because the four state pods had thousands of unfilled appointments.
When the University of Arizona opened its appointments Wednesday morning for the rest of the week the appointments were claimed in under an hour.
The state will open appointment slots each Friday for the following week.
County officials said even though more people are now eligible, more vaccines are not available so many people will still have to wait to get the inoculation.
Medical qualifications for those over the age of 16 in Pima County
Cancer
Chronic kidney disease
COPD (chronic obstructive pulmonary disease)
Downs syndrome
Heart conditions (including heart failure, coronary artery disease, cardiomyopathies)
Immunocompromised state aka weakened immune system, from solid organ transplant
Obesity (Body Max Index (BMI) over 30 kg/m2 or higher or < 40 kg/m2)
Severe obesity (BMI ≥ 40 kg/m2)
Sickle cell disease
Smoking
Type 2 diabetes mellitus
Job qualifications for those over the age of 16 in Pima County
Healthcare worker and healthcare support
Emergency medical services
Long-term care facility staff
In-home long-term care
Protective services
Education and childcare
Food and agriculture
Restaurants and bars
U.S. Postal Service
Manufacturing
Grocery and convenience stores (including carnicerias)
State and local government
Public transportation (buses, light rail, Uber, Lyft, taxis, etc.)
Auto repair
Business/financial services
Clergy/faith leaders/ traditional healers
Court personnel
Critical trade (plumber, electrician, HVAC, etc.)
Food packaging
Funeral services
Gas stations
Power/utility
Shelters
Warehouse distribution
Veterinarians and veterinary staff