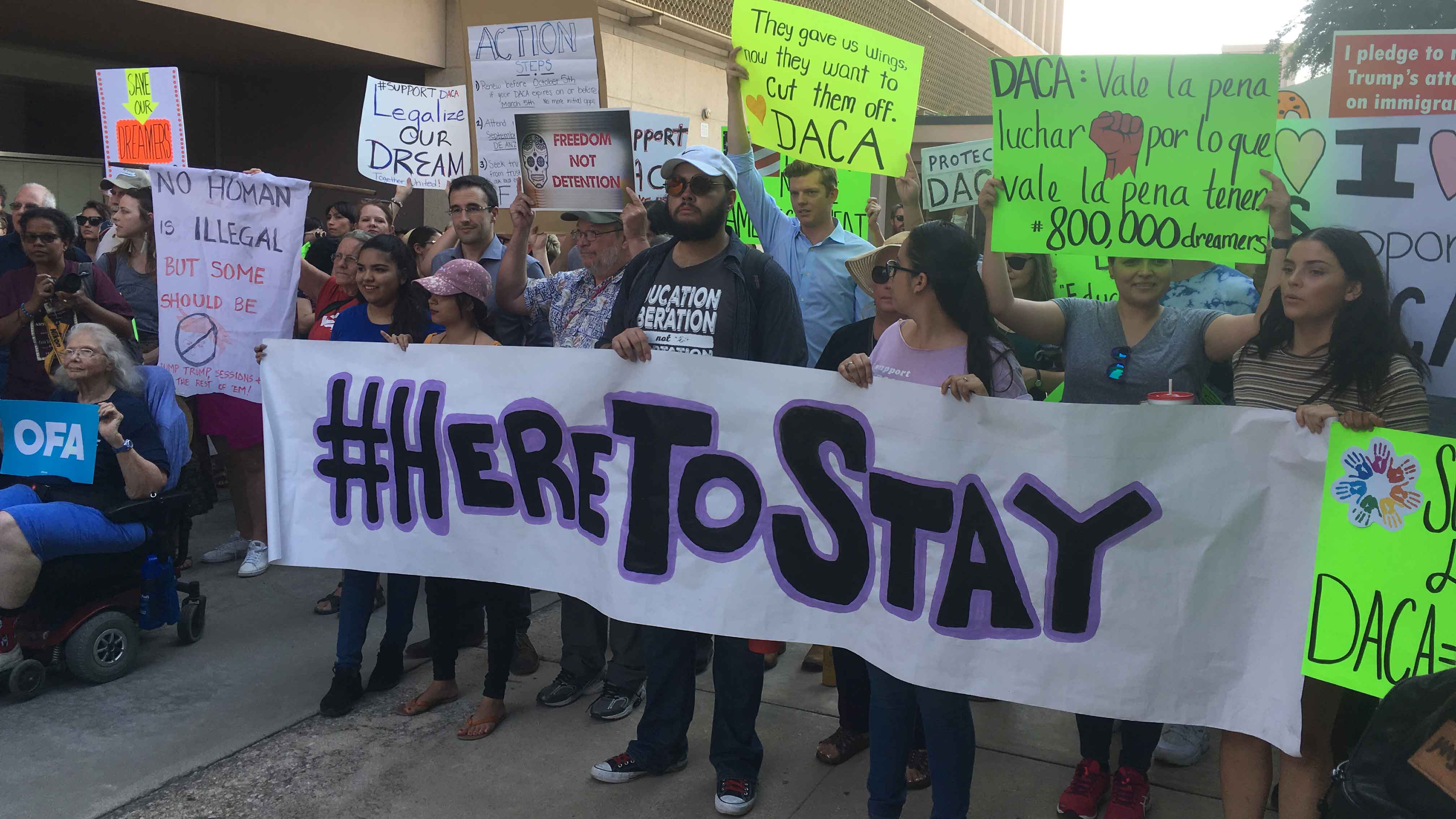 Protesters in support of DACA recipients gathered outside Tucson City Hall on Tuesday, Sept. 5, 2017.

Christopher Conover/AZPM
The Obama-era Deferred Action for Childhood Arrivals program gave temporary protection and work permits to some 800,000 young immigrants brought to the country as children. Now the Supreme Court could rule on the future of the policy any day, leaving local DACA recipients, or "Dreamers," in limbo.
Blanca Sierra Reyes is a social worker at a hospital in Phoenix. She used to help patients through their recovery. Now she's helping families of COVID-19 patients prepare for uncertainty.
Reyes is one of almost 7,000 DACA recipients in Arizona who are front-line workers during the pandemic. But her own family faces big questions, too. Some of them are undocumented, she is a DACA recipient and her two young sons are U.S. citizens. She said has a lot of anxiety about the decision, but she tries to remain hopeful and not to obsess over the possibilities. She's also preparing her sons for what could come next.
"I always knew that I was undocumented. I felt like that needed to be shared with my boys," she said. "I felt that it was needed that they knew not just my situation but my whole family's and a lot of other people's."
Sierra said these days, those conversations are happening a lot more. And she's also trying to talk to them about other things.
"It's not just DACA right now, it's everything with police brutality," she said. "I have sons, and they are people of color. So our conversations have increased, but it's not the only thing we're talking about right now."
Reyes is one of some 650,000 DACA recipients around the country, according to the latest numbers from U.S. Citizenship and Immigration Services. She said especially right now, everyone faces a lot of uncertainty.
Tucson DACA recipient Dario Andrade Mendoza said he understands that uncertainty, but he tries to focus on the things he can control. Today he holds a master's degree in computer engineering from the University of Arizona, a degree he said he returned to school for in 2017 when the Trump administration first moved to end DACA.
"I thought, within this time frame that I do have, which is two years, I can finish a master's," he said. "And that's what I did, knowing that, if something happens with DACA and I lose my work permit, at least I won't lose my master's."
The Supreme Court heard oral arguments about DACA and the end of 2019 and is expected to decide on the policy's fate this month.