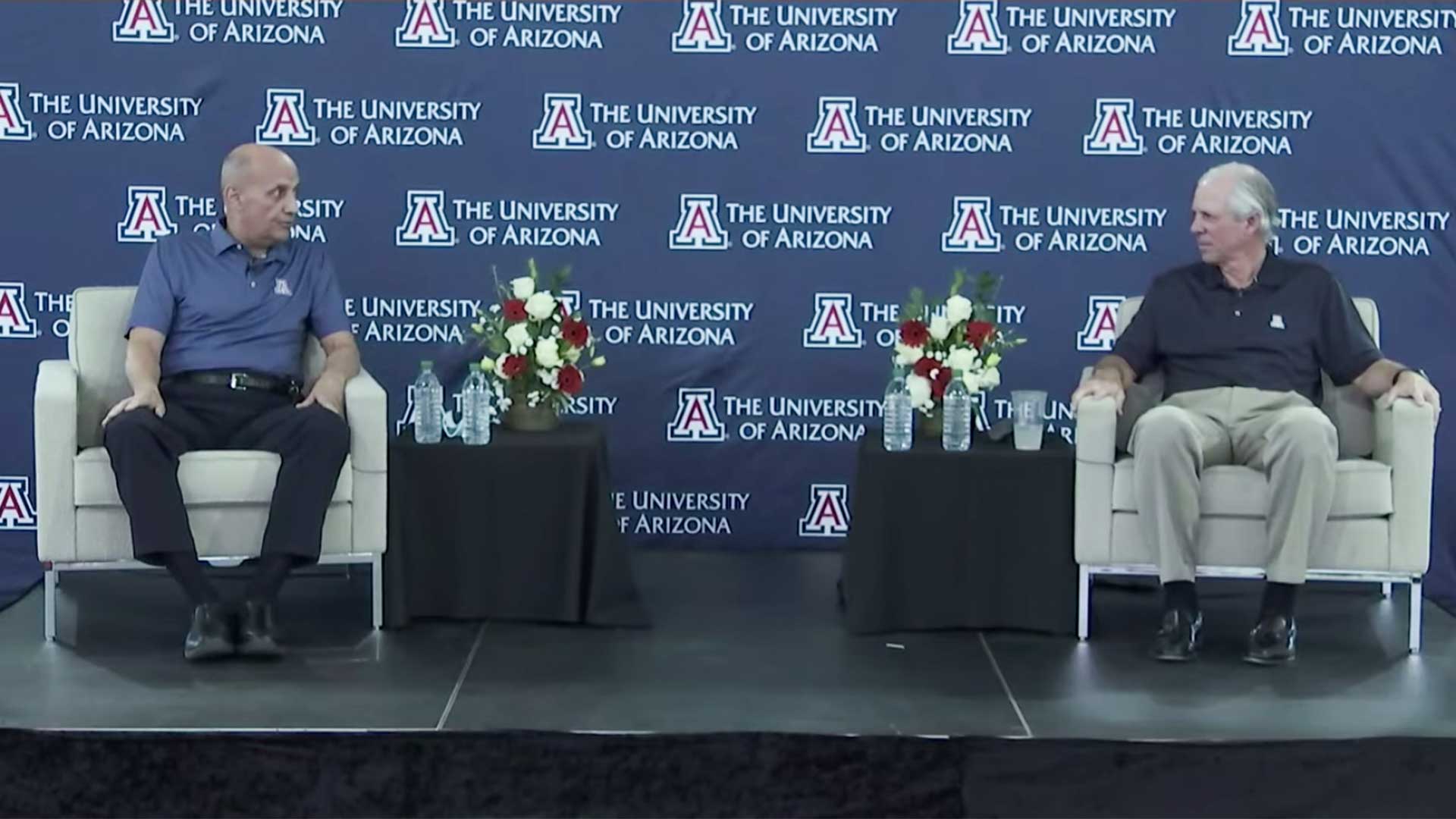 Dr. Richard Carmona and University of Arizona President Robert Robbins sit at a news briefing on opening the UA campus, May 20, 2020
UA/YouTube
University of Arizona President Robert Robbins on Wednesday said a full slate of face-to-face classes, with instructors and students in the same classroom, is unlikely to occur in the coming academic year.

"There are going to be, particularly, faculty members who fit the guidelines of CDC and WHO guidelines that are going to be at risk," Robbins said. He added that the hybrid model, with students, instructors, or both attending classes remotely, will be used at least through the 2020-21 year, and possibly longer, depending on the development of an effective vaccine against COVID-19.
Robbins was flanked at the news conference by Dr. Richard Carmona, former U.S. Surgeon General and currently a distinguished professor at the UA College of Public Health. Robbins announced Wednesday that Carmona would be coordinating the re-entry plan. Carmona served as surgeon general under President George Bush during the 2003 SARS outbreak.
Carmona says he has set up an incident command center to coordinate the reopening the UA campus. An incident command center is a technique often used in civic disaster preparedness to coordinate diverse agencies working toward a single goal.

"The idea of bringing all those leaders together, aggregating information quickly, deciding what the focus is on based on the mission that you give us, that's what the incident command system does," Carmona said.
Robbins previously told AZPM that the decision to return to campus would not be final until about 60 days from the start of classes, and even then if the situation changes after that he will move classes back online.
Robbins originally made the announcement at the end of April, saying the university wanted to give students the on-campus experience.
That original announcement coincided with the launch of an antibody testing effort in conjunction with the state. Antibody testing of the campus community has been a central talking point in Robbins' proposal to bring students and faculty back. Robbins has said they can use their test results to help make decisions about returning to work or class.
Robbins said experts assume the presence of antibodies likely confers immunity for some amount of time, based on knowledge of other coronaviruses. It is not yet known if the presence of antibodies guarantees immunity and, if so, for how long, but Robbins says testing will remain key to the fall opening process.