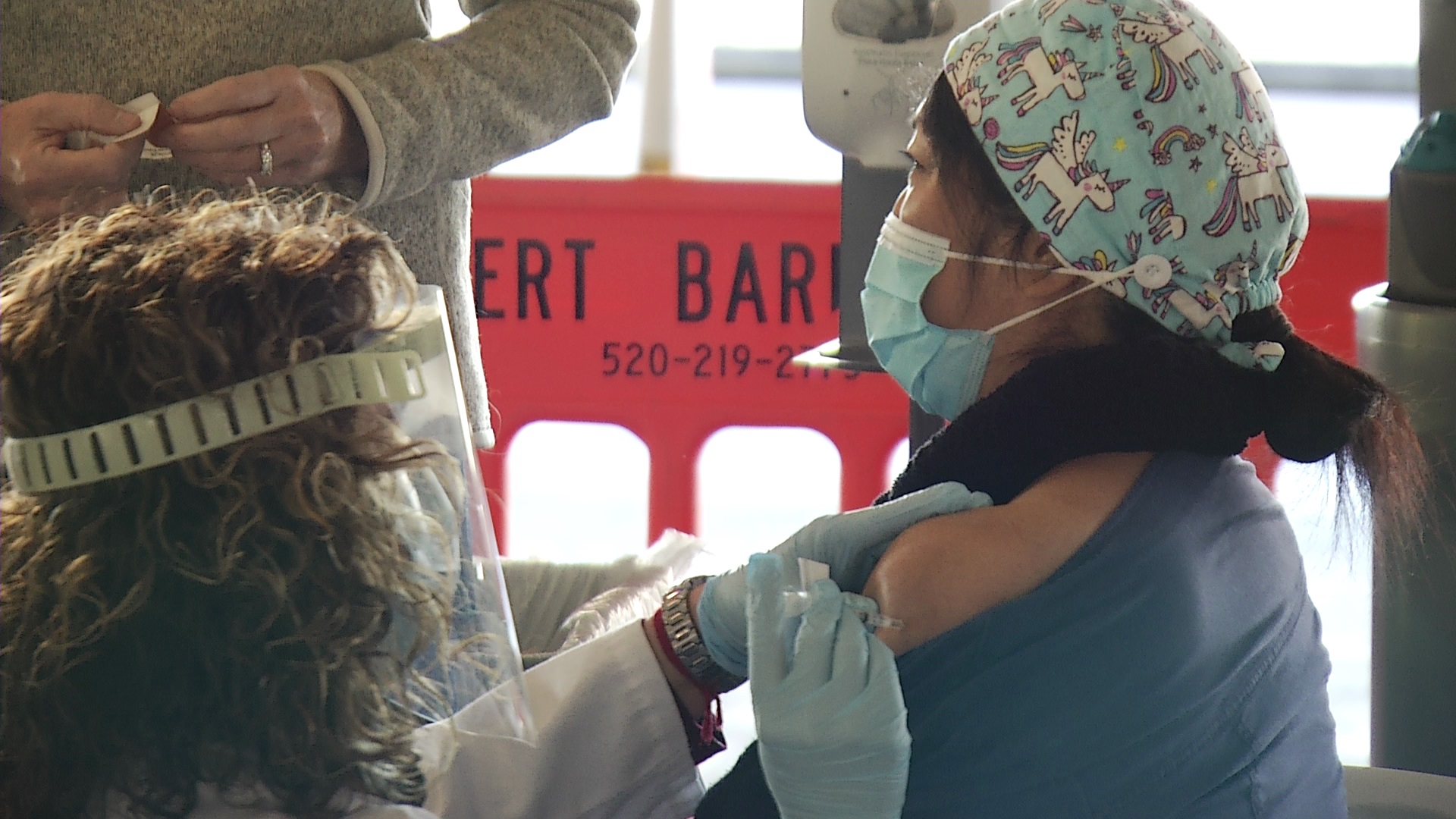 UA Cancer Center oncology nurse Iris Delfakis receives the first shot of COVID-19 vaccine administered at Banner-UMC on Dec. 17, 2020.
AZPM
Vaccines usually take years to develop, but in the case of COVID-19 it took less than a year. Experts watching the process said part of the reason is the research has been going on for years.
"[The research and development] preclinical phase was greatly shortened because a lot of these vaccine manufacturers had actually been getting ready after the very first SARS coronavirus back in 2003. So, a lot of the framework and a lot of the basic knowledge of what we needed to do to generate protection was already there," said Dr. Deepta Bhattacharya, an immunobiologist at the University of Arizona.
He said that is because both SARS, in 2003, and COVID-19 are caused by coronaviruses.
Government backing also led to the quick development of the vaccines, according to Bhattacharya. Part of the development process for a vaccine is determining market viability at different stages of the process. That is where the federal government's Operation Warp Speed helped by paying for the manufacture of the drugs.
"So, the market analysis between phase 1 and 2 is basically gone, the market analysis between phase 2 and 3 is also basically gone and manufacturing is being done in parallel to phase 2 because the government has de-risked that part of the process. Finally, down at the end, the market analysis and manufacturing is being done in parallel with phase 3," Bhattacharya said.
Even though the development of the vaccine was fast, it was slow enough to catch safety issues.
"If there are any safety issues that are somewhat rare, they show up in the first two months. So, the FDA is really only looking at those first two months. And obviously if you have longer return data, they will look at it but the key phase is the first two to three months," he explained.
The Pfizer and Moderna vaccines are mRNA vaccines, which means they don't use dead viruses to build up a person's immunity. This type of vaccine is relatively new, but it has been used for other treatments.
"The mRNA vaccines in general have been around, started from 2013-2014 by another company called CureVac. So, it is not entirely true that this is a novel platform, and we have no idea what the long-term safety data will look like. It basically looks OK," said Bhattacharya.
It is possible that some people will still have adverse reactions to the vaccine. But Bhattacharya cautions the public not to take one or two cases of adverse reactions as a reason not to get vaccinated.
"If you take a group of any 10 million people, over the next two months we can expect that there will be about 4,000 heart attacks, 4,000 strokes, 9,500 diagnosis of cancer, 60 new diagnosis of multiple sclerosis, and unfortunately 14,000 will die. And that happens when you look at 10 million people in normal non-pandemic times whether they've been vaccinated or not. So, one of the really important things that we want to keep in mind here is using the data and the numbers to tell us whether there are actually any effects that are coming from the vaccine or not. Anecdote is really not evidence that a vaccine is causing something detrimental," he said.
The Pfizer vaccine given out this week is only the beginning. In the coming weeks and months, more vaccines will be approved for use which means more people will soon have a chance to roll up there sleeve and get protection from a virus that has upended the world.