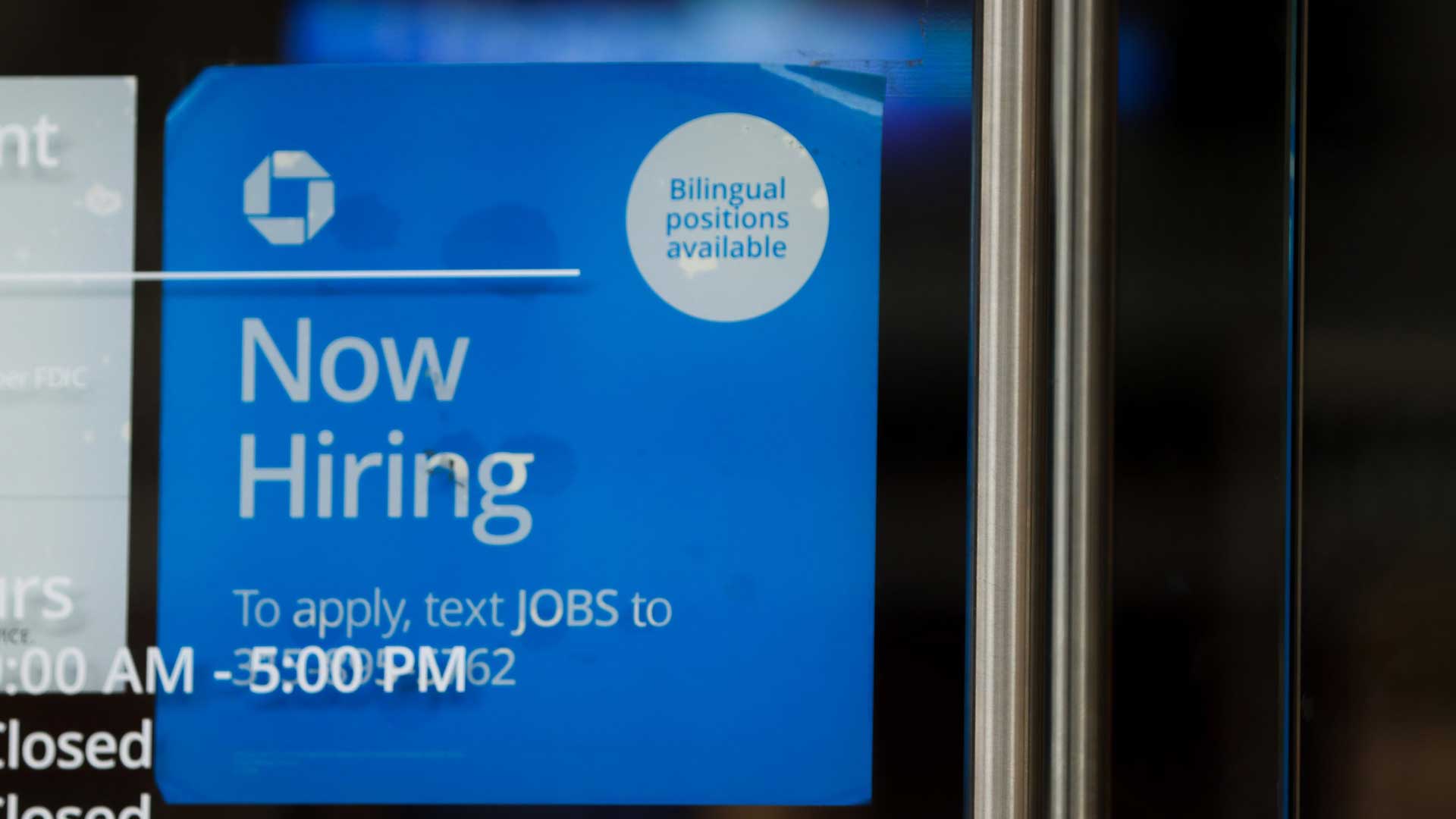 A now-hiring sign is posted at Chase Bank in downtown Phoenix. February 2023
Logan Camden/Cronkite News
For Arizona residents, the job market has tilted in favor of job seekers in a way rarely seen.
Bureau of Labor Statistics data analyzed by the University of Arizona's Economic and Business Research Center showed hourly wages in the state grew 5.7% from December 2021 to December 2022, when the average wage was $30.81 per hour in the private sector.
Economists such as George W. Hammond, the director of the Economic and Business Research Center, says there are multiple factors driving the rise in wages, but one of the primary causes is the churn of people moving between jobs.
"People wouldn't be (quitting their jobs) if they didn't think the new job had better opportunities for them, whatever it may be," Hammond said.
For Trineka Greer, the upheaval in the job market changed the nature of the type of offers she was receiving. Greer had been working in the public sector and accepted an offer for a remote role at an educational nonprofit. She had been recruited previously, but she was overqualified for most of the jobs. Greer did not want to reveal her former or current employers.
"This time was the first time where I had people who were these professional, high-level recruiters with firms and organizations who were really doing targeted searches," Greer said. "Every headhunter that reached out to me this time around was for a role that I could have potentially been well suited for, at least on paper."
Furthermore, employee motivations in a post-pandemic world have changed.
For Greer, being forced to work from home at the height of the COVID-19 pandemic opened her eyes to the possibilities and advantages of remote work.
"It just worked well for my life personally and professionally. I was far more productive, far more creative," Greer said. "I enjoyed the work that I did. I enjoyed the people that I worked with at my last organization, but having to come into the office began to be a significant burden for me."
Beyond wages, the overall value of employment is increasing nationally. The BLS Employment Cost Index, a national measure of wages and non-monetary employment benefits, continues to rise. In the Phoenix metro area, the compensation cost for private employers experienced an annual gain of 4.4% year over year in 2022.
The role of the workplace in the average worker's life has changed as well, with employees using the tight labor market to negotiate for better working conditions.
"This current generation of employees, they're like, 'I'm not going to tolerate that kind of overwork, that culture of overwork or that culture of disrespect or abuse,'" said Greer, who also has executive experience in multiple organizations. "So it's not just about salary, but certainly when (one) gets a certain salary level, there are other things that you're looking for in your total compensation package, and I think that employers are aware of that."
Even signs normally associated with loosening in the market show that there is a willing workforce present in the state – for the right price.
Arizona's unemployment rate rose from 3.2% in May to 4% in December, above the national average of 3.5% that month. Though a growing unemployment rate would normally signal a loss in jobs, Hammond described the trend as being driven by the growth in the labor force.
According to BLS, an additional 8,200 Arizona residents found employment between November and December 2022, at a time when the number of Arizonans in the labor force grew by 7,800.
However, there are reasons for workers to be concerned that wages are not keeping up with costs.
The All Item Consumer Price Index, a measure of the costs of consumer goods, showed prices in the Phoenix metro area in 2022 rose 9.5% over the year, 3 percentage points higher than the national average.
While the increased employment costs to businesses did contribute to that rise, the gap between the Phoenix metro area and the national average was driven by the cost of housing, Hammond said.
Shelter costs grew 17% from December 2021 to December 2022, compared to the previous year, though this is a drop from the year's peak.
According to Felicia Davis, founder and CEO of The Black Women's Collective and a former human resources executive, these mixed economic signals make it imperative for workers to maximize the value of their labor.
"If you can really master yourself in these three areas, ascension in times like these when the market is tight will never be a problem. Those are your reputation, your relationships, and your results," Davis said.
Davis further emphasized that to take advantage of the opportunities presented by the churn in the market, maintaining relationships is key.
"There will come a point where sometimes you do (change organizations)," Davis said. "Your only alternative to really get to that next level is to go outside the organization because you just kind of tap out in terms of how you can do. … You've got to make sure that you are strategically building those relationships."
Even as headwinds appear to be on the horizon, according to Hammond, he doesn't expect the state to see the kind of economic fallout brought on by the financial crisis of 2008.
"Even if the U.S. experiences a mild recession, that will translate into slower growth here in Arizona, not a reduction in jobs," Hammond said.