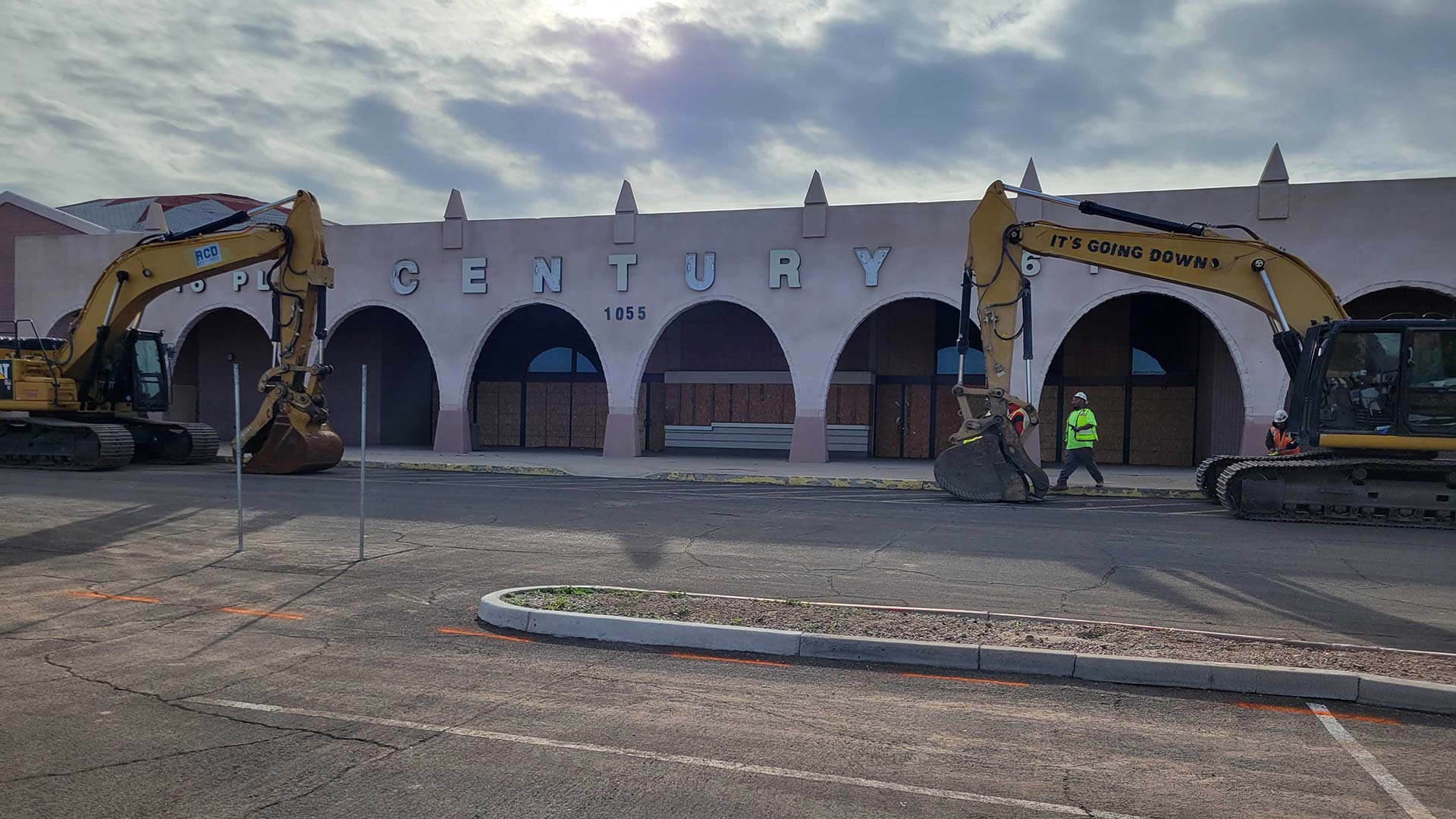 Crews prepare to start demolition on the former Century Park 16 movie theater. The site falls within an area where land owned by the Pascua Yaqui tribe can make land it owns a part of its reservation.
Zac Ziegler
The long-closed Century Park 16 movie theater near Grant Road and Interstate 10 is being torn down to make way for a new casino owned by the Pascua Yaqui tribe.
The tribe can annex the land thanks to a new federal law that allows the tribe to make any land within a neighborhood with heavy tribal ties a part of its reservation.
Tribal members have lived in the neighborhood, known as Old Pascua, since it was given to the tribe by a land developer more than 100 years ago, but the land was not officially incorporated into its reservation when it was formed.
But, Pascua Yaqui roots in the area go back well beyond that
"The United States wasn't even the United States yet, and yet the Yaqui lived and flourished all the way from Sonora this way," said Tribal Chairman Peter Yucupicio at an event commemorating the start of demolition work. "And a little further up north too."
Now, any land in a 30-acre area owned by the tribe can be brought into the reservation under the Old Pascua Community Land Acquisition Act.
That area covers most of the original 40 acres that made up Old Pascua.
Yucupicio was born and raised in Old Pascua, as were other members of the tribal council whose families did not move to the reservation when it was formed.
That group has continued to call the neighborhood home, and saw the movie theater as a gathering place until it closed in 2011.
"The building was more than a building. It provided jobs, and it was a place where people came and laughed and they marveled at movies like Star Wars."
Yucupicio and others expressed hope that the tribe's newfound ability to include this land in its reservation will help the Pascua Yaqui community in Old Pascua continue to grow and flourish.