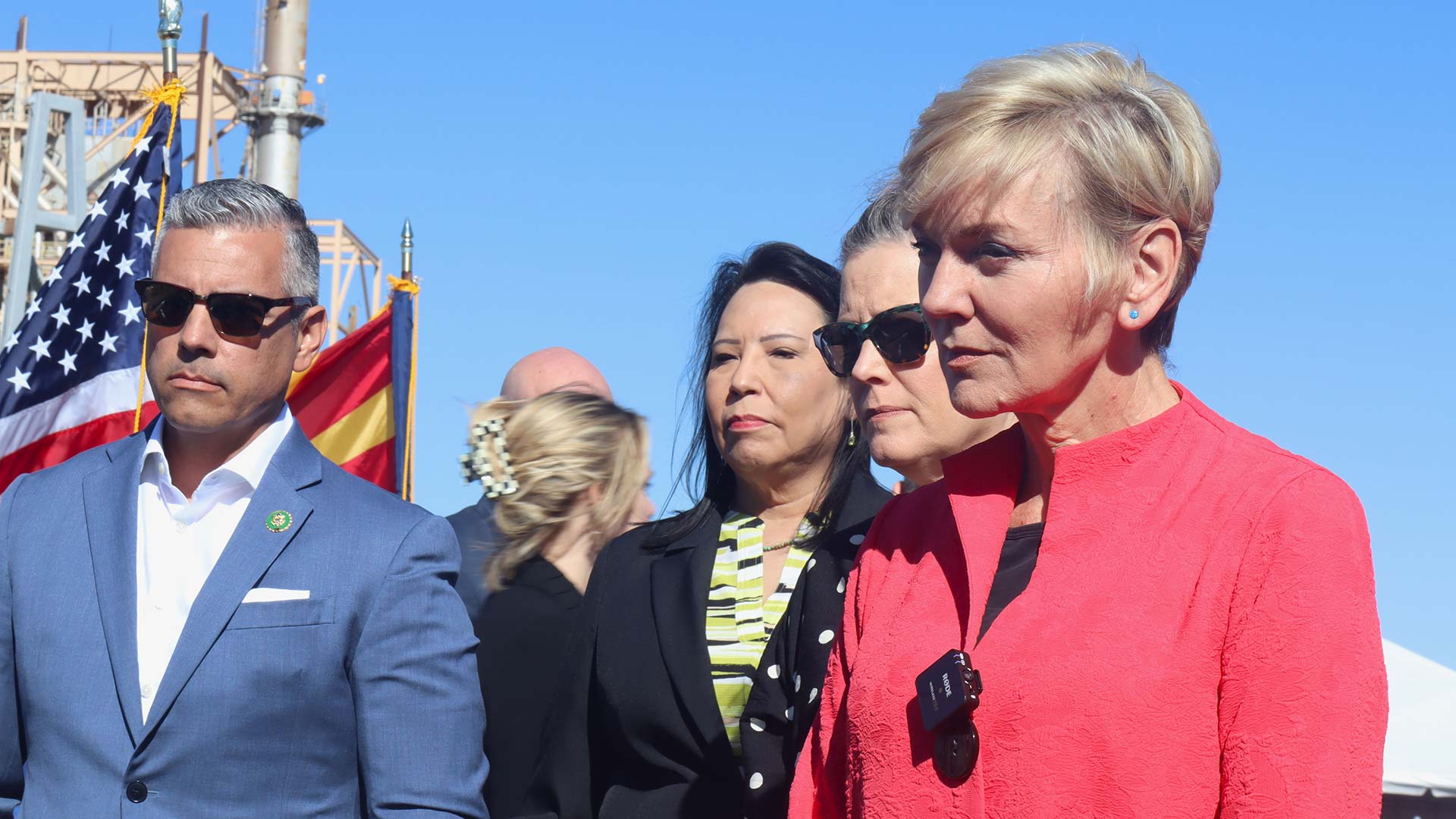 From left to right: Congressman Juan Ciscomani, Administrator and CEO of Western Area Power Administration Tracey LeBeau, Arizona Governor Katie Hobbs and Secretary of U.S. Department of Energy Jennifer Granholm at the Apache Generating Station in Cochise, AZ. October 30, 2023.
Summer Hom, AZPM News
The U.S. Secretary of Energy paid a visit to Cochise County Monday to announce federal support for the Southline Transmission Project which aims to bring more electric power to rural areas of the southwest.
Secretary Jennifer Granholm announced that the Southline Transmission Project — which runs through Cochise County and into Pima County — was one of three projects selected by the department for its Transmission Facilitation Program.
Secretary Granholm added that the DOE's program will invest $1.3 billion dollars for three transmission line projects that span across six states.
"That 1.3 billion will unlock about 3 billion dollars worth of private sector investment in grid infrastructure," the Secretary said Monday. "Once these three lines are operational, collectively, this will add three-and-a-half gigawatts of additional capacity to the nation's grid — which is enough to power the equivalent of three million homes."
Secretary Granholm said the three projects were selected through a competitive process and added that the billion-dollar infrastructure investment is not just a payment for the construction of the three projects.
"This program is a little different than us investing directly construction-wise into the building of the grid," said Secretary Granholm. "It is … a capacity project so that we on all three of these projects have an ownership in the capacity, the electricity running through. Until the project is completed, then we get out, we get reimbursed. It's a revolving fund. So, we expect that this competition will exist for a number of years as we continue to build out transmission."
Director of Development at Grid United for the Southline Project Isaac Phillips said that the federal government isn't funding the construction costs for these three projects.
"Grid United and our partners are responsible for getting these projects across the finish line," said Phillips Monday. "What the Transmission Facilitation Program provides is a capacity contract once it's built. So, the federal government is not actually financing construction. They're buying capacity on the line to, kind of, transfer to local utilities."
Phillips added that the infrastructure upgrades are an investment of more than $600 million dollars.
The Southline Transmission Project is a 280-mile-long high-voltage transmission line with a double-circuit design that enables electric power to be transferred bi-directionally. It's co-developed with Grid United and Black Forest Partners.
Phillips said the first phase of the project will bring renewable energy from New Mexico into Arizona.
"Phase one … starts near — in Hidalgo County, which is a high wind and solar region," said Phillips Monday. "And we're building a new transmission line from that area into Arizona, and connecting — actually — right across the street here near the Apache Substation … We're going to connect and upgrade the substation to take in a thousand megawatts of new power."
Phase two of the Southline Project will turn east, from Hidalgo County out to El Paso, NM.
"That's going to be a completely new-built line connecting to the phase one," Phillips said.
Phillips says construction on the first phase should begin in 2025. He said construction for phase two will likely begin one to two years after phase one is completed around 2027.
Benson Mayor Joe Konrad said Southline Project's upgrades bring stability to the power grid.
"We are a bit of a depressed area here in southern Arizona," Konrad said. "So, we're always glad when something like this comes along to enhance our economy, to stabilize the job market."
Konrad said that Benson will be soon experiencing some additional growth in its housing market, and the city is also looking to update its airport, which he says increases the city's demand for power.
"We're experiencing a housing boom right now," said Konrad. "We've got probably about 300 homes coming to Benson here in the foreseeable future and beyond that. But also, we want to grow commercially at our airport, and we see a need for additional power there at some point in time."
Arizona Governor Katie Hobbs says that the state has also received funds from the U.S. Department of Energy.
"My office has secured $13 million dollars from the Department of Energy and the Grid Deployment Office to build a more resilient grid throughout the state," Governor Hobbs said.
The DOE also announced the publication of their National Transmission Needs Study, which shows that there is an increased need for more transmission infrastructure to improve reliability and to lower the cost of power for high-priced regions.