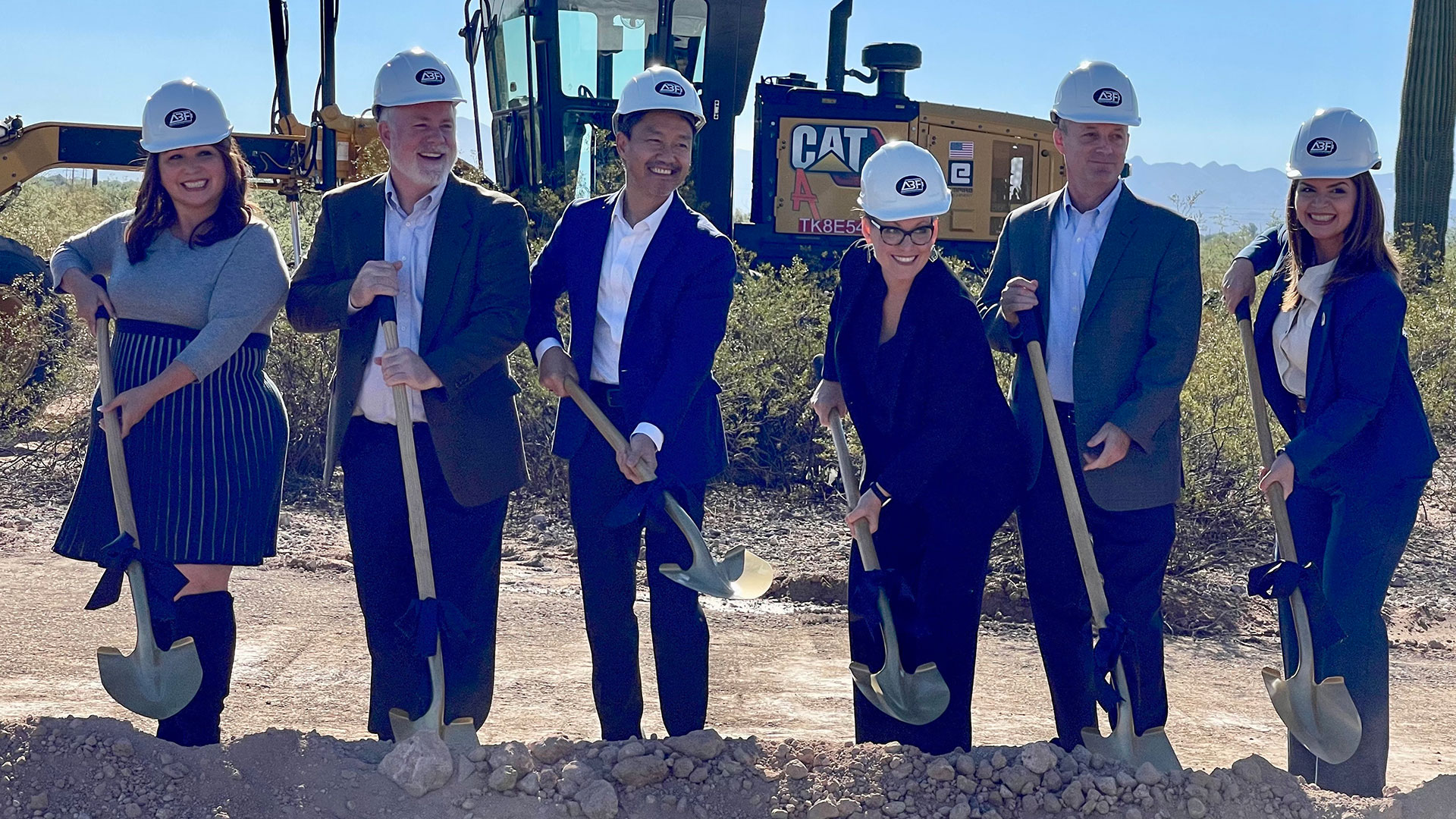 Officials break ground at the site of the American Battery Factory in Tucson, Ariz., on Thursday, Oct. 26, 2023.
Hannah Cree
Arizona Governor Katie Hobbs joined city and county officials in Tucson Thursday morning for the groundbreaking of the American Battery Factory's new $1.2 billion manufacturing facility.
Dubbed a "gigafactory," the company says they will create 1,000 new jobs when it reaches full capacity, and company officials said the economic impact for Southern Arizona will reach $3.1 billion dollars in ten years.
Governor Hobbs said the investment shows Arizona is becoming an epicenter for sustainable technology.
"Since 2021, we've had nine battery announcements in the state, including three right here in Southern Arizona. The influx of companies coming to this state demonstrates the modern and unique business environment that Arizona offers," Hobbs said.
But Pima County Supervisor Matt Heinz urged the company to keep their promises to prioritize equitable jobs in the surrounding low income zip code in his district, 85706.
"These households do not always reap the benefits of opportunities such as those coming with successful companies locating in this area. Let's see if we can partner and make this a true benefit to the southside. I commit to work with you to reach out to the surrounding community with localized job fairs and information on Pima College's training programs," he said.
Pima County Supervisor Adelita Grijalva emphasized that economic opportunity for Pima County must be balanced with environmental safety.
"Protecting our community is incredibly important to remember as we stand in an area where an environmental contamination, TCE, tragically diminished thousands of people's lives on Tucson's Southside and continues to have negative consequences," Grijalva said.
Trichloroethylene, or TCE, was a chemical used by Hughes Aircraft as a chemical to clean metal at Air Force Plant 44, south of the Tucson airport. The chemical was improperly disposed of in open pits from 1952 until the 1980s, and in 1982 the EPA found significant pollution in water wells on Tucson's south side.
Although Supervisors Grijalva and Heinz said the company has proven their process and infrastructure is safe, the company will need to establish trust in a community that has seen environmental injustice in the past.
"We must also be conscious and ensure that never happens again," Grijalva said.