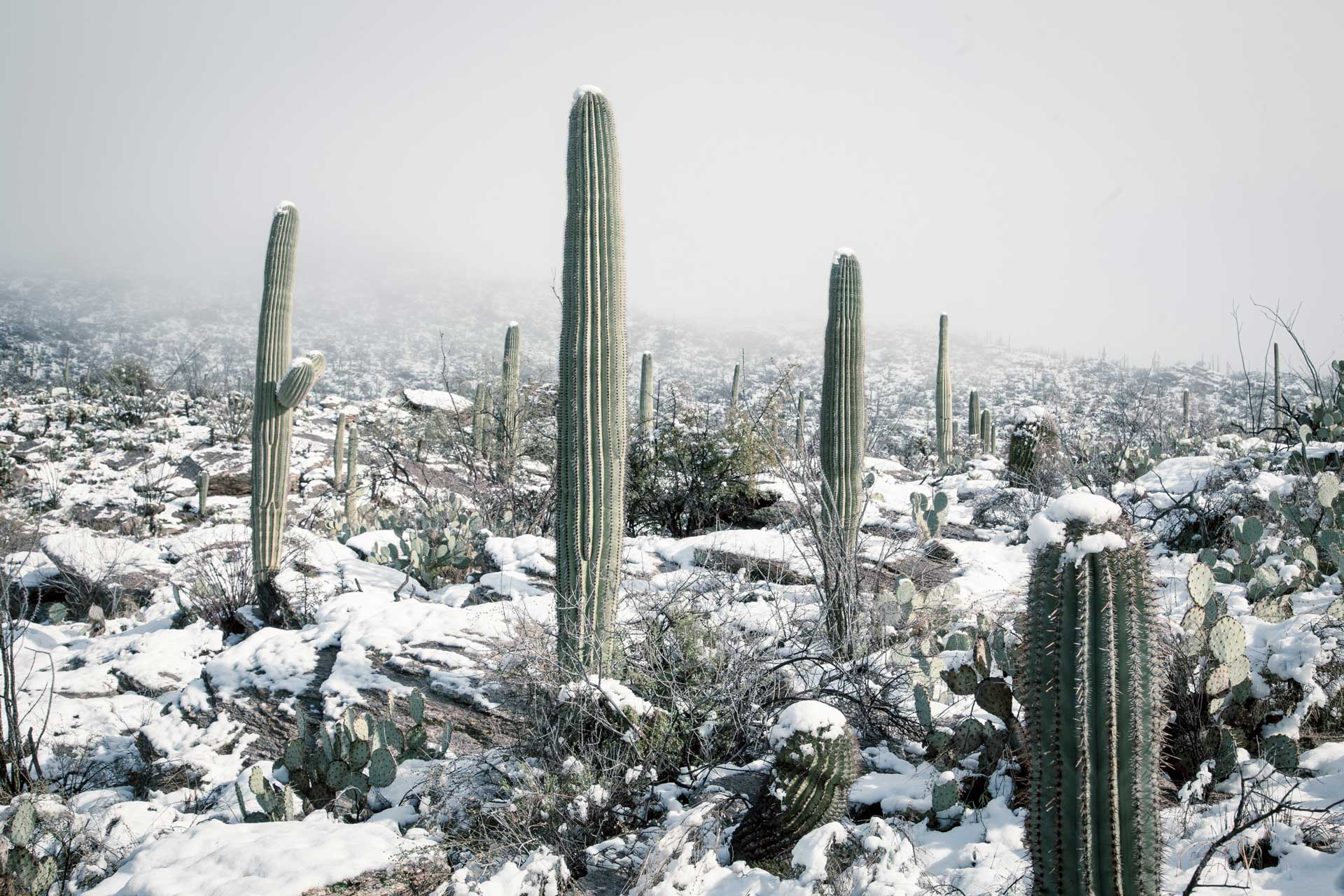 Fresh snowfall in Saguaro National Park, East, near Tucson, Arizona.
Chance Agrella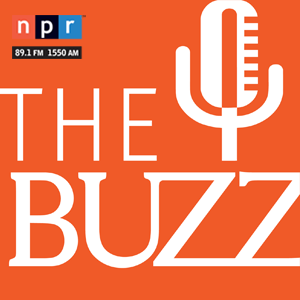 Arizona is drying out after a week of heavy moisture.
While some desert areas saw multiple inches of rain, mountainous areas were pounded by feet of snow.
The recent moisture came from the later storms that caused devastating flooding in California, according to a National Weather Service meteorologist.
"Basically, when the flow shifted south, it ended up moving the storm track across Arizona, just far enough south that we were able to participate in it," said Carl Cerniglia, who works out of the NWS' Tucson office.
But since earlier storms in the atmospheric river did not trend south, Arizona's moisture stayed in amounts that trended more towards inconvenient rather than deadly.
"[California] did receive multiple events, versus we received the last couple of them," said Cerniglia. "Also, a lot of the moisture was wrung out by the mountain ranges to our west, which helps out a lot. But that's not to downplay what we received here, we basically, if you look at the Tucson data or anything along in our area here, we received two months of rain in three days."
Gauges at Tucson International Airport measured more than 1.5 inches of rain over three days, making it one of the wetter locations in the lower elevations.
The slow, soaking storms will be good for Arizona's short term drought conditions, especially the snow in the mountains, which there was no shortage of. As of Thursday, Flagstaff Pulliam Airport received almost 37 inches of snow with another storm expected Thursday night into Friday.
That storm will keep temperatures cool statewide, though moisture is not expected to reach most of the state.
Winter rain in Tucson often means snow in nearby sky island mountain ranges, and that is definitely true in the Santa Catalinas.
For the past couple of weeks, the Catalina Highway has been busy, at least when the road has been passable as people travel up to enjoy the snow.
Recent storms have breathed life into Mount Lemmon Ski Valley, a spot that the operators say is the southernmost ski spot in the continental United States.
AZPM's Paola Rodriguez traveled to the ski area, where she found Patrick Flanagan, a Tucsonan who has been hitting Mt. Lemmon's slopes since 1990.
"We'll come up when they're open," said Flanagan. "Because of the climatic situations here, they don't have normal seasons, so when they're able to open it, you have to take advantage."
He called Mt. Lemmon a treasure for Tucsonans.
"It's not a secret but it is a treasure, you know? <ost of the people that you see coming up and going here aren't skiing. They're coming up to see snow and they don't know that you can't sled here, and snow is kind of a spectacle for the desert."
On the mountain for a different reason was Michael Rodriguez, a snowboard instructor who has worked on Mount Lemmon for 12 years.
"What makes this place magical is the fact that it's only open when it snows. We don't have water pumping up like other resorts where we could have man-made snow," he said. "If it was up to me and i had 10 million bucks, i would buy this place and get water up here and be open by Thanksgiving, but the beauty of this place is that it's only open, like, maybe 12 days a year for skiing and snowboarding because it's all based on the natural terrain."
Rodriguez said staff at Mount Lemmon Ski Valley feel like family, and there is good reason. It has been a family-operated business for decades, according to Graham Davies, the son of the ski area's founder and its current manager.
"My father in the '60s had some ski and surf shops in Tucson and Phoenix," said Davies. "Then it morphed into a chance to run the ski area, so he took a shot, took over the ski area in '69 and developed it into what it is now."
Davies said the fact that Mount Lemmon Ski Valley does not operate on a set schedule thanks to man made snow does not take a major toll on the business, since it runs the chairlifts during non-ski times for scenic rides and also operates restaurants in the area.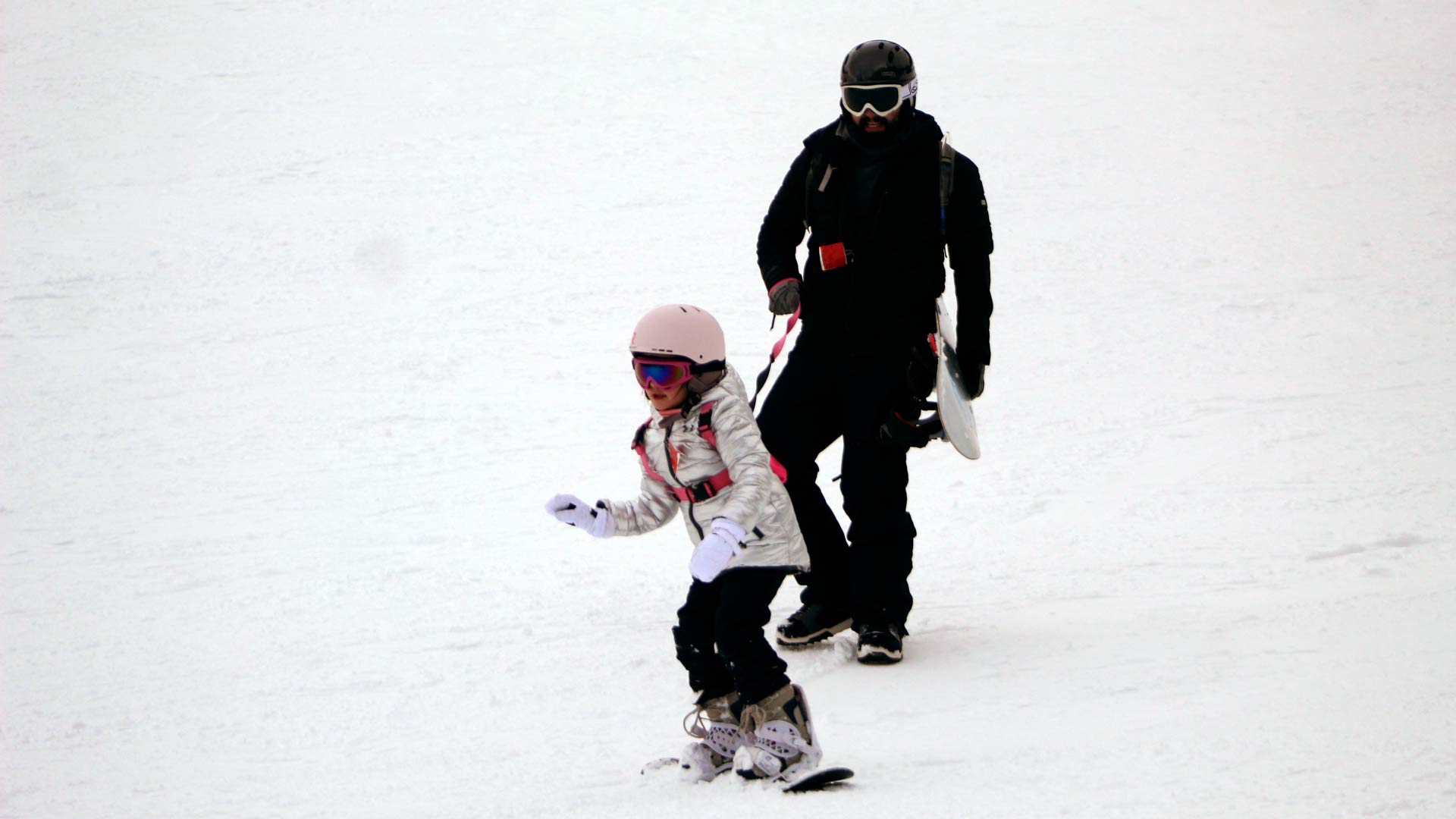 An attendee learns to ride a snowboard on Mount Lemmon Thursday, Jan. 5, 2023. Ski Valley offers lessons throughout the day.
Paola Rodriguez/Arizona Public Media
He also said the business holds a unique place in people's hearts.
"I meet people from all over the world who have skied here. It sounds weird but it's true lots of Tucsonans and Southern Arizonians grew up skiing here and have moved on to bigger and better things but they always remember Mt. Lemmon."
He hopes to eventually pass the business along to another generation of his family, be it his own children or a niece or nephew.
While snow play can be entertaining, there is also an element of danger. The steeper slopes of Arizona mountains and its quick turns from cloudy to clear skies can cause conditions that are prime for avalanches.
The Kachina Avalanche Center's work tries to keep people safe from avalanches in one of the state's top areas for winter adventure, the San Francisco Peaks north of Flagstaff.
"You don't have to have this awe inspiring panoramic of the Alps and you're standing under this giant slope," said KAC's James Foulks. "An inch of snow over a wide area that releases can easily bury you if you are already in a depression. So that's part of the understanding, is changing the perception of what a danger looks like, versus what is depicted in the movies."
He said the best guard against avalanches is knowledge.
"Over the past couple of decades, outdoor equipment has really evolved to enable people to do more," Foulks said. "You can stay warmer, the technology that people have like cell phones, spot messagers and other emergency messagers gives everyone this false sense of safety when they go out into these very wild places that operate under their own set of rules. Awareness is the first thing that anybody should be thinking of."
He said anyone heading into wild areas should take advantage of free resources that are available through the National Avalanche Center.
MORE:
Arizona
,
Business
,
Pima County
,
Entertainment
,
Environment
,
News
,
People and Places
,
The Buzz
,
Travel
,
U.S.
,
Water
,
Weather