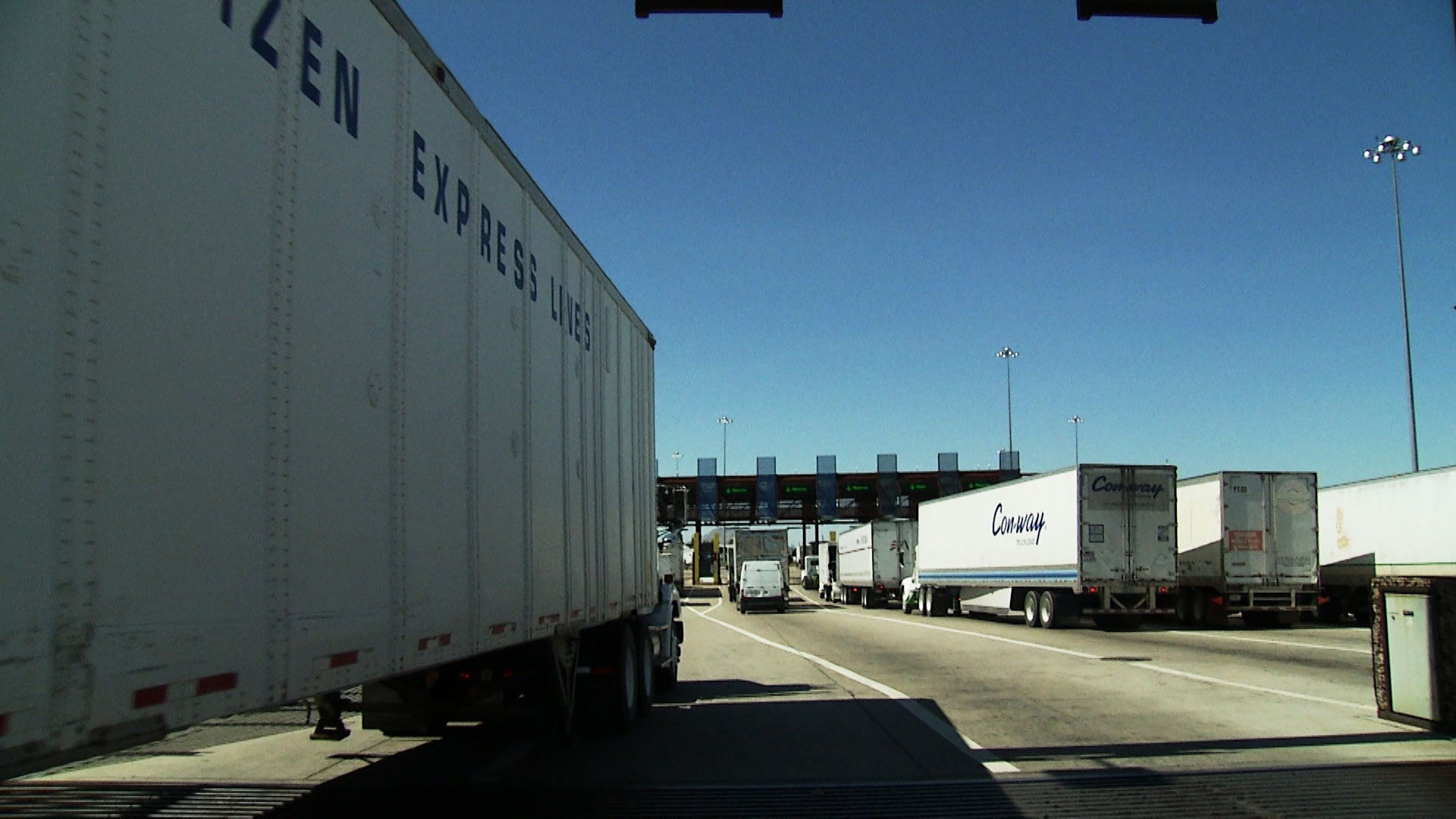 Commercial trucks travel through the Mariposa Port of Entry in Nogales.
AZPM Staff
Tensions seem to be easing at the Texas border, after days of delays and blockades that stemmed from new inspections on northbound commercial vehicles imposed by Republican Gov. Greg Abbott. The showdown pushed some additional cargo traffic to Arizona's border.
Blockades by Mexican truck drivers at the Texas border meant some cargo vehicles traveling from Mexico into the United States were rerouted through the Mariposa port of entry in Nogales this week
"We did see a slight uptick in cargo crossing," said Joshua Rubin, a board member for the Greater Nogales Santa Cruz County Port Authority.
He said that some vehicles that were able to reroute showed up at the port, causing slight delays. But he added that local leaders were ready, and that Nogales has the capacity to welcome additional commercial vehicles. In fact, he said, the recent upheaval could bode well for cargo crossings through Nogales.
"We would love that people would see the difference between how Texas deals with its Mexican counterparts and how Arizona deals with its counterparts in Sonora," he said.
Even so, he added that disruptions in cross-border commerce take a major economic toll on both the U.S. and Mexico.
"It's crazy to think how much damage the governor of Texas did to the country," he said. "Trade is very important. There have to be other methods to try to deal with these issues."
Rubin said in Nogales there is a push to have non-invasive inspections on all cargo vehicles, but not at the cost of the speed and efficiency of crossings.
By Thursday, Abbott had partially backed down on his new inspection plan after governors from Mexican states border Texas moved quickly to reach an agreement that would reduce major backlogs that had left truck drivers — many hauling perishable fruits and vegetables to the U.S. — waiting hours and even days at the border.
The widely criticized move to add additional inspections was in part a response to the Biden administration's plans to lift Title 42, a pandemic-era health order that has largely closed U.S. ports to migrants and asylum seekers.
"I would hope that the border doesn't become a pawn in some of these political issues going forward," said Guillermo Valencia, also a member of the Greater Nogales Santa Cruz Country Port Authority board. "It hurts and it impacts people not just at the border."
But like Rubin, he thinks the new barriers Abbott has put in place in Texas could make Nogales an even more appealing port.
"If it would have lasted longer, obviously the impact would have been bigger," he said. "But I do think we're going to see a lingering affect of people taking another look at Nogales."

Fronteras Desk
is a
KJZZ
project covering important stories in an expanse stretching from Northern Arizona deep into northwestern Mexico.