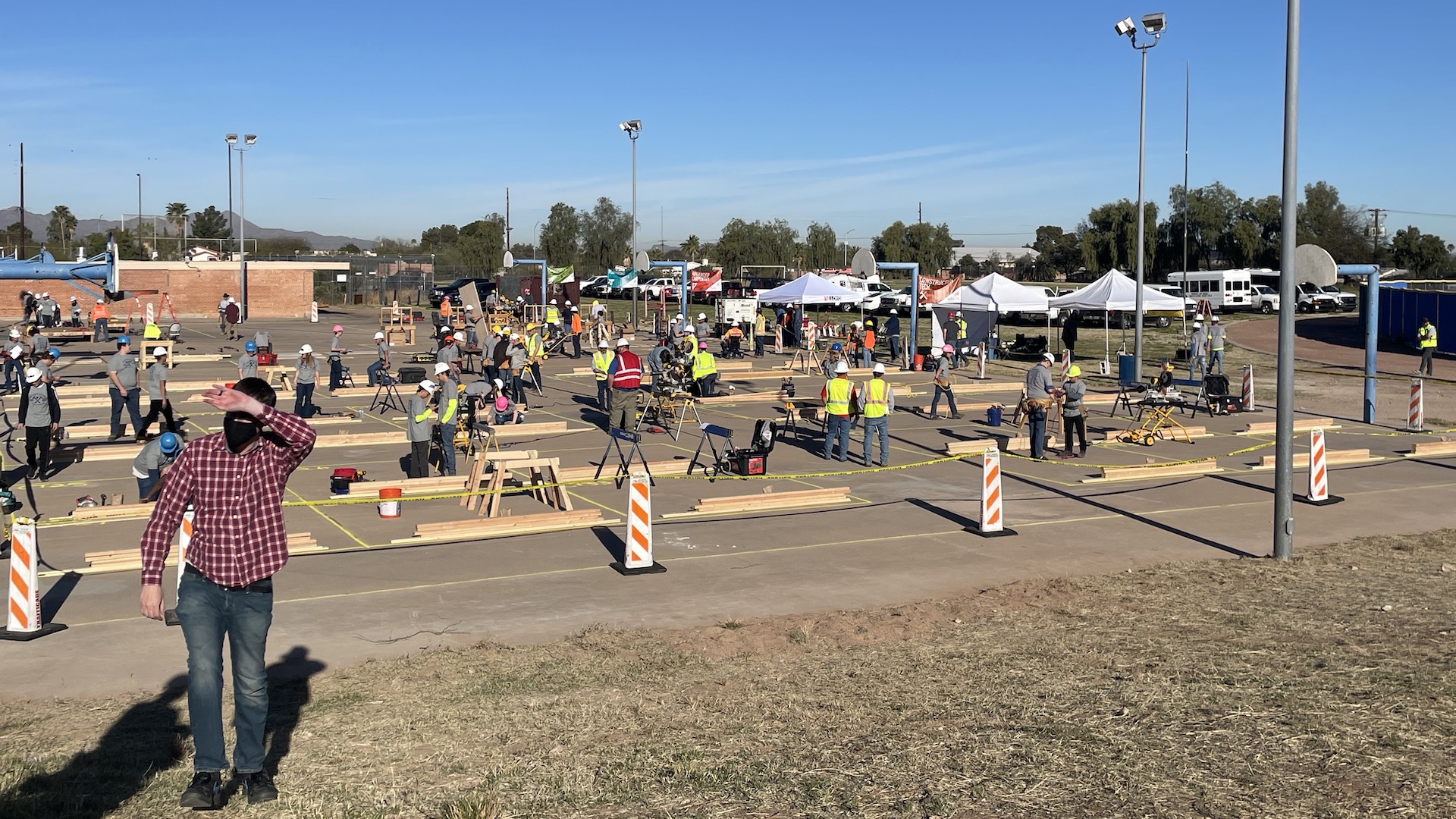 Students take part in a construction-skills competition at Catalina Hills High School, April 2022
Duncan Moon/AZPM
On a recent sunny southern Arizona morning, about 130 students gather at Catalina Hills High School. They are there to compete, but it's not soccer, or basketball, or baseball. They will be competing in 8 categories to see who has the best construction skills. There are no black and white striped referees, but prominent members of the Arizona construction industry will officiate and help the students produce their best work – and find a few employees for a fast-growing industry in need of their skills.

The students huddle in small teams behind the school, all wearing tool belts and hard hats. They are going over their final plans for what they are about to build, making sure they are all on the same page. Some are charged with framing out walls for a small building, others are building high-end patio chairs. In other areas, students work on sheet metal or electrical projects. As they complete their final preparations, the calm, cool morning becomes a hive of activity.
Leaders from local professional construction companies move among them observing and taking notes. Many have taken the day off work and invested money to make the competition possible, but it's not just an opportunity for them to support the next generation of their industry. They're also investing in their own future and the future of their companies
Mike Goodwin is the chairman for the Arizona Builders Alliance for southern Arizona. He says construction in the state is exploding with about $6,000,000,000 in new construction expected annually.
"Demand for construction services and skills is exploding," he says. We need a lot of people and we'd like to home grow them here and put our people in our state to work. "
He says the investment is well worth the return for both the student and the industry. Jake Parduhn, a senior superintendent at DPR Construction says investing in the competition is kind of a no-brainer
"If we put in – round numbers – $10,000 and we get three workers out of that, that investment will pay itself back in the first year," he adds.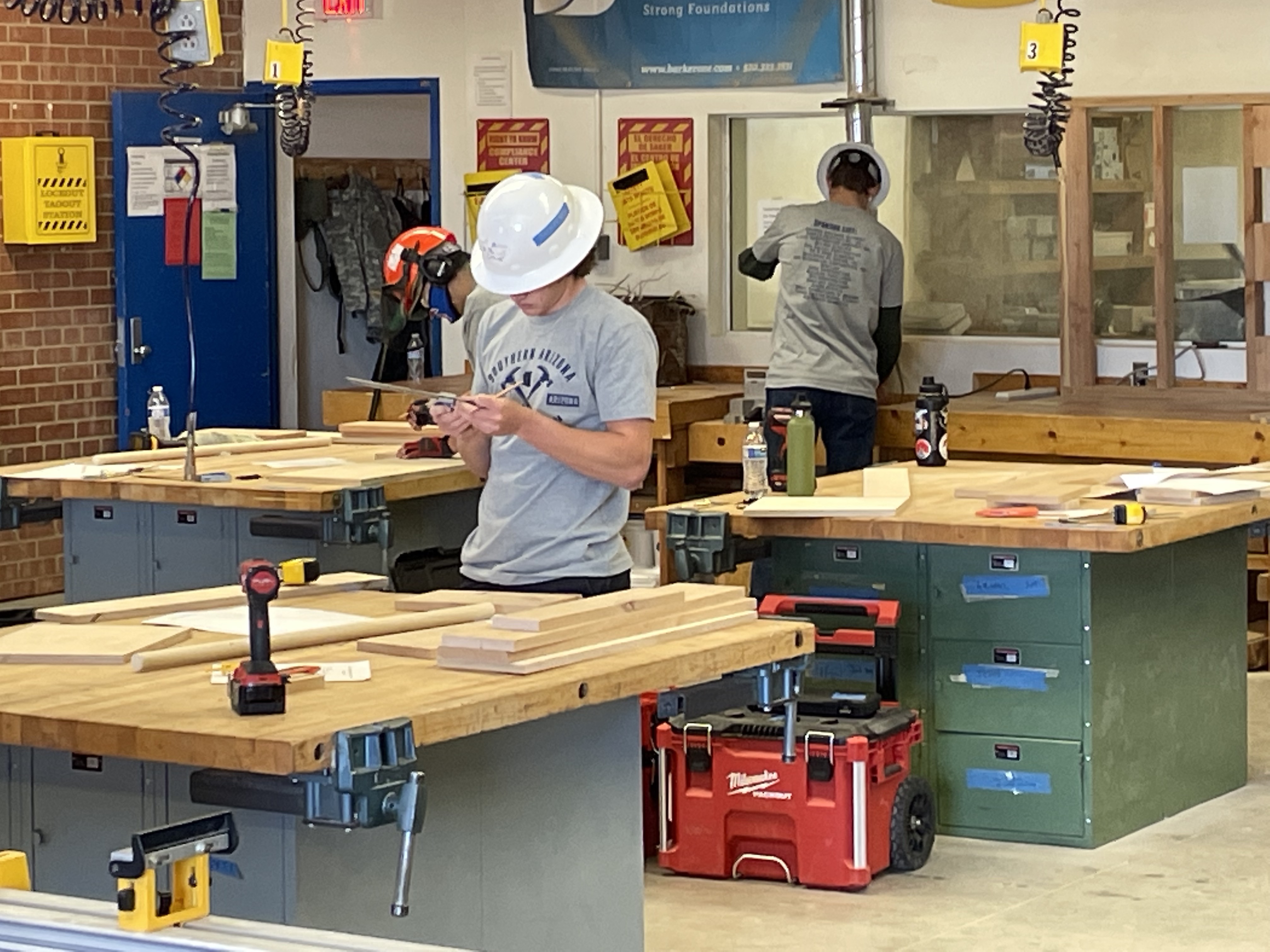 Students compete in the construction skills competition at Catalina Hills High School - Spring 2022
Duncan Moon/AZPM
So where do these students get their skills? Jim Luckow is a teacher and the workplace learning specialist at JTED, which focuses on providing High School students with skills to work in the trades. He says the training is not just about learning marketable skills. He says it provides students with a sense of purpose and teaches them what it takes to succeed in life.
" It gives you purpose in that you start something and you finish something and in that process you have to plan and in that way it's not any different than how we do our lives," he says. "We need to have a plan and whenever we start something we need to finish something and this demonstrates we can do that"
A lot of attention is being focused on how to rebuild student social skills which took a hit during the isolation of remote learning during the pandemic. But Luckow says programs like these are an effective solution.
"As you look out there and see them working in groups of two, three, or four students, they have to talk to each other as they are assembling something," he says. "They have to communicate on a continuous basis as they are measuring, cutting, assembling their projects, so it really forces them to do that. And hopefully at the end of the day become better communicators, learn how to respect people, learn how to be professional in the sense of professionalism."
In 40 years as a teacher, Luckow says it's clear t many students don't know what they want to do when the graduate from High School. Some head off to college not knowing why and have to try to find out while piling up debt.

He says going off to college may still be the best plan for some students – it was for him - but he also learning a trade in High School gives students some flexibility to work and really figure out what they want to do before making expensive plans that may put them in debt for many years.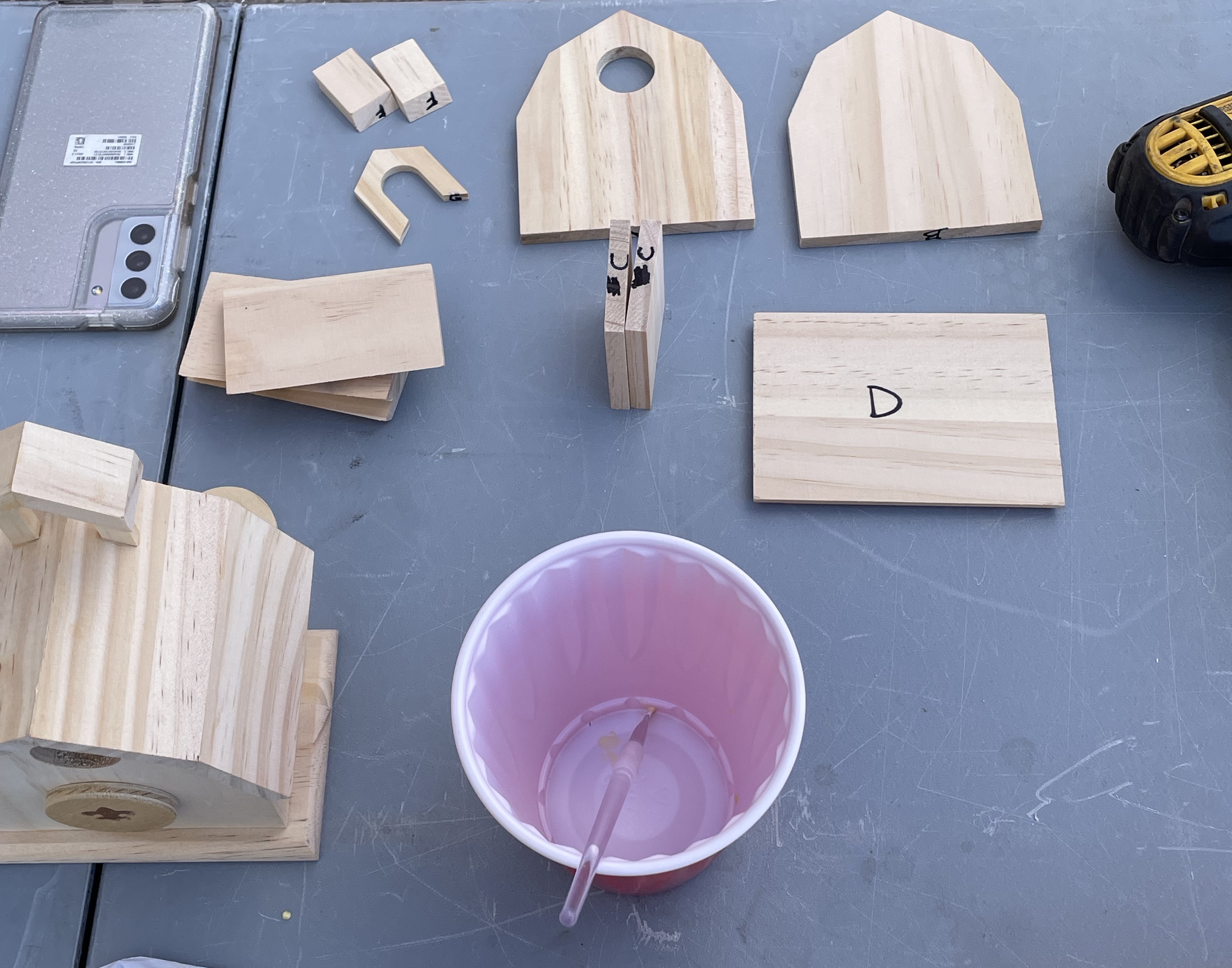 Middle-school students from Dove Mountain CSTEM built birdhouses
Duncan Moon/AZPM
Middle School teacher Adam Scafede has brought his class down from Dove Mountain Middle School. It's a CSTEM school in the Mariana Unified School District. While they are not yet eligible for JTED and construction technology classes, and aren't competing, they are observing and getting some initial hands-on experience building bird houses.
"I just want to get them exposed to seeing what things are out there, what things they can do with all the stuff they are learning in class," says Scafede. "Math, science, and technology also apply to trades and that basic understanding of the full spectrum of what can they do is important. The options are there; the opportunities are there. And it's just really fun."
20-year-old Alex Koster may be the best proof of the value of these competitions and the training behind them. He says learning trade skills in school, picked him up and gave him purpose. Two years ago, he was competing and winning here. Now, he not only has a job, but is judging part of the competition. He says having a good job without any college debt gives him some, but not complete freedom.
"Well, my debts not by student loan, my debts by car payment," he laughs
In this case a top of the line pickup truck to carry him and his tools to and from the job sites
"So I'm doing pretty good when compared with being 30-grand in debt starting off with a $300-$400 dollar payment starting off with student loans straight out of college.
Industry insiders like Jake Parduhn at DPR Construction say Koster and his peers are not only the solution to the current demand for workers, they are also the future of the industry.
"Currently the number of baby boomers still left in the industry are in the top management positions, but we're going to lose those in the next five to ten years," he says. "So, we're going to have a huge shift."
And he says as current mid-level construction workers move up to fill those leadership positions, those competing here today, will be among those to step up behind them.