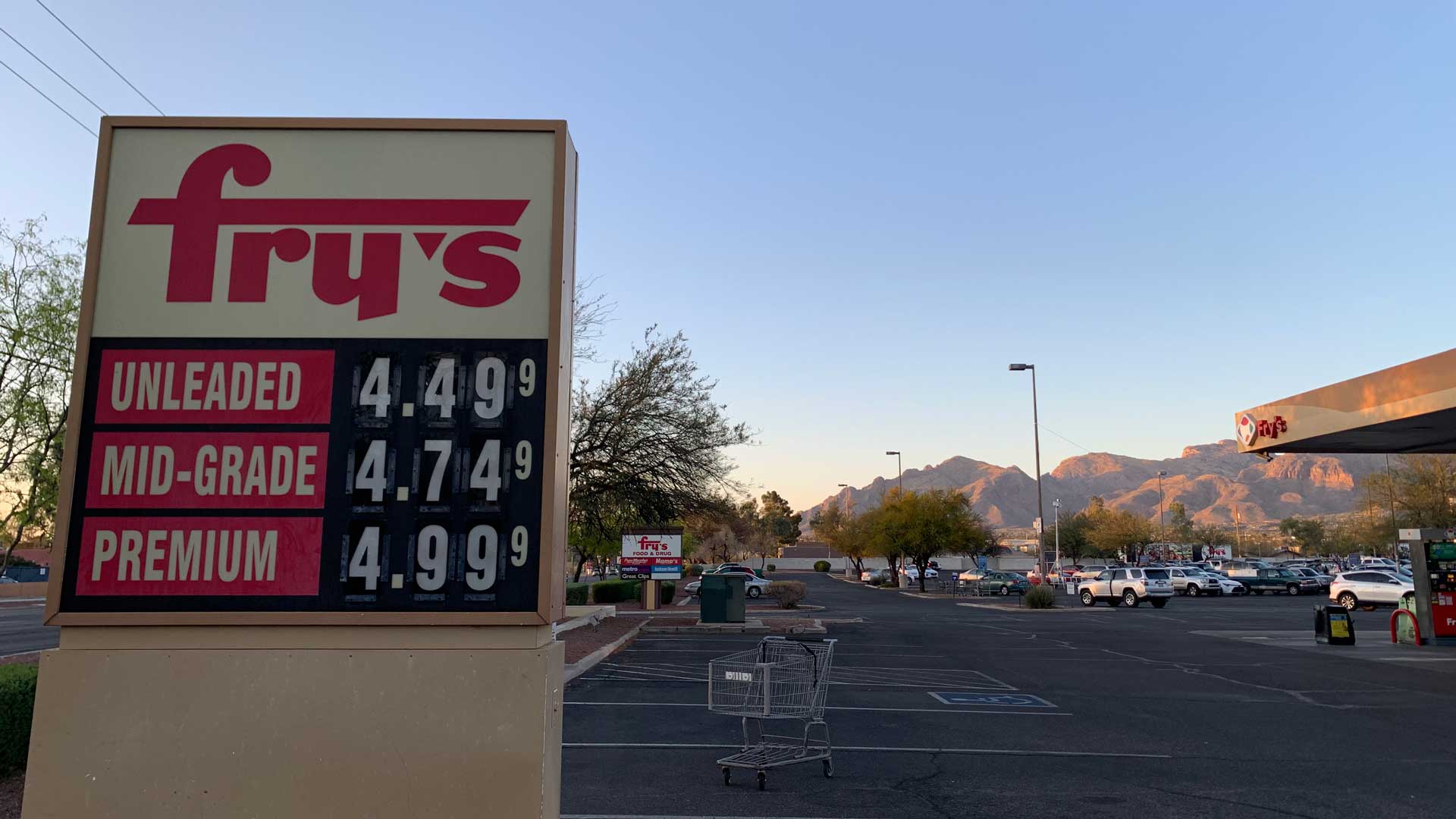 Gasoline was more than $4 a gallon in Tucson in March 2022
Eldridge Wisely
Jerry Kachenko expects most people in Tucson have seen it and don't even know what they're looking at.
Around Golf Links Road and East Ajo Way are a bunch of tanks — the source for most of Arizona's fuel.
This week, The Buzz examines where Tucson gets its gas.
"You have to sit down and really notice it," says Kachenko, of Arizona Petroleum.
The terminal where trucks pick up fuel for deliveries to gas stations around the area is just one part of the process, though.
Most of the fuel arrives via pipeline out of El Paso.
"One of the things that is surprising to people is just how much of the gasoline supply and gasoline products — we're talking about gasoline for cars and trucks and jet fuel — comes to Arizona through pipeline," says Allen Fore, vice president of public affairs for Kinder Morgan. "For the most part, it's pretty much all of it."
In turn, most of the fuel starts with oil refined in the Houston, Texas area or in California.
Plenty of that oil domestic. Texas is responsible for 43% of the nation's oil production, according to the U.S. Energy Information Agency.
The refineries get foreign oil, too. In 2021, Colombia, Canada and Mexico were the top foreign countries providing oil to the Houston area refineries. They also got oil from Ecuador, Kuwait and Saudi Arabia.
For California refineries, Iraq, Russia and Brazil were the largest suppliers of foreign oil.
At the refineries, all of the oils are mixed together. So, there is no real way to know where that gallon of gas in your car originated.
"What you don't want to do if you're getting frustrating with high prices is take it out on the poor guy behind the counter because he or she is not the one dictating the price," says Kachenko. "And neither is the poor guy delivering the truckload of fuel. That's beyond him."
Rising fuel prices are not pinching some Arizonans, though, who can unplug from the fuel system by plugging in their electric vehicles.
"I hardly even notice gas prices except when they're on the news, and then it sparks my interest and I notice as I drive by, " says David Gebert, who owns a Nissan Leaf and a Tesla and is president of the Tucson Electric Vehicle Association.
In the fourth quarter of 2021, close to 188,000 electric vehicles were sold in the U.S. And in Arizona, electric vehicles represent 6% of the market share for all vehicles.

The Buzz
airs Fridays at 8:30 a.m. and 6 p.m. and Saturdays at 3:30 p.m. on NPR 89.1. You can subscribe to our podcast on
iTunes
and NPR One. See more from
The Buzz
.