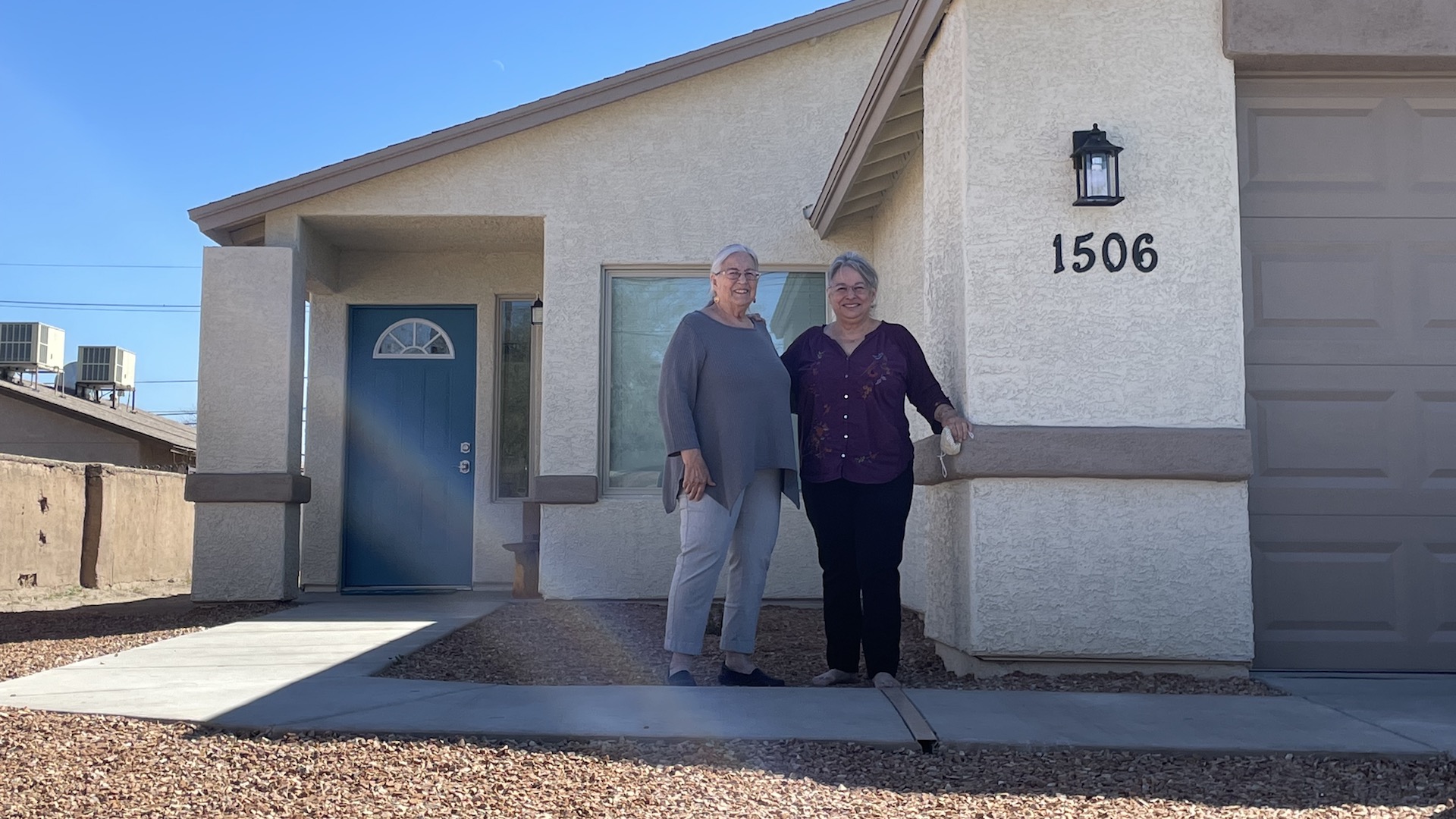 Rosalie Douglas, left, and her daughter Kathy Chavez bought a house this year through the Pima County Community Land Trust after a seven-year search.
Megan Myscofski/AZPM
The City of Tucson and Pima County offer support for renters and buyers alike, from help with rent to down payment assistance. But many people who need that help are struggling to find a place as the market in and around Tucson gets tighter.
Kathy Chavez moved into her mother's cramped apartment seven years ago with the intention of quickly buying a house with her. They didn't succeed until just this year.
"Every time we'd get to the point where we might be able to do it, the prices went up, and then we couldn't do it," Chavez said.
Chavez is a retired University of Arizona administrative assistant, and her mom, Rosalie Douglas, used to test military equipment as an engineer at Fort Huachuca.
At the beginning of the pandemic, they saw a Facebook post about the Pima County Community Land Trust, a group that buys land with funding from the city, county and others and sells it below market rate to low and middle income families.
After many delays brought on by COVID and supply chain issues, they finally had a house with the space and accommodations they needed, on a street with a view of A Mountain.
"There's a lot. We could learn to golf right there," Chavez said.
"Years ago, I used to play frisbee golf," Douglas said. "And I'm hoping to get back to it."
Despite their struggle, they might be the lucky ones. Many people are still in that limbo, even with help from the county and city governments. And as housing prices go up, those departments are struggling to keep people housed.
Tucson Association of Realtors President Jodi Koch said a healthy market would have about four to six months of inventory.
"Today we are running, if we're lucky, a month of inventory," Koch said.
Over the years, Tucson has kept more of its young people through better job opportunities. And in the pandemic, it attracted people who wanted to work from home. Many people also retired early as COVID settled in.
"And then where do our retirees want to be? Arizona," Koch said.
And people in states like California, Washington and Colorado, where housing prices are higher, are also selling their property and buying here, which drives up prices further.

Douglas and Chavez say that they now have enough room for visitors, including Douglas's fifteen great-grandchildren.
Megan Myscofski/AZPM
On top of all that, supply chain disruptions are quickly increasing building costs.
"Last year, a new home build was $50,000 to $100,000 less than it is today, and that's a lot of money," Koch said.

She said she doesn't see a bubble bursting, though the market could cool down over the next few years.
Koch said a seller can get dozens of offers in just a few days, and many buyers come with cash.
"It doesn't look as great to the seller as the cash buyer that walks in and says I will buy for cash in seven days, and I will waive my appraisal and all inspections," Koch said. "How does a first time homebuyer or any home buyer that needs a loan compete with that?"
Pima County Housing Program Manager Marcos Ysmael said the state, and especially the county, used to be known for low housing costs.
"We used to have a lot of what's referred to as naturally occurring affordable housing," Ysmael said.
That means the price was naturally low enough that the government didn't really have to subsidize much.
A Harvard Joint Center for Housing Studies report this year showed that Arizona was one of seven states that lost more than 40% of its affordable housing since 2011.
Ysmael said that's in large part because Arizona doesn't have rent controls and prevents municipalities from enacting them, and that attracts out of state buyers to rental properties here.
Getting assistance is also easier said than done. Nationally, only about a quarter of people who are eligible for housing assistance gets it.
Federal Section 8 housing vouchers play a large role in keeping people in their homes outside of public housing. Right now, the city and the county each have almost 300 applicants on their wait lists.
The wait list for public housing in Tucson has nearly 10,000.
"In some cases, it takes months, and having to apply for an extension of time with a voucher program, so that you can find a unit," Ysmael said.
He also said the average wait time is about two months.
The city and county are working with the U.S. Department of Housing and Urban Development to raise the maximum home price for down payment assistance from $178,000 to possibly up to $235,000. The median sale price in Tucson is about $320,000.
"It's a problem not just for low income families, it's a problem for working families, and affecting more and more middle income families," Ysmael said. "That's how bad the shortage is."
And he added that the areas with the highest increases in rent and home prices are the same areas where the city used to have the most affordable housing, shrinking the market even further for those who can least afford it.