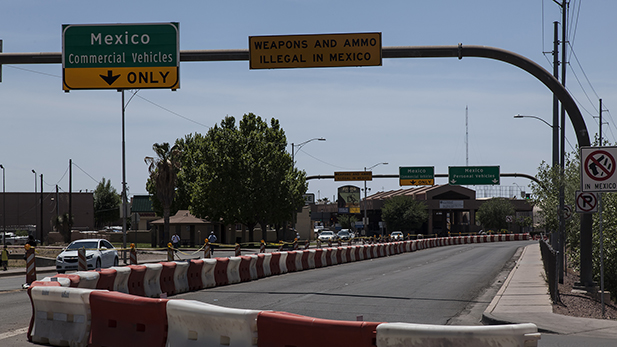 The port of entry in Douglas, Arizona in April 2016.

Steve Riggs, AZPM
About 100 migrants, nearly half of them children, are camped out by the port of entry in Agua Prieta, south of Douglas, hoping to ask for asylum in the U.S.
One mother, who was afraid to use her name, said she's been camped there a week with her partner and 3 and 9 year old children. She and her family fled the Mexican state of Chihuahua, where most of the families are from, because crime is making going about regular life impossible.
She said in Spanish that it's getting very ugly. Children aren't safe to go to school, and classes have even been canceled due to shootings. She works in a store, which got robbed by masked men, and she and her colleagues had to hide beneath the cash registers.
When they fled, they left their home quickly, leaving all their things behind and only bringing a change of clothes each.
At the port of entry in Douglas, some migrants have bought air-mattresses while others sleep on the ground with thin blankets. Aid workers are bringing them some food and water and minimal supplies.
Migrants and aid workers have said that U.S. customs officials are allowing one or two families a day to enter the country to make an asylum claim through the Douglas port of entry.
The only official way the families could ask for asylum is through an app called CBP One, but the families said no one waiting in Agua Prieta is able to get an appointment through the app.