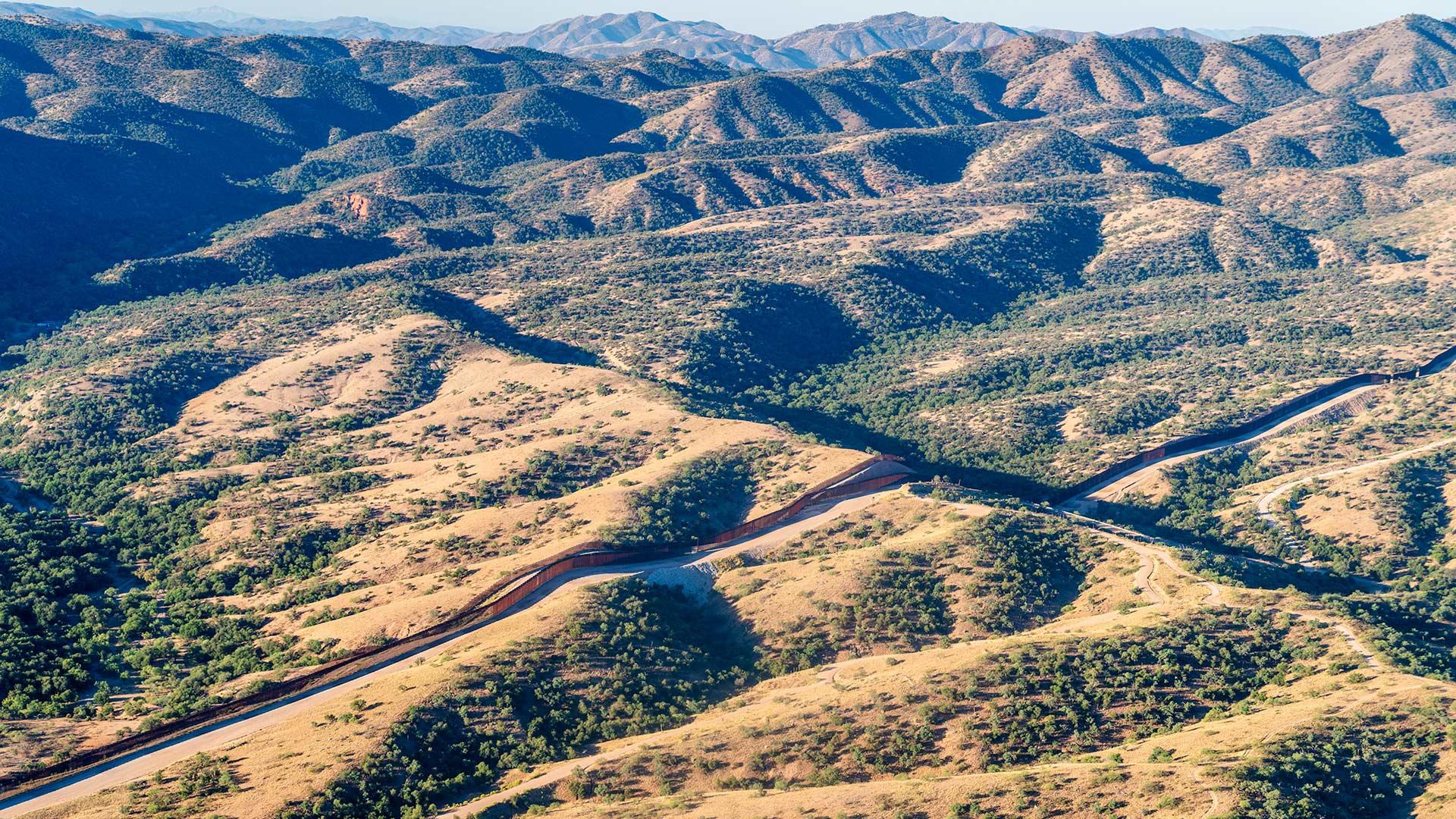 VIEW LARGER
Courtesy of EcoFlight
I recently got to go on a small aircraft flight, with educational nonprofit EcoFlight, for an aerial perspective of the site of a proposed road near the border, which numerous environmental groups oppose because it will cut through the habitat of at least 10 threatened and endangered species, including the endangered jaguar.
The proposed road is a cooperation between Border Patrol's Tucson Sector and the Coronado National Forest. The federal government says it would repair and construct nearly 13 miles of dirt road to enhance access for Border Patrol activities in the Coronado, about 10 miles southeast of the town of Arivaca, with a small section running along the border and most of it spread across significant border-area wildlands.
The proposed project also includes decommissioning about 4 miles of road segments near the border and in the Holden Canyon area that border officials say they no longer need for patrols.
That region is critical habitat for the jaguar, as well as ocelot, yellow-billed cuckoo, Mexican spotted owl, Sonoran chub, Gila topminnow, Chiricahua leopard frog, and other threatened and endangered species.
As we looked down on the site of the proposed road, Russ McSpadden with the Center for Biological Diversity told us about the project and the jaguar habitat.
There's been sightings very nearby," he said. "As the crow flies, the Santa Ritas are not far, so last time in there was 2015. The Huachucas are very close. Last time was just earlier this year. But jaguars are really wide-ranging animals. We know from El Jefe that their range is 200 or more miles. They have a huge territory."
Russ says that directly in the area of the proposed road there have been at least two jaguar sightings in the last 20 years. And the jaguar detected earlier this year was in the Huachuca Mountains, not far to the east. Given that jaguars can travel hundreds of miles, the project area would be well within the range of its movement.
"From right here you're seeing the Santa Ritas, the Patagonias, the Huachucas," he said. "This is jaguar critical habitat, and there's pretty decent connectivity here. I-10 poses a problem."
Environmental groups, including the Center for Biological Diversity, Western Watersheds Project, Defenders of Wildlife, Tucson Audubon Society, Grand Canyon Chapter of the Sierra Club and more want no new construction in the area.
Russ says that as part of the National Environmental Policy Act, also referred to as NEPA, officials are legally required to look at the cumulative impacts of past and potential future projects in the region, including mines and border barriers.
When the federal government installed more than 200 miles of border wall across Arizona under the Trump administration, they waived NEPA and dozens of environmental laws, which would have compelled them to analyze potential impacts to the jaguar and other wildlife, across federal public lands, including national parks and wildlife refuges.
Environmental groups are asking that the government do that analysis now.
As we look down at the border barrier built during the Trump administration, Russ says that we're looking at one of the greatest single threats to jaguar recovery. I ask him to elaborate.
"The core population of jaguars is a very sensitive and small population," he says. "The breeding population is in Sonora, Mexico. And recovery of the jaguar north of the border requires connectivity with that breeding population. The last female jaguar in Arizona was killed either in the 40s or the early 60s depending on who you ask."
Environmental groups say that heavy machinery and work crews improving, repairing, constructing or decommissioning roads in jaguar critical habitat could impact the species and its habitat through disturbance of normal biological activities, loss of habitat, and habitat fragmentation.
As well, they say the borderlands jaguar has particular importance because it lives at the current northernmost portion of the species' range and is a part of the same population as the northernmost breeding population, about 100 miles south in Sonora. The conservation of wildlife populations at the periphery is considered extremely important to the long-term survival of endangered species.
As well, higher temperatures and drier environments associated with climate change are pushing many species further north, meaning the borderlands habitat for jaguars will likely become even more critical to the survival of the species.
Russ says that in Arizona, we see jaguars constantly reestablishing territory north. I asked him some followup questions after we were back on the ground and I had had a chance to think on the meaning of the jaguar in this region.
"They're an incredibly important population," he says. "One, the federal government of the United States has designated critical habitat for them in these places and where this road project would be. When US Forest Service designated critical habitat for a species, they do so because they have looked at the scientific evidence and they've declared that this section of land is critical to the survival of the species."
He says that the existing border barrier and any further construction are such a threat to the jaguar because they need a large, relatively undisturbed habitat, without which the probability of extinction increases greatly.
Border officials the proposed project will undergo environmental review in accordance with NEPA. And the Nogales Ranger District, in cooperation with Customs and Border Protection, is currently preparing an environmental analysis of the proposal.
That area is currently only accessible from the north by two National Forest System roads. And there are no east/west roads that connect the Holden and Warsaw canyon areas.
Border officials say the limited access has constrained agents' abilities to respond to the area.
They currently have to drive a distance of about 24 miles that typically takes approximately 60 minutes to complete. And they may even need to continue on foot in order to patrol the area, requiring additional resources and manpower hours and hampering their effectiveness.
A scoping letter the government put out to engage in public comment as part of the NEPA process says that the few uneven, difficult-to-maintain, unpaved, ranch roads in the area have made detecting and responding to incidents of unauthorized crossings and related emergencies extremely difficult.
Tucson Sector Deputy Chief Justin DeLaTorre explains further.
"Our response capabilities are only on foot in that area, so it makes it very difficult for us or other agencies to rescue people who are lost or in distress out there," he says. "It makes it difficult for us to respond, whether it's narcotics trafficking or human smuggling, it'll give us additional access to the border in that environment. And it'll also be, working with our partners at U.S. Forest Service, it'll also be beneficial to them for their capabilities to get out and respond to fire events, rescue events that they may respond to."
When asked if that area is an area where migrants cross the border, he said there is human smuggling and people backpacking fentanyl and meth all throughout the Tucson Sector.
The human remains of nearly 50 migrants have been found in that region over the last 20 years, including three people this year.
So I had to ask Russ a question that I thought might be hard to answer: Why should people care about the jaguar?
"That's a good collective question: Why do jaguars matter? Why do endangered species matter?" he said.
"It's always a hard one to answer, and it's different for different people, but there are conservation organizations and federal agencies that have spent decades and countless millions of dollars pushing for jaguar recovery in the United States.
"The health of an ecosystem often cascades down from its apex predators. And almost all life in this region coevolved with jaguars as apex predators, and so having jaguars back is one step towards a more balanced and healthy ecosystem in Southern Arizona and in the borderlands.
"And that has cascading effects for human health as well. As much as we pretend we're not, we're deeply dependent on ecological resources and ecological health. And jaguars are one symbol of that," he said.
The 30-day comment period for the public to weigh in on the project ended in October, but environmental groups are asking them to restart it due to there being no mention of the jaguar or other endangered and threatened species in the government's scoping letter.
So far, they haven't received a response.