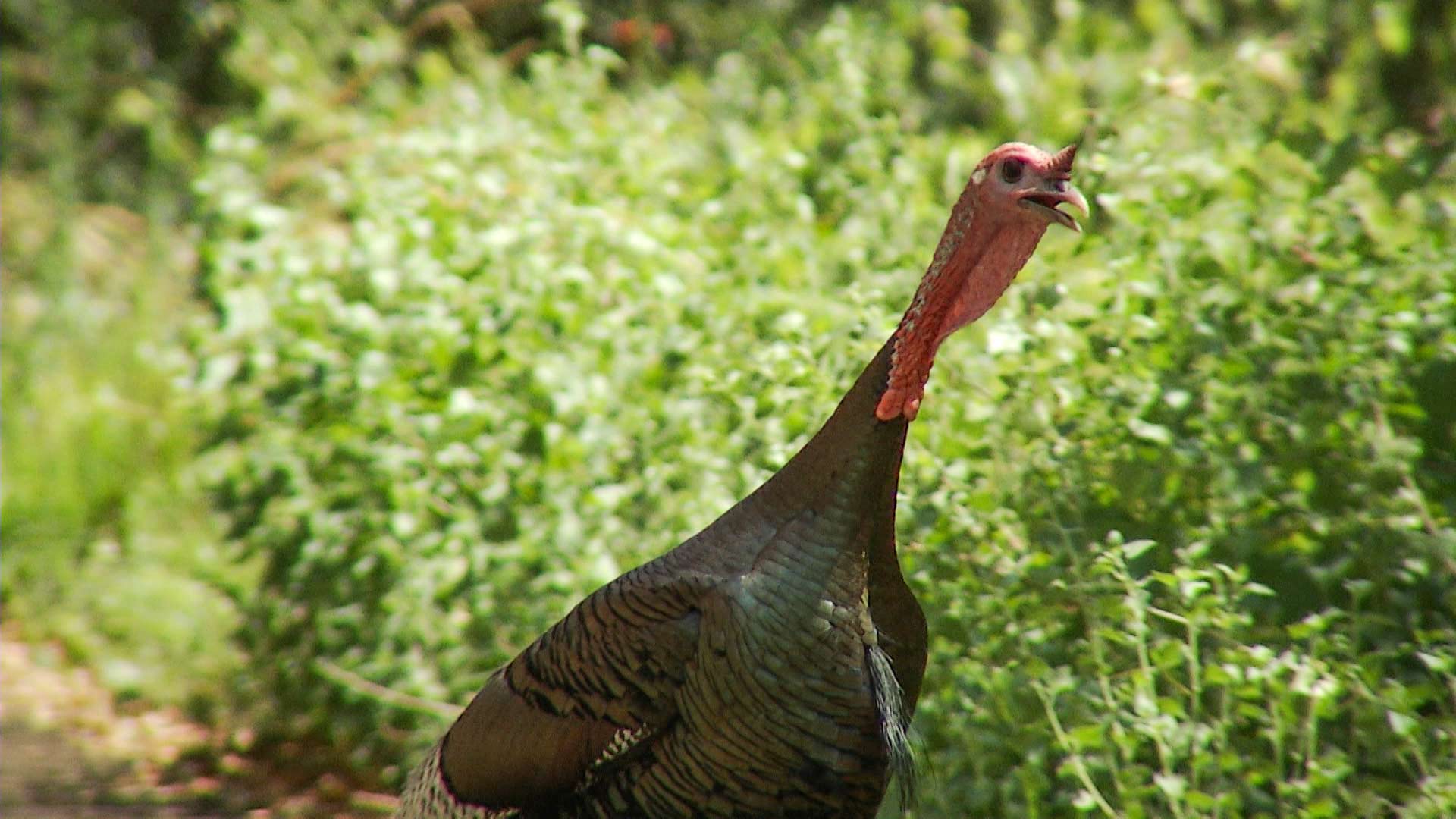 A Gould's turkey.
AZPM
About 1,500 Gould's turkey roam throughout Arizona's southeastern mountain ranges, thanks to a reintroduction effort that started on the ground in the early 1980s.
This Thanksgiving, the Arizona Game and Fish Department (AZGFD) is celebrating the 40th anniversary of the restoration of North America's largest wild turkey species.
Mark Hart, spokesperson for AZGFD said efforts initially began in the Huachuca Mountains near Sierra Vista. Once that population began to thrive, the department was able to transplant Gould's turkeys to other mountain ranges.
"They're also in the Catalinas, the Rincons and the Santa Ritas," Hart said.
The wild birds that are native to the region disappeared in the 1920s from intense hunting.
When active reintroduction began in 1983 through 2006, about 250 Gould's turkeys had been captured in Mexico and transported to Arizona for repopulation.
Nine wild turkeys were first transplanted from Mexico to southeastern Arizona in 1983.
"We're not actively reintroducing them now, but we're monitoring them," Hart said.
In 2003, the state offered the first Gould's Turkey hunting permit since their local extinction.
Hart said the department issues about 80 hunting tags annually, with a hunter success rate from about 18% to 30%.
According to AZGFD, "Gould's turkey populations grew large enough for Game and Fish to exchange 60 with New Mexico for 40 pronghorn antelope released to Sonoita-Elgin and the San Rafael Valley in 2014."
Hart said the department works to restore native animal populations to their home ranges, like the Gould's turkey which has intrinsic value.
"We think that the health of the ecosystem in large part is driven by an abundance of species native to it," Hart said." We can never turn back the clock and make things like they were 100 years ago, but we try and get close."
Restoration in the Sky Islands has been made possible by a multi-agency effort including Fort Huachuca, the Coronado National Forest, the Comisión de Ecología y Desarrollo Sustentable del Estado de Sonora and stakeholders on both sides of the border.
The birds have flourished throughout the region ever since.
Hart noted that the birds tend to travel places where they shouldn't be, like Davis Monthan Air Force Base or homes near a golf course in Green Valley.
"Occasionally they'll come out of the Rincons, into residential areas of Tucson and all people have to do is call us and we'll come pick them up and take them back to where they belong," Hart said.
Residents near mountain ranges who find Gould's turkeys near their homes can call 623-236-7201.