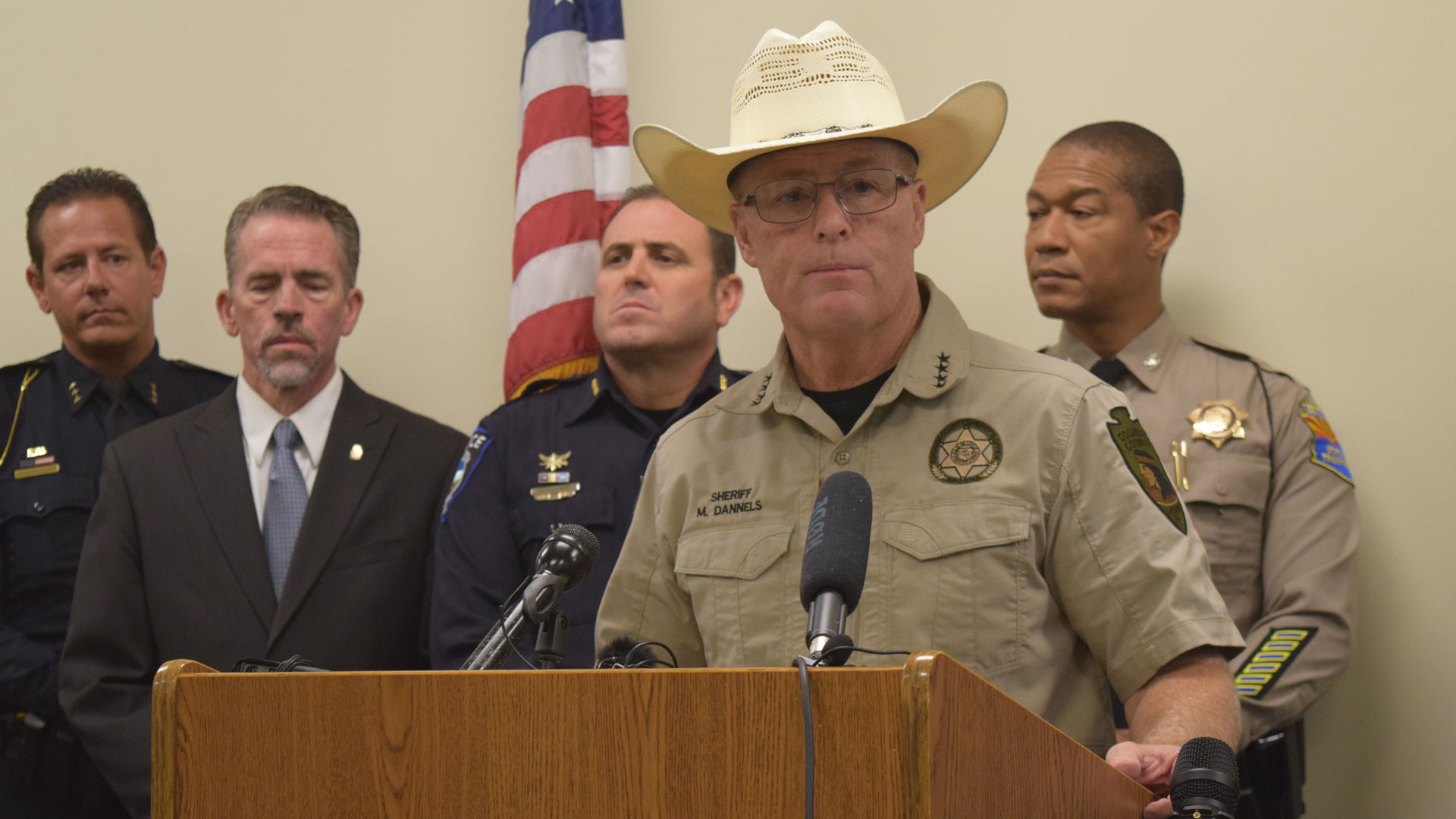 Cochise County Sheriff Mark Dannels speaks at a press conference in Sierra Vista on Oct. 24, 2023.
Danyelle Khmara
The Cochise County Sheriff's Office is launching a partnership with numerous law enforcement agencies throughout the state. The aim is to bring additional law enforcement to the county to help deal with human smuggling and other border-related crimes.
Sheriff Mark Dannels says every week a team of 20 to 30 law enforcement officers from agencies throughout the state will come to the county to work with their current interdiction team of five that focuses on border-related crimes such as human smuggling.
The county has seen around 400 pursuits in the last two years tied to human smuggling.
"This is an enhancement from what we've already been doing, but we're bringing in more resources," Dannels said. "We have three helicopters working this detail, which provides more security for law enforcement out there, to include the pursuits we're addressing, the failure to yields, and also we have intel built into this operation at an enhanced level that helps us going after these drivers, going after the cartel."
Dannels said he couldn't release more detail on what that intel looks like at this time.
Officials will fund the extra patrols from $12.3 million that was allocated by the state for local border security funding.
Human smugglers operating in the county have caused numerous car accidents fleeing law enforcement in the last couple of years.
Dannels says under a new state law, law enforcement in Cochise county has arrested 409 people in the last 11 months on human smuggling charges.
"We're pushing 400 pursuits in less than two years on smuggling. Bottom line is this. I can go on, over 100 juveniles apprehended in Cochise County — smuggling or down here for nefarious acts on our border," he said.
Human smugglers fleeing law enforcement have caused numerous car accidents in the last couple of years. County Attorney Brian McIntyre said 13 people have died in the last two years in the county because of this and border-related crimes.