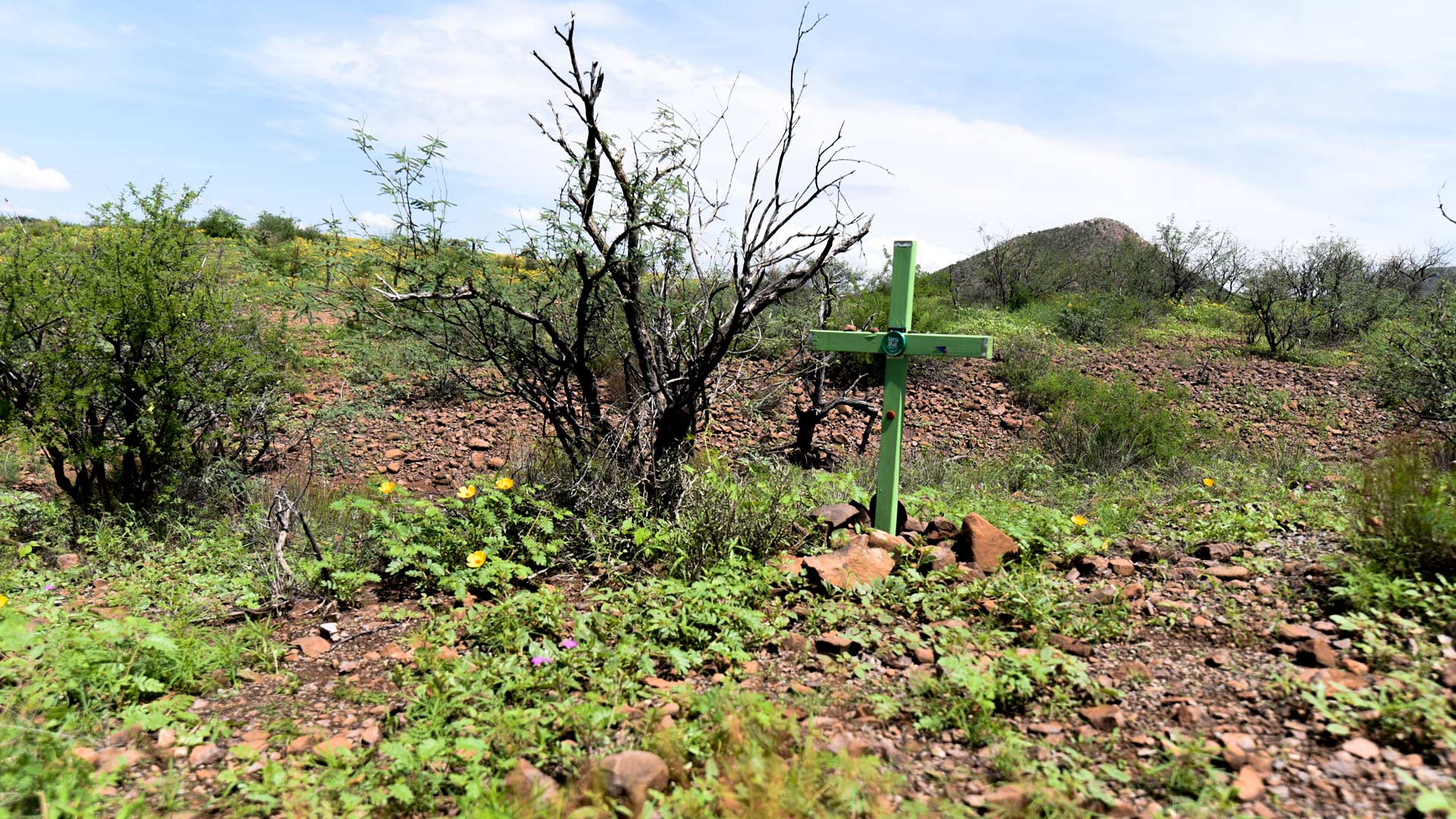 A cross marking the place where a man in his 30s died in 2009 lays a few hundred yards from one of the water stations Humane Borders sets out for migrants crossing the desert.
Alisa Reznick/AZPM
Pima County and University of Arizona officials are collaborating with researchers in other border regions to create a comprehensive database of migrant deaths across the U.S.-Mexico border to work toward understanding and fixing the problem.
The university's Binational Migration Institute hosted a panel last week that brought together speakers from universities and medical examiner offices in border states and beyond who have been collaborating for the last two years to create more comprehensive tracking of migrant deaths across the border.
Migration Institute director Daniel Martínez says one goal is for the other partners, which include the universities of San Diego, Texas-Austin, New Mexico, Texas State University, the New Mexico Office of Medical Investigator and others, to create a database similar to the one currently kept by the Pima County Medical Examiner and nonprofit Humane Borders.
"There is no centralized system used to track, enumerate, investigate migrant deaths along the US-Mexico border," Martínez says.
He says the system kept by the Pima County Medical Examiner, who has been tracking the deaths for 20 years, has become the gold standard.
Martinez says having a comprehensive database is important to fully understand the root and structural causes of the problem as well as paths forward to alleviate the problem.
"In addition to that, I think it's important because all too often we lose sight of migrants' humanity," he says. "After they die, they become dots on a map. They become statistics in a chart. And what we need to keep in mind is that each one of these individuals was somebody's mother, somebody's father, somebody's child, somebody's aunt, somebody's uncle, somebody's cousin. "
There have been more than 4,000 remains of migrants found in the Arizona borderlands, with more than 150 this year.