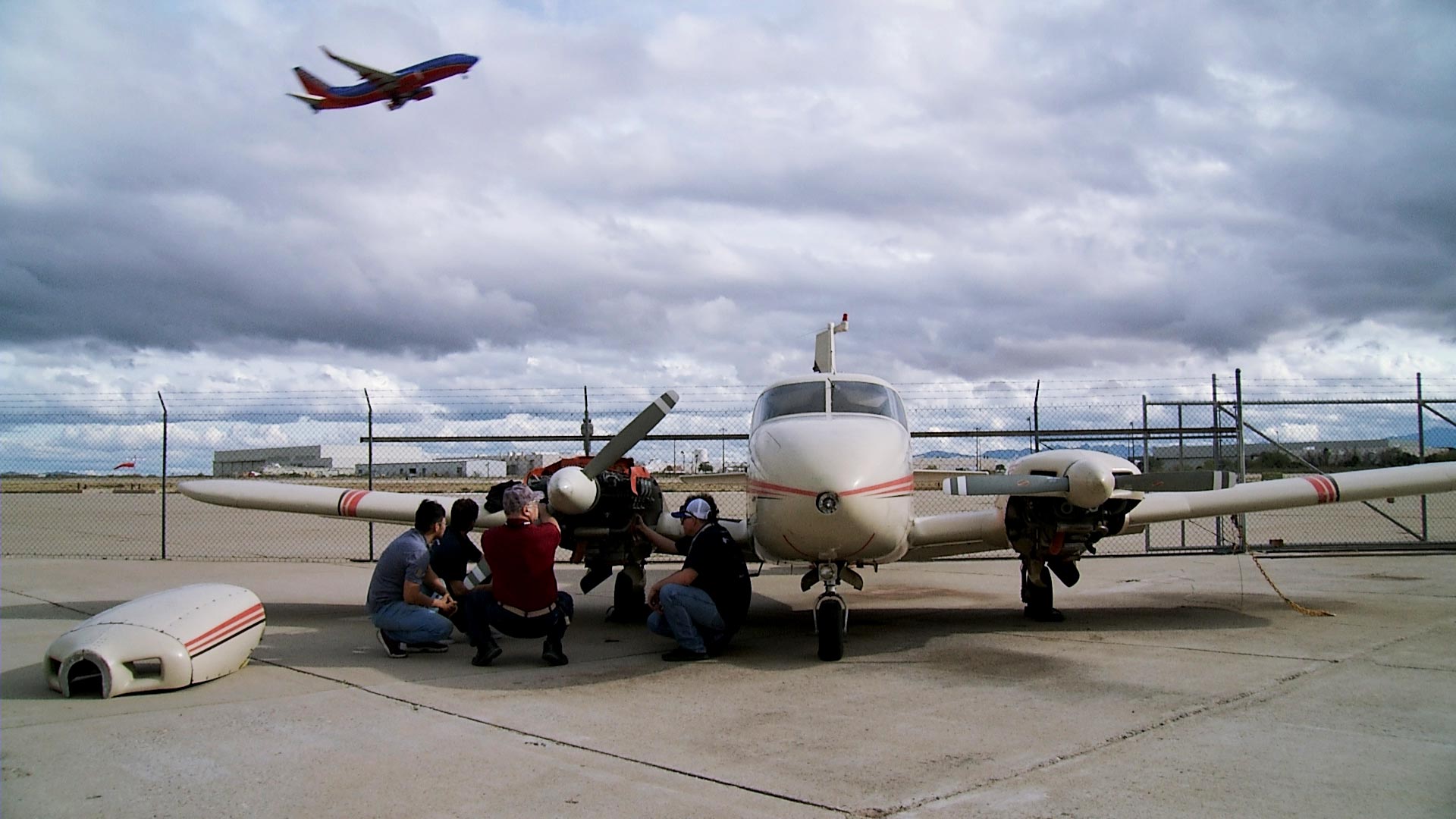 Students enrolled in Pima Community College's Aviation Technology Program do maintenance on a plane as a commercial aircraft takes off from the nearby Tucson International Airport on Feb. 4, 2019.
AZPM
United and American Airlines are both warning of furloughs in the thousands come October. But for Tucson-area companies that make products and parts for airplanes, the situation isn't so dire. In some cases, the commercial airline industry's loss is the local economy's gain.
The winners include Ascent Aviation Services, which is currently maintaining dozens of Delta planes parked at the Pinal Airpark. Arizona's dry desert climate makes it ideal for plane storage, according to Pinal County. Over 200 planes are currently parked there.
Charter jet flights have bounced back from April lows much faster than commercial airliners, as moneyed customers skip sometimes crowded planes. There were 17% percent fewer charter flights in August compared to the same month last year, according to Argus International, an aviation data analysis firm. There were 53% percent fewer commercial flights.
That's good news for Bombardier, which has a business jet service center located at the Tucson International Airport. Japanese manufacturer Mitsubishi bought Bombardier's jet service program for $550 million in June, according to a company press release.
Employing over 25,000 people, Pima County has a highly concentrated aerospace and aviation industry — eight times greater than the average metro area, according to economic development organization Sun Corridor. Over 200 companies in the region develop parts and manufacture products for the sector.
Many of them — such as Raytheon Missile Systems and Abrams Airborne Manufacturing — are buoyed by large government contracts, according to Pima County economic development director John Moffatt.
"What we're seeing continues to just move right along. Most of their contracts are long term," he said.
Tucson-based Paragon Space, Moffatt noted, is doing particularly well.
In May, Paragon was awarded a NASA contact to produce systems to keep humans alive on the moon when NASA resumes moon missions later this decade. Last year, Paragon received another NASA contract to develop a system to produce hydrogen and oxygen on the moon to reduce supplies that need to be sent with astronauts from Earth.
But not every company is immune from the economic downturn. Tucson's Universal Avionics laid off fewer than 60 employees this week. The company develops airplane navigation, communication and display systems and was purchased in 2018 by Israel-based Elbit Systems. The company did not immediately return a request for comment.
Honeywell announced plans last week to move its aerospace research and development operations out of Tucson, affecting over 700 employees. Moffatt said the decision was likely related to a planned company restructuring and not the coronavirus pandemic.

This story is part of
The Balance Sheet
, a weekly look at how businesses are surviving the coronavirus economy.