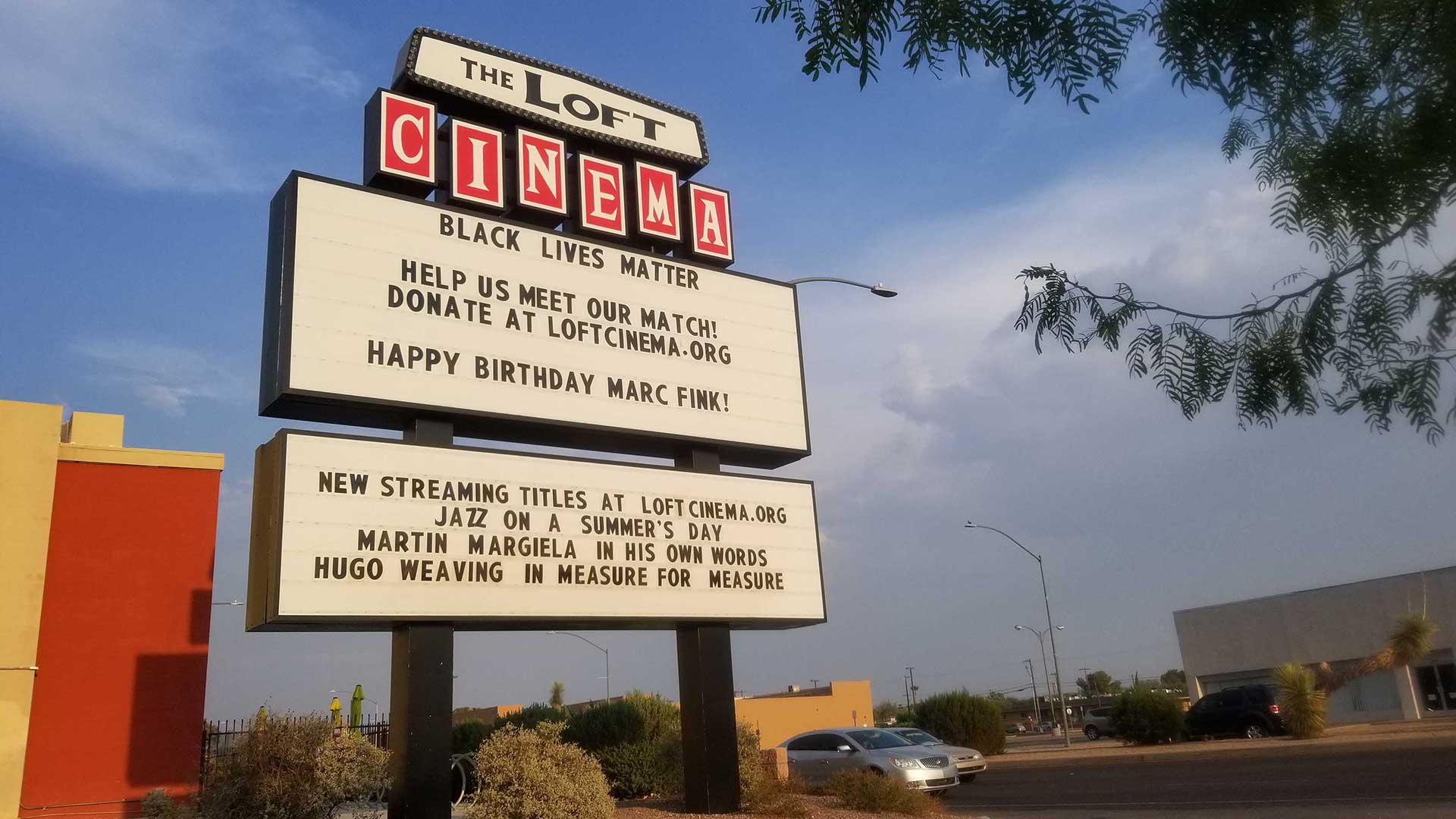 The Loft Cinema marquee, Aug. 27, 2020.
AC Swedbergh/AZPM
Tucsonans sick of streaming movies at home will soon have other options.
Pima County businesses that closed in June, such as movie theaters, got the green light from state health officials to reopen Thursday. The county has moved from "substantial" coronavirus spread to "moderate," according to the state's back-to-business benchmarks. But that's still too much community spread for some cinemas.
Harkins Theatres planned to reopen its Arizona locations Thursday, Aug. 27. The movie theater chain has two locations in Pima County and will offer early showings of Christopher Nolan's new spy thriller "Tenet." The theaters will open at 50% capacity and require masks, except when eating or drinking.
AMC Theaters has not announced plans to reopen.
The Loft independent cinema in Tucson has no plans to reopen. Executive director Peggy Johnson said the nonprofit theater isn't facing the pressure corporate chains are. "We are not going to open the second we can so that we can start making money as fast as possible showing movies. We want to do you know what's safest and most prudent," she said.
The Loft joined other small businesses against reopening in May around the banner "Too Soon Arizona." The group's claims that coronavirus was not yet under control were soon vindicated. Gov. Doug Ducey ordered movie theaters, gyms and bars closed in late June as COVID cases spiked in the state.
Facing lawsuits and pressure from business owners, Ducey released a set of public health benchmarks in August for when those restrictions would lift.
Businesses can reopen when a county's rate of COVID-19 cases per 100,000 is between 10 and 100; the percent of positive tests results are between 5% and 10%; and when between 5% and 10% of hospital visits are for COVID-19-like illnesses. Maricopa County also moved to "moderate" community spread Thursday. Pinal, Santa Cruz, Yuma and Graham counties are all still considered to have "substantial" community spread.
Pima County now meets those requirements, but Johnson said she learned from that first shutdown. "We also don't want to open and then have to close and reopen and get on that roller coaster. So we're going to wait until things are more stable."
Johnson said the theater won't stay completely dark. The Loft will continue to rent out the cinema for private parties of up to 10 people to watch a movie of their choosing, and it plans to start showing movies on the side of its building next week. It's also joining 10 other independent cinemas to pilot a new video-on-demand service to deliver new releases to customers' living rooms.

This story is part of
The Balance Sheet
, a weekly look at how businesses are surviving the coronavirus economy.