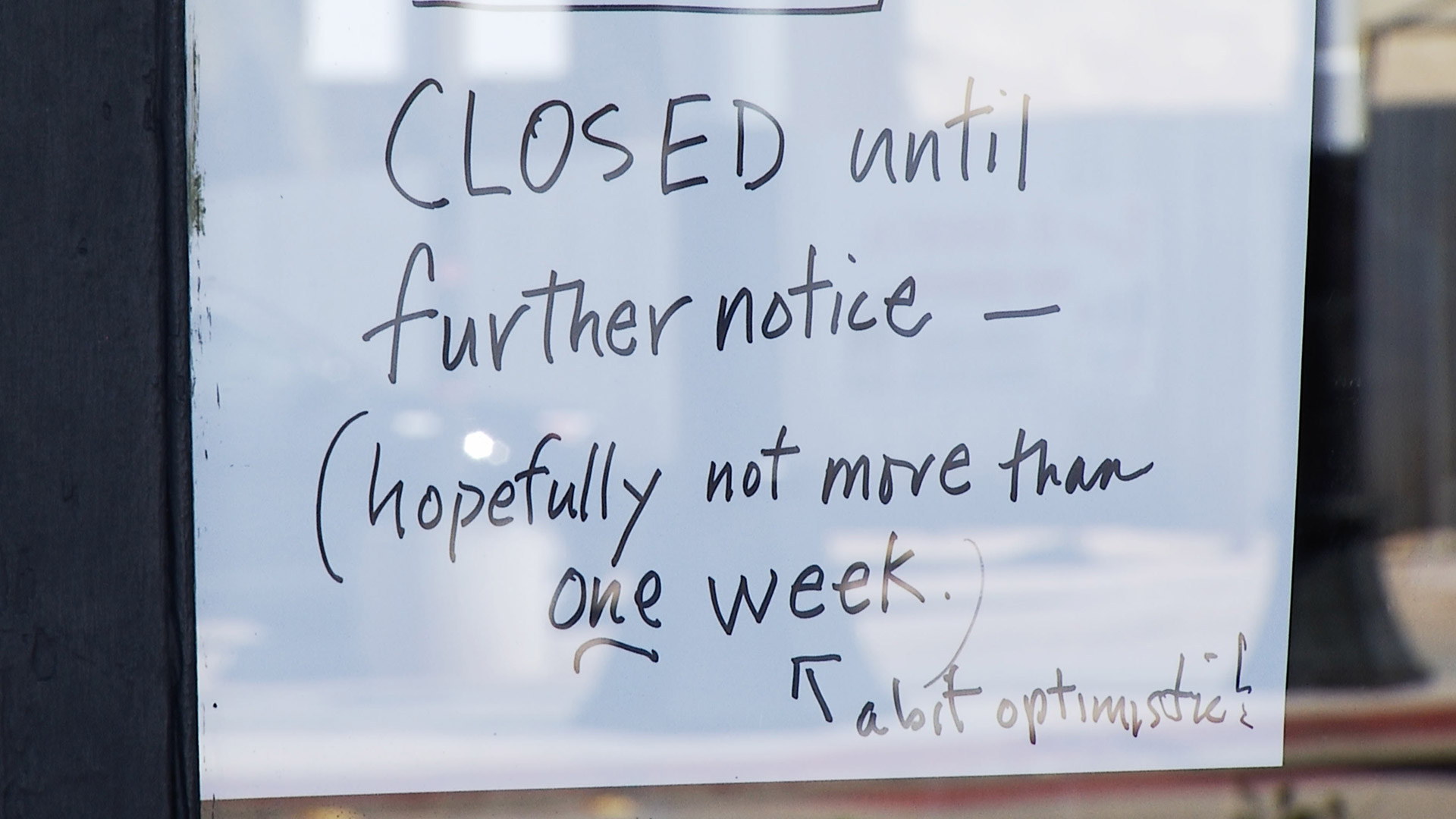 A handwritten sign posted by a business on Fourth Avenue about the store's closure as a result of the COVID-19 pandemic.
AZPM
Arizona businesses large and small received over $7 billion through the Paycheck Protection Program, according to data released Monday by the Small Business Administration.
The program has been instrumental in reducing unemployment in the spring, when the economy tumbled and lockdown orders were at their most restrictive. But now as some businesses reach the end of their aid, record case counts and the return of mandated closures threaten to erase the program's gains.
President Trump over the weekend signed a bill to extend the deadline to apply for the remaining $130 billion funds to Aug. 8. The loans are forgivable as long as employers spent at least 60% of the funds paying employees.
Most businesses in Tucson received their funds between late April and mid-May, according to Anthony Villari, a CPA for Essentage, which provides bookkeeping services to small businesses in Tucson. That means many are running out of funding at a critical time in the pandemic.
"I don't think it's going to have much of an impact in terms of helping the businesses once that money is spent out," he said. "PPP was a small Band-Aid on a gushing wound."
For Apex Mixed Martial Arts in Tucson, the loan provided a needed respite after the gym was forced to close in March, according to owner Nicole Rivera. But now the gym is facing a second shutdown order after Gov. Doug Ducey last week ordered the closure of bars, movie theaters and indoor fitness centers. With expected high temperatures this week approaching 110 degrees, Rivera is moving already depleted classes outside in order to comply with the order.
Rivera says the PPP loan was helpful for the eight-week timeframe it was initially designed for, but now they're on their own.
Help could be on the way
Many business owners are still uncertain whether their loan will be forgiven.
At Antigone Books in Tucson, recent popular titles like "How to Be an Antiracist" by Ibram X. Kendi and John Bolton's memoir "The Room Where It Happened" have been flying off the shelves.
But the 47-year-old independent bookstore on Fourth Avenue will temporarily close next week. Co-owner Morgan Miller cites the worsening COVID-19 pandemic in Arizona. It doesn't help, she said, that she's uncertain if her loan will be forgiven.
"It seems like they're working it out as they go, which makes it kind of hard for us and we just sort of have to run our business like we always have," she said.
"PPP was a small Band-Aid on a gushing wound."
Congress reformed the program's requirements in June after many recipients complained they were too stringent — giving businesses 24 weeks as opposed to eight to spend the money, as well as reducing the amount required to be spent on payroll from 75% to 60% to allow for a greater share of funds to be spent on things like rent and utilities.
Sens. Kyrsten Sinema, D-Ariz., and Kevin Cramer, R-N.D., have introduced legislation that would forgive all loans under $150,000 — which would encompass about 85% of all PPP loans but only 26% of the program's total dollars. A separate bill introduced by Rep. Angie Craig, D-Minn., would allow small businesses that have lost 50% of their revenue to apply for a second PPP loan.
However, Congress is currently on recess until July 20.
Original program faulty
The program's design has left many businesses without help. Tucson CPA Villari said extending the program won't be much help for employers who can't operate and don't have work for employees.
The Fox Theatre announced Monday it would remain closed through December. "With Paycheck Protection Program funds exhausted, earned revenue halted for the immediate future and absorbing 6 months of ongoing refunds to patrons from canceled or rescheduled events, The Fox will further reduce staffing levels to only four full-time employees," read a statement from the theater.
Villari said companies are going to need help to pivot to a sustainable business model.
"That's what this next phase is going to entail," he said. "You spent out the PPP money. Now it's like: 'Can my business survive if it operates in a different manner? And how do I do that? And what are the costs entailed with that?'"
For businesses that haven't been able to get a loan, the outlook is grim. Many were initially hamstrung after the program's March 27 rollout due to surging demand for the loans, which were administered through participating banks.
Even after the lender options were expanded in April, historically weak relationships between minority business owners and big banks left many unable to get the help they need.
Only 12% of Black and Latino business owners received the PPP loans they asked for, according to a May survey by equal-rights organizations Color of Change and UnidosUS, with 26% receiving "only a fraction of what they had requested."
Despite the recent movement to support Black-owned businesses, as many as 40% are not expected to survive the pandemic, according to a study by the University of California at Santa Cruz.

This story is part of
The Balance Sheet
, a weekly look at how businesses are surviving the coronavirus economy.