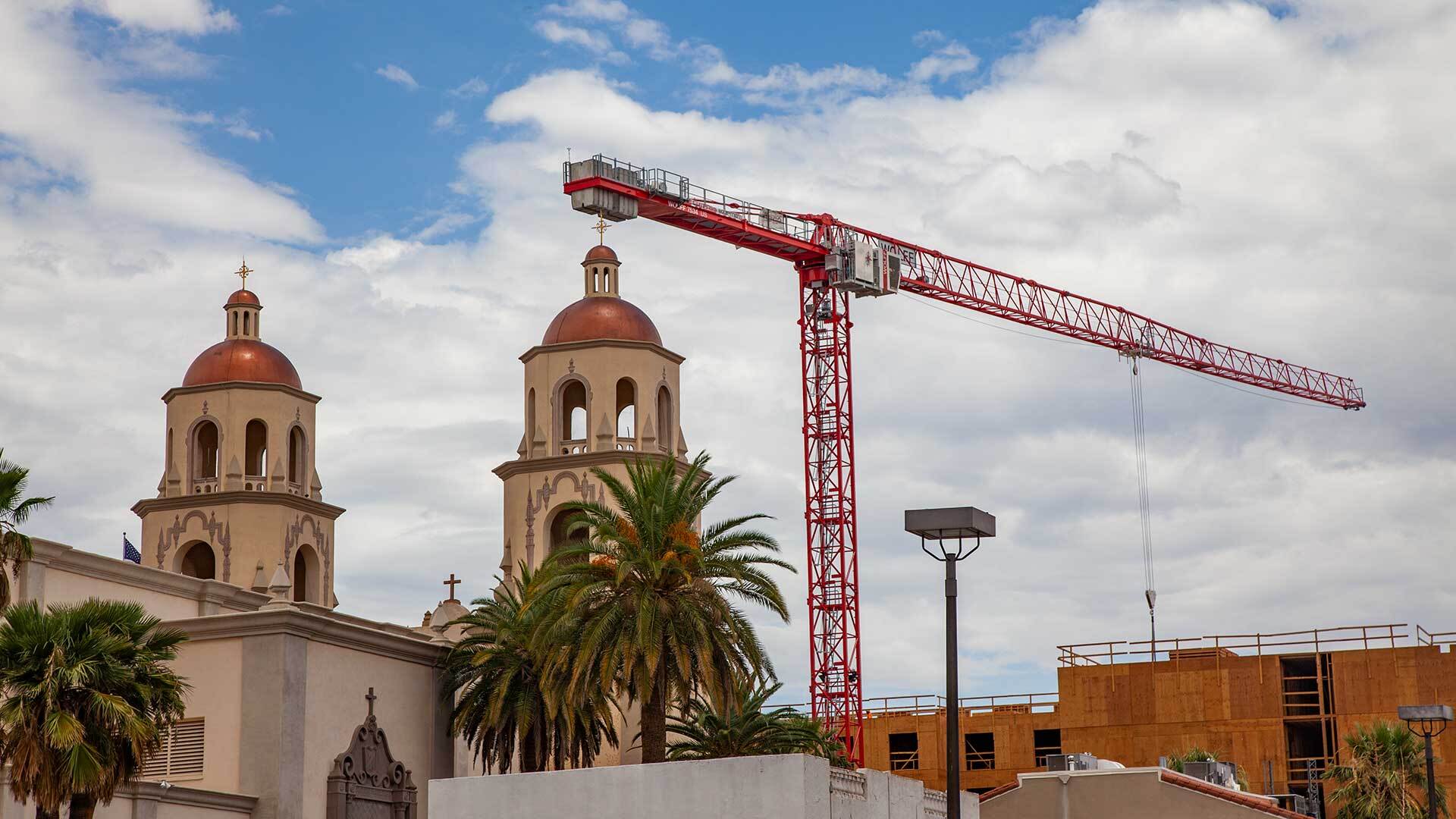 A crane rises above the construction site for a new Hilton Hotel across from the Cathedral St. Augustine.
Nick O'Gara/AZPM
A Tucson developer is close to clearing the last hurdle to construct a $100 million office tower downtown. Across Interstate 10, another local developer is moving forward with plans to build a $72 million mixed-use apartment project in the Mercado District along the Santa Cruz River.
Despite the transition to working from home, social distancing and the economic downturn brought on by the coronavirus pandemic, commercial developers are pouring hundreds of millions of dollars into projects that will bring new housing and office space to downtown and remake Tucson's skyline.
The most prominent project is a 12-story office tower at 75 E. Broadway Blvd., across the street from the Tucson Electric Power headquarters. The $100 million tower would replace a vacant lot with office space that sits atop a parking garage and street-level retail.
Peach Properties and Marcel Dabdoub plan to build a 12-story office tower at 75 East Broadway Boulevard.

Courtesy of Rio Nuevo
The project was nearly scuttled last year when an out-of-town developer backed out, but now local developers Peach Properties and Marcel Dabdoub are preparing the site for construction. Dabdoub told the Rio Nuevo board Tuesday that the developers are close to securing financing for the project and, as an assurance the project is still happening, are spending money on utility work in the meantime.
"These are funds that would not otherwise have to be spent if 75 Broadway was not happening," he said.
Rio Nuevo, the district responsible for using sales tax revenue generated downtown to promote economic development, is expecting a 40% decrease in revenue due to the shuttering of entertainment venues and bars. The board's fiscal year 2021 budget adopted last month deferred funding commitments for several projects, including a $2.1 million commitment to help a developer turn an old Volvo dealership on Broadway Boulevard into an urban plaza.
The economic downturn comes as the district juggles several of the most high-profile projects in its history, including a $65 million renovation of the Tucson Convention Center and the redevelopment of the so-called "Sunshine Mile" along Broadway Boulevard.
"We have never seen projects of this scale that we are currently engaged with in and around Tucson's core," said board chair Fletcher McCusker at the meeting Tuesday. "And it has to give you some real optimism about how outsiders view this city's future."
The TCC upgrades remain on track, as does the DoubleTree by Hilton hotel being built next to the convention center and another Hilton hotel being built across the street from the Cathedral of Saint Augustine.
Apartment construction continues
Developers are betting the pandemic does not turn people off dense urban living.
Over 1,700 housing units are under construction in Tucson, with another 1,342 planned, according to a report released Wednesday from ABI Multifamily, a Phoenix-based real estate brokerage and research firm.
That's up from the same time last year, according to ABI research manager Drew Ricciardi. Though no apartments have been completed yet this year, many are nearing completion. "We should receive a big wave of completion by the end of the year," he said.
Projects under construction or nearing completion include three student apartment towers near Main Gate Square — the 243-unit OLIV Tucson, 152-unit the Hub and 130-unit Aspire Phase II — along with another on the corner of Fourth Avenue and East Sixth Street, the 254-unit Union on Sixth. There's also a 243-unit project The Flin nearing completion downtown, and the Monier Apartments in the Mercado District, a 122-unit project being built by local developer the Gadsden Company.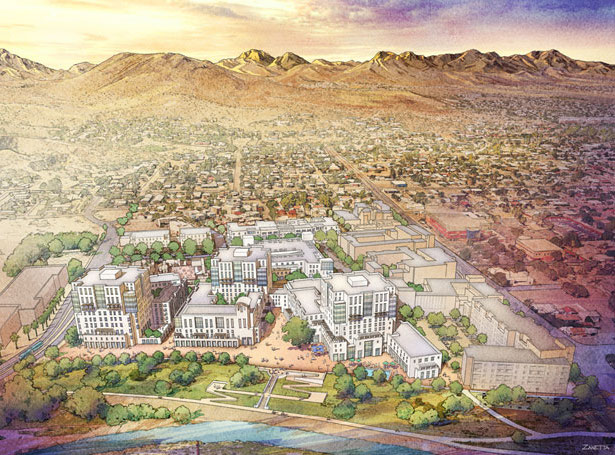 Local developer the Gadsden Company plans to build a 3-to-5 story mixed use apartment project along the Santa Cruz River.

Courtesy of Rio Nuevo
Gadsden is also readying to begin construction on Bautista, a $72 million mixed-use apartment project along the Santa Cruz River. Gadsden reached an agreement with Rio Nuevo in March to purchase the land in exchange for prepaying 25 years of rent.
Despite the influx of housing, Ricciardi says the number of units about to hit the market are still not likely enough to meet the demand.
Nearly 95% of the rental units in the Tucson metro area were occupied in the three-month period between April and June, up slightly from the same time last year.
Data from Pima County Justice Courts reveal landlords evicted fewer tenants than usual in that time due to protections in the federal CARES Act, as well as Gov. Doug Ducey's order postponing the enforcement of evictions, which he extended to Oct. 31 after it was originally supposed to expire last week.
Ricciardi said the stimulus checks and extended unemployment benefits helped keep occupancy rates up, but whether that remains the case will depend on what emerges in a fourth economic stimulus bill.

This story is part of
The Balance Sheet
, a weekly look at how businesses are surviving the coronavirus economy.