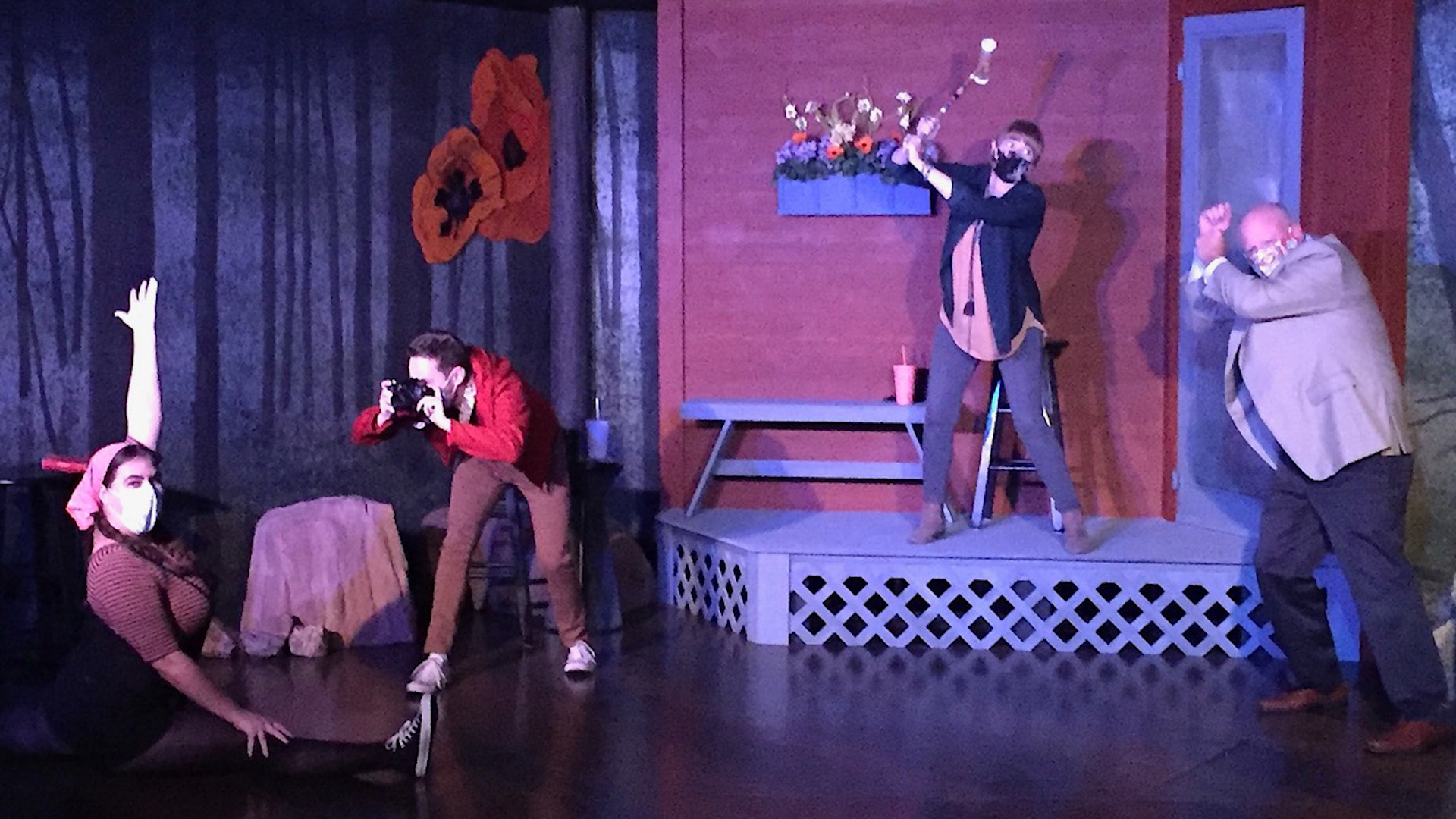 The cast of "Filming O'Keeffe" at Invisible Theatre.
Courtesy of Susan Claassen
Most live theater organizations in Tucson aren't planning to reopen until the fall at the earliest because of COVID-19 — except one. For The Balance Sheet, reporter Jake Steinberg interviewed Susan Claassen, managing artistic director at Invisible Theatre, which reopens Tuesday. The theater recently added three more shows after the first eight sold out.
---
JAKE STEINBERG: Many other local theaters are looking at the fall for reopening. What made you decide now was the right time? Was that a difficult decision?
SUSAN CLAASSEN: Every decision now is a difficult one, and because of the unknown nature of what the fall holds, we don't know if anything will change come the fall. But we know we're ready to open. And all of our attention has been put into not doing Zoom theater — and more power to the people who are doing it, that's great — but we're about live theater. And we wanted to put our energy into coming up with a safe and sane way that we could do live theater. Invisible Theatre got its name from the invisible energy that flows between performers and an audience that makes the magic of theater, and we want to put the magic back into live theater, be it for 22 people, or when we're back to capacity at 80.
STEINBERG: If I'm a patron, how will my experience of going to Invisible Theatre be different from normal times?
CLAASSEN: You will have a set time to enter. There are reserved seats for the 22 people. And we're using both the front door and the back door to enter. There will not be any tickets handed. There will be no exchange of any kind of money or objects. We will take you to your seats. The lobby will merely be a pass through. But the biggest thing is the artistic experience will not be different. The production of "Filming O'Keeffe" has all of the artistic integrity of a fully produced piece. Although the four actors will be socially distant, they will not touch each other. They're not in any kind of adjoining dressing rooms. Yet the connection between them, although physically distant, is so intimate and so fully realized that the integrity of the play by Eric Lane is there. If we felt in any way that this piece would not be able to be reimagined this way, we would not be opening.
STEINBERG What is "Filming O'Keeffe" about and how else does the production differ from how it would be put on when there's not a viral pandemic?
CLAASSEN: The play by Eric Lane takes place at Lake George. There's a mother and her high school-aged son who live on the property where Georgia O'Keeffe and Alfred Stieglitz lived. He's doing a project on the relationship between Stieglitz and Georgia O'Keeffe and between art and life and all those good, wonderful questions about family and relationship. When this all began, and we first postponed and then we rethought, of course there are kisses that would happen if it were fully staged. There's a facial slap that would happen if it was fully staged without distancing. All of that happens, but in a different way, so that if an actor kisses another, their hand goes up to their own mouth and the one receiving the kiss, their hand goes up to the mouth also as if that kiss has been received. The same if a slap happens, the action of slap happens, and the reaction happens. They're just 6-to-8 feet away from each other, but you believe it.
STEINBERG: A theater is a fairly enclosed interior space. We're hearing a lot right now about air particles and becoming more aware of the mist that is constantly spraying out of our mouths. How have you addressed those concerns within the theater?
CLAASSEN: Everyone is wearing a mask inside the theater. Any income that we had, we put into making our facility venue-ready. So we were told about this special ionizing apparatus that fits on to the air conditioner return. That is installed at the theater. So it does recirculate and uses ionization. I'm personally calling everyone who has a reservation to go through this list of what the expectation is and making sure they feel comfortable. You know, people have to feel comfortable with the choices that they make. The actors all feel comfortable. We did a lot of Zoom rehearsals prior to coming into the theater.
STEINBERG: Is operating at 25% capacity sustainable? Can you pay your people? How long can you keep that up?

CLAASSEN: We daily go through that. Fortunately, the only thing that anyone has ever in my tenure said I was conservative about is fiscally conservative. We had a little bit of a buffer, but 25% when you already have a very tight belt on a budget, I don't know. We have kept everybody on salary.
STEINBERG: We're now seeing record numbers of COVID-19 cases in Arizona. Does that give you second thoughts about committing to reopening?
CLAASSEN: That doesn't give me second thoughts because I look at the statistic beyond the number and I look what's in Pima County and I look at, you know, the horror that's happening at the Navajo reservation. I look at the horror that's happening in the prisons. I look at the horror that's happening at the border. So, you know, we get a general statistic without a specific statistic. I also know that what we are doing is as safe as going anywhere, to the market, to getting takeout food, to doing any of that, and nobody's forced to come. It's only if they choose to come.
STEINBERG: Is there anything else you'd like to say to folks who may be considering seeing one of your shows?
CLAASSEN: We are as ready today as we would be in September or October and it's a tribute to the artistic community. And we've come together with a product that is reimagined, but in such an imaginative way that it will transport everyone. Sometimes we just need a respite and people, say: 'Thank you. For an hour and a half, I didn't think about what was going on in our world.' I think everybody needs a respite on occasion to let our imagination take us to another place.

This story is part of
The Balance Sheet
, a weekly look at how businesses are surviving the coronavirus economy.