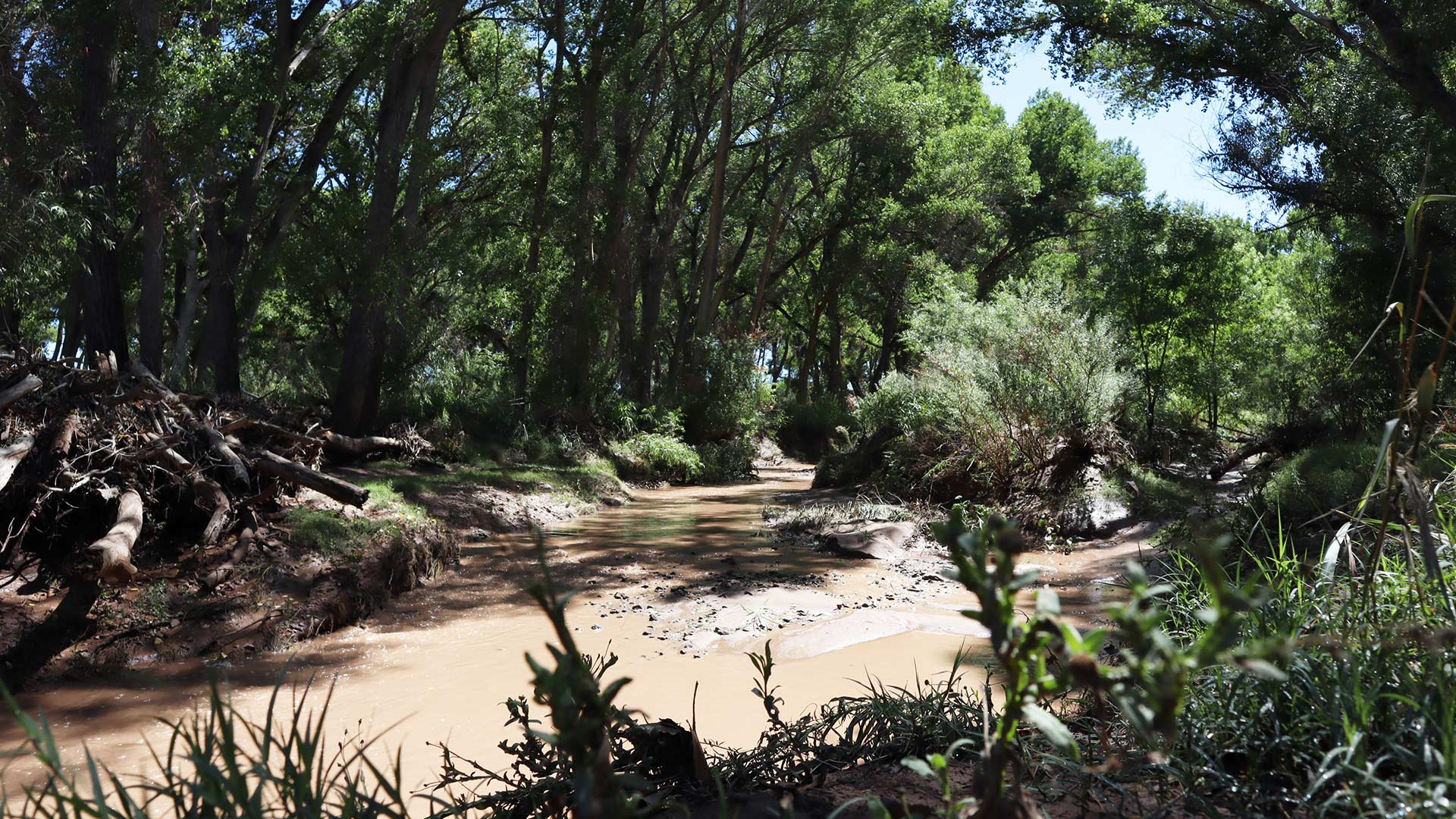 The San Pedro River post-Monsoon rain. September 14, 2023.
Summer Hom, AZPM News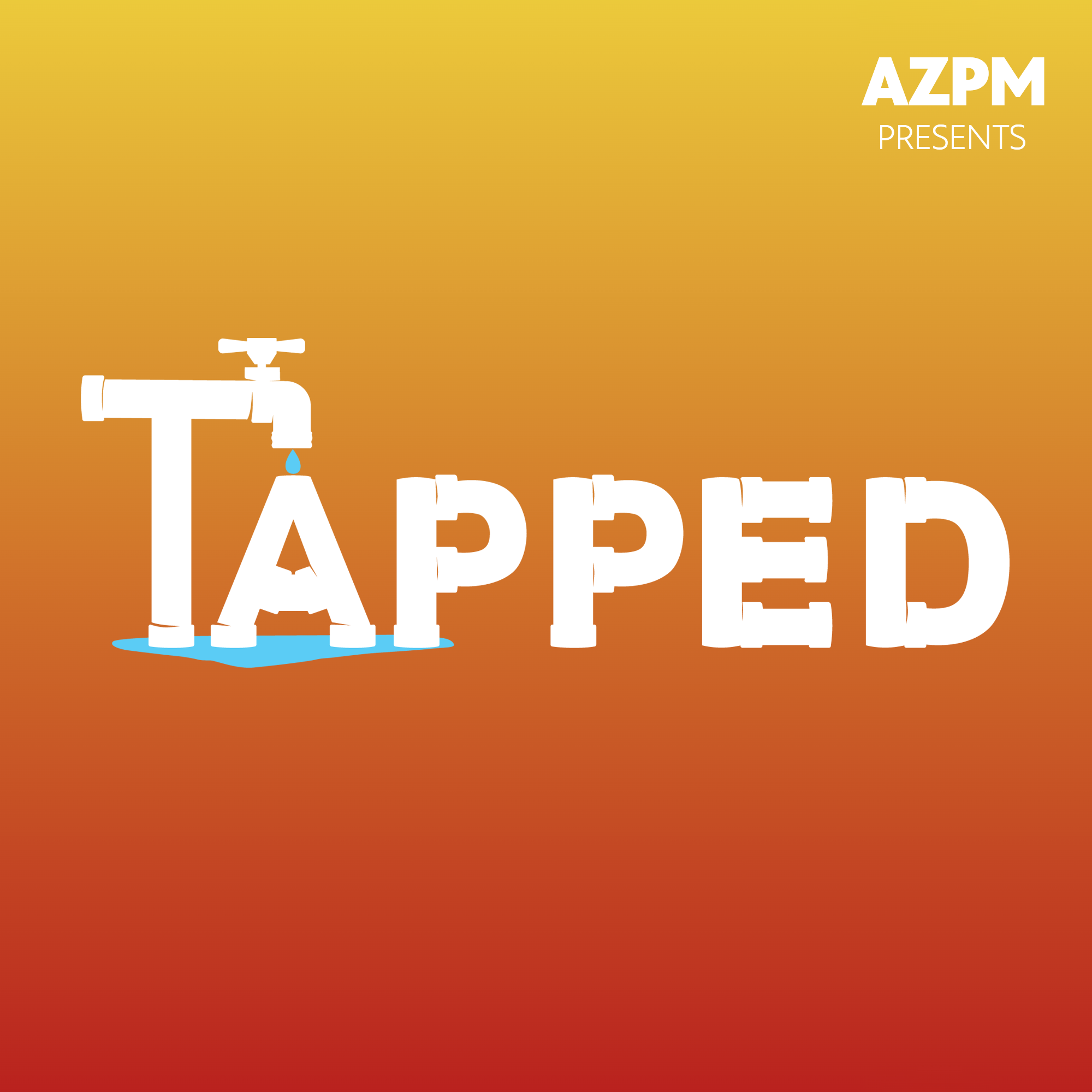 Tapped
Season 2, Episode 4: Water and Housing

This is
Tapped
, a podcast where we tell our stories - the stories of people living with the cost of drought in the Southwest, and what we can do to mitigate it.
In episode four of this season, we continue to examine the Five Cs of Arizona's economy with a look at 'Climate.' Arizona's mild winters draw many people, which creates a need for more homes. We look at how what developers have gone through in a highly water-conscious corner of the state could give some idea of what will happen statewide in the future.
Update note: In this episode, we talked about the San Pedro River and how a federal water right had yet to be quantified. We received notice late Thursday that a Maricopa County Superior Court decision was handed down that could set those standards by the end of the year. While this episode will not be updated, we will publish more as the story develops.
Episode transcription
(Ambient sound of hiking noise.)
SH: Have you ever seen the San Pedro completely dry in this area before?*
TG: No, I've never seen it not have some water here.
(transition to studio audio)
ZZ: Tricia Gerrodette is a longtime environmental activist in Cochise County whose name has appeared on several lawsuits aimed at keeping this now-seasonal river flowing.
(transition back to field audio)
ZZ: And that's particularly unusual, 'cause like you said, it's monsoon.*
TG: Well yeah, we haven't had a great monsoon. But we have had some nice storms in the past couple of weeks. It's very distressing to me to see absolutely no water here.*
ZZ: Looking back after all these years, I mean, how does — the years of fighting only to walk up and see this? How are you feeling?
TG: Well, I'm close to tears, again. This is the outcome that was feared. This is — has been the fate of so many rivers in Arizona. Anyone who's lived here for any length of time has driven over the Santa Cruz or the Gila or the Salt, or whatever — all of which used to have water in them. And they were all pumped down by people moving in and using water. And we didn't want that to happen to the San Pedro.
(theme music fades in)
ZZ: This is Tapped, a podcast about water. I'm Zac Ziegler …
SH: And I'm Summer Hom. When looking at the makeup of Arizona's economy, we can typically narrow it down to what's often called the five C's: Cattle, Citrus, Cotton, Copper and Climate. That last one has always been a bit nebulous, but most people will tell you it reflects on the state's mild winters, making it an ideal place for many to spend retirement or their working years.
ZZ: But the state is caught in an historic drought. For growth to continue, more homes are needed, and that means more water. And the way water is regulated at every level from federal down to the water districts, the whole process can get a bit muddy.
SH: So in this episode, we'll try to break through some of that mud and look at the climate surrounding housing developments, what developers have to go through in order to build on the land and how new homebuilding hits at the heart of climate politics. (theme music fades out)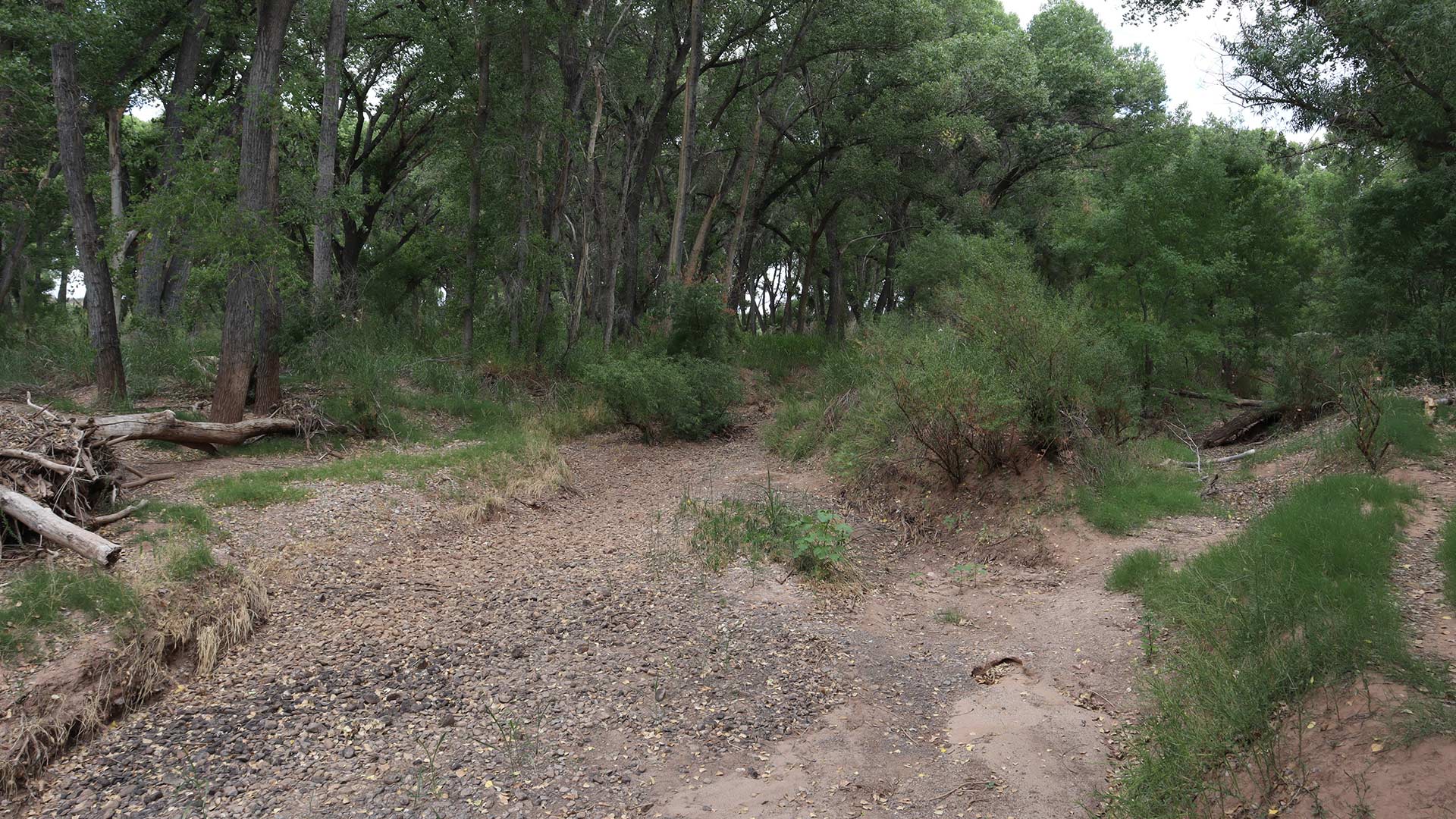 San Pedro River pre-Monsoon rains. August 15, 2023.
Summer Hom, AZPM News
ZZ: So Summer, let's head back outside. We were in the San Pedro Riparian National Conservation Area in Cochise County. And don't get me wrong, I'm happy to get out of my basement office anytime, but why were we there?
SH: Well Zac, besides further justifying going on a hike for work, there's actually been quite some discussion and a bit of controversy about housing developments in Cochise County, which surround the San Pedro River.
ZZ: Ah yes, and I covered the early stages of development of two housing subdivisions that surround the San Pedro, Tribute in Sierra Vista and the Villages at Vigneto in Benson.
SH: Yup, that's right.
ZZ: Before we dig into this too much though, where exactly were we on the river and why does that matter to this story?
SH: Well, the area is part of the San Pedro Riparian National Conservation Area or as locals commonly refer to it as the SPRNCA. Congress protected about 57,000 acres and about 40 miles of the upper San Pedro River in an effort to conserve the desert riparian ecosystem, which according to the Bureau of Land Management's website, includes 100 species birds, plus an additional 250 species of migratory birds that pass through the area, more than 40 species of reptiles and amphibians and more than 80 species of mammals.
ZZ: And one thing I remember about the Tribute subdivision, its builder, Castle and Cooke Arizona, wanted to build enough houses that it would be like a quarter of the homes in Sierra Vista, with some as close as about six miles from the San Pedro.
SH: And that's exactly why some environmental advocates were concerned about this development. And as part of supplying those homes with water, Pueblo Del Sol Water Company — which is owned by Castle & Cooke Arizona — would have to increase their annual groundwater pumping from 1,430 acre-feet to 4,870 acre-feet to meet the needs for Tribute. The subdivision itself encompasses around 19-hundred acres.
ZZ: And that's where Tricia Gerodette comes in. I started talking to her back in 2013 in my early days at AZPM, when she and the Bureau Of Land Management filed a lawsuit against Pueblo Del Sol Water Company and Arizona Department of Water Resources.
(transition to field audio)
SH: So Tricia, can you tell me a little bit more about how long you've been coming to the San Pedro and your relationship to it?*
TG: Yes. Shortly after arriving in 1995, I was looking for environmental groups and issues, because I had been active in San Diego. And it didn't take long to find out that the San Pedro and birding were kinda the top environmental values as well as concerns for the area … Before the end of 1995, I was studying the history of the river and the legal actions around the river and the riparian area — the establishment of it. And then, the pretty spectacular biodiversity in this general region and much of it focused around water, so the river.
(transition back to studio audio)
SH: So when it comes to groundwater regulation, there's three main categories under the Arizona Department of Water Resources: Assurance, Adequacy or Inadequacy. Both Assurance and Adequacy designations require that water can be available for at least 100-years. Assurance has more restrictions and is needed in certain areas, whereas Adequacy has few less requirements. I spoke with ADWR Director Tom Buschatzke who broke down some of those details.
TB: If they want to use groundwater to build that subdivision and they want to meet that requirement, we would assess the physical availability of that groundwater over the 100-year timeframe.
SH: Additionally, Buschatzke says that developers and water utility providers must also show that water can be legally and financially available as well.
ZZ: For the Tribute subdivision, what type of regulation are we looking at here Summer? Assured or Adequate?
SH: Cochise County in its entirety was designated as a mandatory adequacy jurisdiction in 2008, so all developers regardless of where they are in the county have to go through the water adequacy application process. Now since then, citizens within the Douglas basin voted to make the area an Active Management Area, so they now have to meet the assurance requirements. So when we talk about the development of this subdivision in Sierra VIsta, they only had to apply for that water adequacy designation.
ZZ: And if I remember correctly, this is what triggered the lawsuit, it was that the plaintiffs didn't believe that the water company met all of the adequacy requirements.
SH: Yes that's right. Now that National Conservation Area designation also brings federal water rules. But, uh, that federal water right has yet to be quantified.
TG: The river is entitled, on paper, to have a certain amount of flow. It was established as a federal entity, and with it, came the right to some water. And so, the issue, in essence, became would additional pumping — and that much new pumping — take away water that was headed towards the river.
SH: But the quantification of that federal water right is based on a 30-year-old, and counting, Gila River General Stream Adjudication. And so, really, the crux of this legal argument is does the state have to take that unquantified federal water right into account before guaranteeing that 100-year supply? And this is the question that ultimately pushed this case to the Arizona Supreme Court.
ZZ: So, the lawsuit started in 2013. I remember starting to cover this story when it started in this back-and-forth legal limbo of rulings, appeals, etc.
SH: Yeah. Initially, an administrative law judge agreed that Pueblo Del Sol had met its 100-year burden. And then, the Plaintiffs filed a request for judicial review. Then, the superior court vacated the decision, saying that ADWR made an error. The court of appeals agreed, and put in a note that ADWR must consider the impact of the unquantified federal water right. And that brings us to the Arizona Supreme Court.
Audio of the Arizona Supreme Court hearing from Robin Silver et al. v. Pueblo Del Sol Water Company et al: Good morning, the court will hear the argument in the case of Robin Silver et al. v. Pueblo Del Sol Water Company et al. It's our case number ….
SH: In 2018, the Arizona Supreme Court ruled that ADWR does not have to consider the unquantified federal water rights.
ZZ: We reached out to Castle and Cooke Arizona. And this is the first time we'll say this in the episode but it won't be the last for sure, they wouldn't grant us an interview. However, they spoke with AZPM back in 2018 when we did an episode of The Buzz on this topic. Vice President Rick Coffman walked us through what he envisioned for the Tribute development.
RC: What this really represents is the future of this community, and it'll be the place where virtually 80% of the development of the community will take place over the next 40 plus years. This is a long, long build out. So, what it really represents is good planning, not just willy-nilly development here and there with subdivisions.
ZZ: And he stressed that the battle is not over if there's enough water for people, but if there's enough water for homes while keeping the river flowing. And he says the local efforts show that it's an important matter for them.
RC: I tell them, there is no place in Arizona that has done more to protect a natural resource like the river than this community, than this developer and this County.
SH: And since that 2018 ruling, the subdivision has been allowed to progress in its planning process. As recently as May of this year, more specifics have been discussed about the first neighborhood that will be in place around 376 homes on more than 100 acres of that Tribute development plat.
ZZ: Now, the Sierra Vista City Council initially approved the plan for Tribute in 2006. But I'm guessing Summer, that plan has been updated based on legal wranglings, new rules, and how homebuilding works in general, best practices in the industry …
SH: Yes, in 2020, the city council adopted the updated Tribute plan. And much of what that update includes more green spaces for parks. I spoke with City of Sierra Vista Community Development Director Matt McLachlan about those changes.
MM: The neighborhoods will all be interconnected to a system of parks. At the heart of the community, will be a linear trail … Some of the roadways were downsized from a functional classification standpoint to create a more pedestrian friendly, walkable environment.
SH: It's important to note that Castle and Cooke Arizona is trying to make their developments have as minimal impact on the water as possible.
ZZ: Yeah, I interviewed Rick Coffman for the first time back in 2014 for our sister TV station PBS-6, he said the Tribute homes they were building then used about 35% less water than homes they built prior to 2010. The model that I saw had xeroscape yards, rainwater harvesting systems, low-flow fixtures . . .
SH: And one thing cities need to consider is the demand for housing in all of this. Looking into Sierra Vista's future, Sierra Vista City Manager Chuck Potucek says growth rates are predicted to be relatively small for the hummingbird capital of Arizona.
CP: I would say currently, there are enough lots to meet the demand, given the economic environment that we're in … But I think as it plays out in the future …Our growth projections don't seem to be exceeding more than one or two percent a year moving forward … At least within the city limits, I don't see a lot of demand for new housing, and I think what we have currently, we'll be able to serve those needs.
ZZ: So Summer, a somewhat happy ending for Castle & Cooke Arizona on this one, huh?
SH: Uh, you can say so. Happy for them, and not so happy for environmentalists.
ZZ: I don't know if we can say that for the developer of the subdivision in Benson that we will be talking about next: the Villages at Vigneto.
SH: Yeah, the fate of this subdivision still hangs in the balance after the House Committee on Natural Resources conducted an investigation and sent a referral to the Department of Justice, claiming that there was possible quid-pro-quo between Villages at Vigneto developer, El Dorado Holdings, and officials in the Trump administration in getting the proper permitting.
And just to note, from here on out the information we're presenting here is from that letter to the DOJ. We verified it with other news sources, including a report on this matter from CNN.
We've attempted to contact the individuals mentioned in this letter for comment, but they did not respond or declined to comment. In some cases, like with former U.S. Fish and Wildlife Service field supervisor Steve Sprangle, we attempted to reach out, but were unsuccessful in our attempts to find a current contact.
For those who did not answer our requests for comment, that list includes the federal officials we will name. Basically, if we say their name and you don't hear their voice, they refused to talk with us. El Dorado Holdings and the Department of the Interior did respond to our requests but declined to comment.
Representative Raúl Grijalva — whose office wrote the letter — did respond. We initially had an interview set, but it was canceled and our efforts to reschedule with him were unsuccessful.
So to kick things off and to really understand more about how this all came about, I spoke with Benson City Manager Vicki Vivian and Public Works Director Brad Hamilton about how this all came to the city's attention initially. Hamilton says that the plan to develop the area initially was announced in the 1990s by developer Whetstone Partners and was to call the subdivision Whetstone Ranch.
BH: El Dorado Holdings actually bought the Whetstone Ranch Project … The Whetstone Project went into bankruptcy. So then, they bought it out of bankruptcy.
SH: Vigneto differs from Whetstone in several ways. Most notably, it's considerably bigger. Based on the community master plan that was approved by Benson City Council in 2016, the development includes a max of 28,000 homes across more than 12,000 acres that's about two miles upland from the San Pedro River.
ZZ: And some of that acreage is dedicated for some recreational activities and open space, right?
SH: Yes, about 3,000 acres were to be dedicated for open space for parks, storage, lakes and "natural watersheds," entertainment venues and recreational sites for golf, lawn bowling, bocce ball, pickleball, mountain biking, and hiking.
ZZ: So, that's a pretty considerable amount of amenities, and sounds like they would require a bit of water to support that.
SH: You are right indeed Zac. According to the master plan, El Dorado predicted an average of 8,500 acre-feet per-year that they needed to pump from the groundwater basin in the area in order to support that development (p. 70 see FINAL - (APPROVED) Community Master Plan - Villages at Vigneto). Now on paper, this entire development sounds like a large project with the potential for a considerable-amount of impact to the community.
Uh but Zac, you actually handled — once again — the early stages of covering this development. How was it introduced and what was the view of the council and community members on it?
ZZ: Yeah, my reporting on this dates back to April of 2015, when El Dorado was seeking approval from the City of Benson. It got a 6-1 vote approving it. Interestingly enough, there was not much talk about water at that time, at least from the local residents — those right in the City of Benson. The big debate for them was on how it would change the community, at least that's what I heard at the council meetings where it came up.
Water was mentioned by people from around the area during the call to the audience, like this familiar voice.
TG COUNCIL MEETING AUDIO: My name is Tricia Gerrodette. I wanted to speak to you tonight on a couple of issues . . .
ZZ: But the speakers from Benson itself were more likely to mention the vibe of their city, the traffic, trash, other things. Then-council-member Patrick Boyle, who was that one dissenting vote, summed up a lot of those views with me after the meeting.
PB: Over the years I've traveled to Southern California many, many times, and as I'm driving along I-8, I-10, I-5, all I see is just endless mountains and hillsides just covered in developments exactly like this. There's absolutely no character involved. It just is a huge, monolithic, vanilla-flavored thing that has no culture to it, to speak of. And I cannot imagine our beautiful little town — our valley — being turned into that. And that just sickens me to even think about it.
ZZ: Toney King, who was then the Mayor of Benson, said he voted yes because of the city's relationship with El Dorado, as opposed to Whetstone's developer.
TK: With our new developer now, I feel it's been a very honest relationship, and that's the biggest part right there is honesty.
ZZ: Now, I also got a chance to speak with Mike Reinbold back then, who was a development partner at El Dorado at the time.
MR: Based on what our plans are and what current zoning is, we have approval for 60,000 units. We're developing less than 50% of that, so yes we are water-conscious. We plan on using recycled water, recharging, all of the most current technologies to be water-conscious.
ZZ: Now, that 60,000 home development was what they could build based on zoning, not on what the 100-year adequate water supply would allow. Summer, you did a bit of digging beyond that bit of the story that I got to follow. So I'll hand things back to you.
SH: Well in picking up from there, after the city council approved the Villages at Vigneto plan, concerns arose about the amount of water — this predicted average day demand of 8,500 acre-feet per-year — that was one of the concerns actually that was cited in a 2019 lawsuit filed by the Lower San Pedro Watershed Alliance and the Center for Biological Diversity against the Army Corps of Engineers and the U.S. Fish and Wildlife Service surrounding the development.
And something related to those concerns was the effect that the development could have on certain species of migratory birds, including two protected species — the Western Yellow-billed Cuckoo is listed as threatened by the U.S. Fish and Wildlife Service and the Southwestern willow flycatcher — which is endangered.
ZZ: So there was a growing list of concerns surrounding this development and habitat. That's part of what ultimately caused some conflict about this development that led to an alleged quid-pro-quo, right?
SH: Yes and there's a lot to unpack here but let's start with the basics. By federal law, developments that want to dispose of moved earth into waterways must first obtain what is called a Clean Water Act Section 404 permit from the Army Corps of Engineers.
Now this process involves quite a bit of inter-agency cooperation. At one point the Army Corps consults with the Environmental Protection Agency, and at another it consults with the U.S. Fish and Wildlife Service. Now that last consultation can be either formal or informal, which will come back up later in this story.
ZZ: So what happens from there?
SH: Well, the Army Corps makes a determination if there will be an effect on threatened or endangered wildlife in the area and if that would be adverse to the area's habitat or not. If they think it won't be an adverse effect and Fish and Wildlife agrees, then that's the end for an informal consultation. But if there's an issue, then, they must formally consult with the U.S. Fish and Wildlife Service, which then triggers a more substantial evaluation on the development's effects on the area.
ZZ: So what happened with Vigneto's development and this first step?
SH: Well, there wasn't exactly consensus. So until 2017, then-Fish and Wildlife Service Field Supervisor Steve Spangle did not agree with the Army Corps both on the level of consultation required or with the Army Corps' determination that the development was not likely to have an adverse effect on the wildlife and habitat.
ZZ: So Steve Sprangle wanted to kick off the formal consultation, while the Army Corps just wanted to put the thing to bed.
SH: That's exactly right. Much of this was brought to light by Sprangle, who said in 2019 he was pressured to reverse his decision via a phone call made by a Department of the Interior Office of the Solicitor official that was alleged to have been directed by Department of the Interior Deputy Secretary David Bernhardt who held the post during the Donald Trump administration.
And this triggered Congressman Raúl Grijalva who was then chair of the House Committee on Natural Resources to write a letter to the U.S. Department of Justice in 2022, asking the department to investigate allegations of quid-pro-quo by Bernhardt and El Dorado's founder Mike Ingram, who met privately shortly before the Fish and Wildlife Service changed their position on the development. The allegation highlights the timing of the private meeting, Ingram making donations to the Trump Victory Fund at a time when he wasn't running for office, and the phone call Sprangle received.
ZZ: Interesting. Why go to all this effort and possibly break the law?
SH: It's easy to understand why if you go back to the prior owners of the land. So, Whetstone Partners initially applied for a Clean Water Act Permit around 2004, so they could put fill dirt in washes on 70 acres of the land they owned at the time. But the EPA started sounding their alarm bell, raising concerns that the development as a whole would have "substantial and unacceptable" consequences to the San Pedro River.
Whetstone Partners in response cut down the number of acres to 51 and they said they would preserve and restore a 144-acre migration parcel along the San Pedro River. Even back then, Sprangle had written to the Army Corps arguing that the effects of the entire Whetstone development, not just the acres of washes, needed to essentially have a fine-tooth comb run through it.
ZZ: How did the Army Corps respond to this previous assessment?
SH: Well, the corps only looked at the potential effects of the washes on the natural environment and wildlife, not at the development as a whole. They concluded that the development would not have an effect on the listed species because those species did not inhabit the area where the washes were to be built. And because of that, they didn't think a consultation with the Fish and Wildlife Service was required.
ZZ: So Whetstone Partners got its permit in 2006, but didn't do much if anything between then and El Dorado buying it in 2014?
SH: Right. But in 2014, two species that have a potential presence in the area, the Northern Mexican gartersnake and the Yellow-billed Cuckoo, were listed by Fish and Wildlife Service as "threatened," so there's another layer of issues. Sprangle reached out to the Army Corps again in 2015 to discuss how the new Vigneto development would affect protected species in the area since things had changed.
ZZ: And what was the result?
SH: So you remember that 144-acre migration area along the San Pedro River that the previous owners had pledged to preserve in their plan?
ZZ: Yeah.
SH: The Army Corps wanted to just look at that area, not the entire development. Unsurprisingly, Sprangle said both that area and the Vigneto project as a whole were "interrelated and interdependent actions."
ZZ: Ah, so we're at an impasse, formal consultation begins?
SH: Yup, and thus the permit gets suspended in July 2016.
ZZ: Does that disagreement ever get resolved?
SH: Yes, it isn't until early November of 2016 though — which also is coincidentally — about the same time as another notable event, the election of President Trump. And what follows is where this story — as if it weren't complicated enough — gets, well, more complicated.
ZZ: Alright, bring it on.
SH: So in 2017 after President Trump is in power, the Army Corps reverses their agreement to evaluate the full effects of the Villages at Vigneto as a whole and they re-submitted their request to Fish and Wildlife Service for concurrence on just the migration parcel.
ZZ: Again, arguing that this smaller area wouldn't have an effect on the wildlife or habitat.
SH: Yup, and the Army Corps' biological evaluation said that Villages at Vigneto could be built without the washes if need be, and if that were to be the case, there would be no need for a Clean Water Act permit. Grijalva's letter calls this the "No Federal Action option," and it would eliminate the need for that 144-acre migration area.
ZZ: I'm guessing Sprangle wasn't a fan of that option.
SH: He was not, and in a brief, he stated that he believed the "no Federal Action" option differed too much from what was initially proposed with the original Vigneto development. A few months earlier, the Army Corps and Fish and Wildlife had agreed that a full formal consultation was indeed necessary.
An attorney from the Department of the Interior's Office of the Solicitor, who's name was redacted in Grijalva's letter, also agreed with Sprangle.
And here's where things start to get messy.
ZZ: As if they weren't already.
SH: So, let's set the scene: It's now August of 2017. Fish and Wildlife officials restate their stance while on a call with El Dorado's legal counsel. Then, El Dorado Founder Mike Ingram sends a message to Interior Secretary Ryan Zinke's personal email account. That email included a memo that called on Fish and Wildlife to agree with the Army Corps' viewpoint on that "No Federal Action" option.
ZZ: That personal email bit seems important. Public officials are supposed to keep all work-related correspondence in designated channels.
SH: And this continued, with Ingram again writing another message to Zinke's personal email that included a summary of the Vigneto project and wrote that there was a need for "high level action to ensure consistency and correct application" of Fish and Wildlife regulations (p. 12).
ZZ: If I remember my public records rules right, official business done over a private email need to be moved over to a government email address pretty quickly.
SH: Yes, according to Grijalva's letter, that time frame is within 20-days. However, the letter claims that those emails were not included in the documents the Department of the Interior sent to the House Committee on Natural Resources.
Also, David Bernhardt, the Interior Deputy Secretary, didn't have a meeting with Ingram on his public calendar or travel schedule. But, the Natural Resources Committee has a screenshot of an email from Bernhardt's assistant that details a meeting with a date, time and location.
ZZ: Ah I see.
SH: Now, while we don't know the specifics of what happened during that meeting, we do know what followed. On August 31, Bernhardt asked for a meeting with Peg Romanik, the associate solicitor who Sprangle said called him.
On that call, Sprangle said Romanik directed him to change his position on the Vigneto permit "at the request of a high level politico." Then, later that day, Romanik followed-up with an email to Sprangle saying the 144-acre migration parcel and the Vigneto development were not interrelated, so no formal consultation was needed.
Now if we fast forward to a month later,El Dorado tells the Army Corps it's going with the 'No Federal Action' option. Then two things happened on October 6. The first, the Army Corps announces that it is re-evaluating the Clean Water Permit, and Ingram makes a $10,000 contribution to the Trump Victory Fund. That's what's called an out-of-cycle donation, meaning Trump isn't even running for office when the donation is made.
ZZ: Yeah, a large donation at a time when someone isn't running is typically considered unusual.
SH: And, according to Grijalva's letter, he wasn't alone. Eleven Arizonans made donations to the Trump Victory Fund around that same period.
ZZ: I dug into Federal Election Committee data and found those other ten, and almost all of them have ties to industries that Ingram is involved in, be it real estate or professional baseball, he is a minority owner of the Arizona Diamondbacks. It's easy to see why Grijalva drew that connection. But, back to our main rabbit-hole here.
SH: In late October, Sprangle sends a letter reversing his original position, and concurs with the Army Corps' determination.
ZZ: So that effectively cleared the way for the Vigneto development.
SH: At the time, basically yes.
ZZ: So you said that in 2019 Sprangle — who by that point had retired from the Fish and Wildlife Service — told Arizona Daily Star reporter Tony Davis that he was pressured to change his decision by a "high-level politico" in the Trump Administration. What happened next?
SH: So, the Army Corps reinstated the permit in late 2018, but shortly thereafter suspended it after a notice of an intent to sue was filed. After news broke about the pressure Sprangle was under to change his position, the Army Corps sent a letter to the Fish and Wildlife Service to see if their 2017 decision to concur with the Army Corps on the development had changed. Fish and Wildlife said that there was no change to their decision, but by June of 2021, they had rescinded their concurrence and the permit was again suspended. (See pp. 27-28 of House Committee Referral to DOJ).
ZZ: That was more than two-years ago at this point Summer. Any updates?
SH: So I reached out to the district of the Army Corps of Engineers that oversees Arizona, and a spokesperson said the Villages at Vigneto Clean Water Act permit is still suspended to this day.
ZZ: Okay, and do we ultimately know why the Army Corps re-suspended the permit?
SH: We did reach out to them to see what the reason was, and we did not get a response as of earlier this week when you and I sat down to record this. But we also reached out to the DOJ about this letter from Grijalva, and while a spokesperson confirmed that the department had received Grijalva's letter, they cannot comment on whether or not they will be investigating the matter.
ZZ: So, I often drive by this land on my way to cover stories in Sierra Vista or Bisbee, it's still vacant. I'm guessing that, without that Clean Water Act permit, Vigneto is at a stand-still.
SH: Yeah, and there likely won't be any substantial action unless they get that permit reinstated. And Benson City Manager Vicki Vivian says that the city hasn't heard one way or another what's going to happen to Villages at Vigneto.
VV: So, we've done our part with this where we've set up our special taxing districts, we went through that process — renegotiated the development agreement. So, everything on the city's part is done. I haven't heard anything personally where that stands at. So, I wouldn't have any updates on that. We've done everything we can to prepare for it. Then, the rest is on them and how that process plays out.
ZZ: These stories really exemplify just how complex the issue of housing and water is in Arizona. There are a lot of places in the state that are in a housing crisis, but the state as a whole is in a water crisis. And many places in the state are in a situation where, if they're not growing, they're losing tax base.
SH: Yes, exactly.
ZZ: You know, it reminds me of what we're seeing in the West Phoenix Valley, where big housing developments are on hold because their 100-year water assuredness was called into question. So how do communities, especially the smaller ones like Benson, cope with the need to grow but to do so wisely?
SH: Well, Benson City Manager Vicki Vivian did touch on this and she mentioned it's quite a challenge.
VV: Cities are very limited in what incentives we can offer … We're very receptive, however, we're also very cautious about our water. We have a 100-year water assurance from ADWR that is due for renewal. We actually went and met with ADWR in 2019 for that renewal process, and they offered to perform the model — the water model — study for Southern Arizona … And once they offered that to us, we were very happy because as I told them, 'I don't want homes coming to Benson that can't have water in 100-years.' It is a hard balance between cities because you do want growth, you do want new taxpayers to move in, you do want to keep your revenue up to keep up with expenses. But on the other hand, it does nobody any good to build homes that aren't going to have any water.
SH: But even at the state level, there's concerns about managing what's left of Arizona's groundwater. ADWR Director Buschatzke says that having enough staff and funding for creating more water models — the guiding document for water regulation — is one of the main challenges.
TB: I think there's 51 basins and we probably have seven or so models.
SH: And another concern for Buschatzke lies in the areas that aren't covered by any sort of mandatory water adequacy jurisdictions.
TB: The unregulated, rural groundwater areas almost exclusively, there's no requirement for entities to report their water use to the department of water resources.
SH: Buschatzke says ADWR contracts the U.S. Geological Survey to conduct estimates of the water use in those unregulated areas. But he points out that these estimates are just that, estimates.
TB: They use remote sensing techniques, satellite photography — aerial photography — things like that. And they do some ground-truthing and they give us estimates of the municipal, industrial and agricultural water use … We also have a field services group here that goes out and measures water levels in wells.
ZZ: So did Buschatzke talk about ADWR improving its ability to assure adequate groundwater?
SH: He says that Governor Katie Hobbs' has charged her water policy council to look into areas of the state that don't have any groundwater management. And as a part of that, ADWR has been tasked to develop recommendations by December.
ZZ: Uh, so how long have we been sitting here now Summer?
SH: Honestly, too long.
ZZ: Yeah right. Well, my brain is a tad numb from sorting through this. We started this journey with a trip to an abnormally dry San Pedro River in early August. Let's get back to that focus. How do things look now?
SH: Well, it isn't an arroyo like the Santa Cruz in Tucson or the Salt, once you get downstream of Tempe, but it has become more seasonal in its flow. And while our monsoon this year has been, well, not much of a monsoon . . .
ZZ: If you say non-soon, I will scream.
SH: Well, we will do our best to avoid that. We actually, thankfully, have gotten some rain just at the tail-end of the monsoon season down here in Cochise County area — and more so in the greater Sierra Vista area. So, I took one more hike down the San Pedro River last week after we had some rain down here and took a look around to see if anything had changed.
+(transition to field audio at San Pedro River)*
SH FIELD AUDIO: And we are just approaching the riverbed. And I think I am hearing some signs of water.
(sound of river flowing)
ZZ: That's what I expected to hear when we went on that August hike, not just trees rustling in the wind, but that beautiful sound of running water. As someone who's never spent more than a few weeks outside of Arizona, I relish that sound.
Thanks for spending some time with us, Summer.
SH: Thank you Zac.
(theme music fades in)
ZZ: So, we've seen how much four of the state's five Cs rely on water, and how a lack of it is at best forcing adaptation and at worst hindering their economic impact.
But what about that last C, copper? Mining is an industry that brings billions of dollars into Arizona, and with it, a number of jobs that pay well-above the state's average wage — well above sometimes.
How's that industry dealing with a water crunch and increased worries about polluting what water we have? That's in our next episode.
Tapped is a production of AZPM News.
This episode was edited and mixed by me, Zac Ziegler. With editorial help from our News Director, Christopher Conover.
Our theme music is by Michael Greenwald.
Visit our website in the podcast section of azpm.org for pictures, links and more. Thanks for listening.
(theme music fades out)
Read Grijalva's letter to the DOJ about Vigneto

View at Google Docs
|

Download File
More from Tapped
MORE:
Arizona
,
Business
,
Cochise County
,
Government
,
Housing
,
News
,
News Feature
,
NPR News
,
Real Estate
,
Tapped
,
U.S.
,
Water