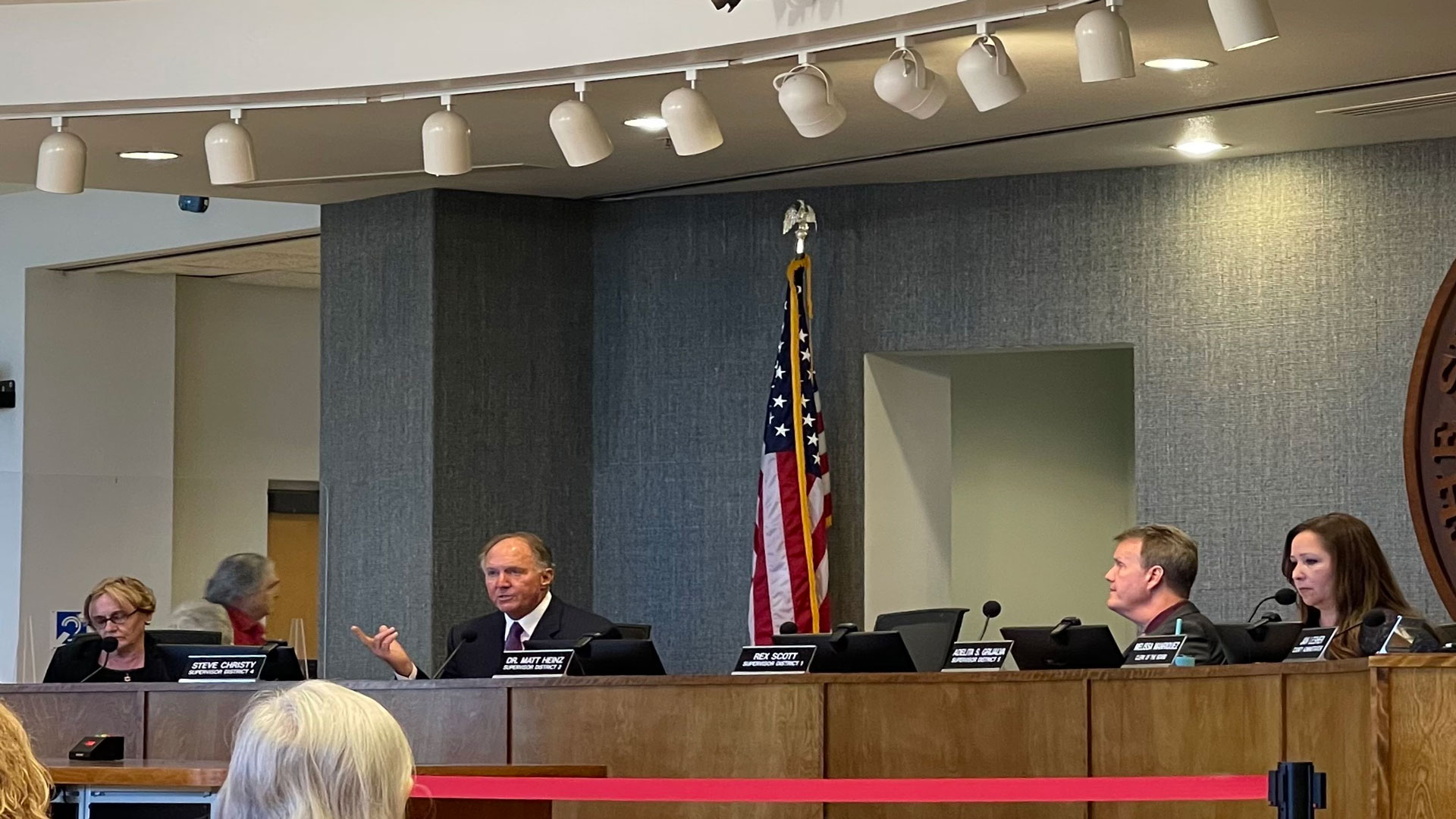 The Pima County Board of Supervisors sit at a meeting in Tucson, Ariz. on Tuesday, Sept. 19, 2023. From left to right: Supervisor Sharon Bronson, Supervisor Steve Christy, Supervisor Rex Scott, and Board Chair Adelita Grijalva.
Hannah Cree
The Pima County Board of Supervisors voted 3-2 to investigate Sheriff Chris Nanos' handling of a sexual assault of a female deputy last December.
County officials say both a criminal and civil case are pending in the incident involving former Sergeant Ricardo Garcia, in which he is alleged to have sexually assaulted one of his female deputies at a Christmas party last year. Sheriff Nanos recently announced that he was suspending an internal investigation into the incident.
The motion passed 3-2, with Board Chair Adelita Grijalva and Supervisor Rex Scott voting against an investigation. The item was brought forward by Supervisor Sharon Bronson and was supported by Supervisor Matt Heinz and Supervisor Steve Christy.
Bronson asked that the vote be added to the agenda last week, saying in a memo that Nanos allegedly failed to conduct a "timely and thorough" investigation into the incident.
"Certainly the sheriff has the authority to conduct his office as he sees appropriate, I do not agree with him on this," Bronson said at the meeting.
Fellow board member Steve Christy also expressed serious concerns over the Sheriff's decision.
"The public is demanding this. The optics are terrible. They need to be clarified with some sort of explanation and transparency on the Sheriff's department and the Sheriff's part," Christy said.
Board Chair Adelita Grijalva and Supervisor Rex Scott voted against an investigation.
Grijalva said she understands both sides of the split board, but she agrees with Sheriff Nanos' decision to wait until legal proceedings of the sexual assault case are concluded before opening an internal investigation.
"If we would wait until after the conclusion of both the civil and the criminal, then we'd have a clear path in information. But I understand that those supervisors who voted in favor were responding to the criticism from the community," she said.
It is now up to the Board to decide how an investigation will proceed. The board discussed moving the investigation to both the State Attorney General's Office and the Department of Public Safety, but exactly which institution will investigate is unclear at this time.
That decision will depend on the next move from County Administrator Jan Lescher, who is responsible for determining how the investigation moves forward.
In a statement, the Sheriff's Department defended the decision to suspend an internal investigation until after the legal proceedings. They said they had extended support to the deputy, and rebuked the Board's decision.
"Contrary to the opinions of some, it is not necessary to ask other agencies to investigate every time a department member is accused of a crime," the statement said.