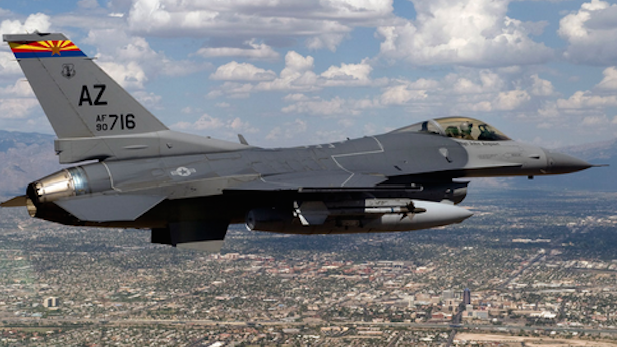 F-16 from the 162nd Fighter Wing, based in Tucson.

Arizona Air National Guard
February will mark two years since Russia's invasion of Ukraine. In the time since, over 22,000 civilians have been killed, millions of citizens are displaced, and the United States has sent Ukraine over $77 billion in aid.
But even in the midst of a war with an unclear end, the wheels are turning in Arizona, where multiple economic and defense coalitions are deep in the process of figuring out how Arizona fits into a new, independent Ukraine.
Just a few weeks ago, Tucson's Air National Guard Base began training a number of Ukrainian pilots to fly F-16s, something made possible by both the 162nd Wing's prestige, and the connections of Robert Medler, President of the Southern Arizona Defense Alliance.
As a past president of the 162nd Air Guardians, a civilian support group for the wing, Medler said he knew all about the 162nd's prestige in international training as he went into a meeting with Ukraine's Deputy Defense Minister over the summer.
"I told him there was only one place in the world they wanted to train…And he got a smile on his face. So it wasn't the first time he had heard Tucson and the 1/62 wing," he said.
Official plans were set in motion after that meeting, and after a few months of English language instruction, the Ukrainian pilots are now in the midst of a rigorous program that hopes to strengthen the country's military capabilities.
As a representative of the major defense stations in Southern Arizona, including Davis-Monthan Air Force Base and Fort Huachuca, Medler also sits on the Board of the Arizona Defense and Industry Coalition. Formed as a legacy of the late Arizona Senator John McCain, the AZDIC acts as a liaison between Arizona's military stations, the private sector, and the rest of the world.
"A big part of what AZDIC does is connect basically what is needed in Ukraine with what potentially could be supplied out of Arizona," said President and CEO Lynndy Smith.
Arizona officials, including Smith and Medler, spent three days in Kiev, Ukraine in June, a trip that Smith recounted as both inspiring and harrowing. The crew encountered four air raids over the course of three days, including one in the middle of a board meeting.
"Within 10 minutes of our first meeting, there was an air raid, all the alarms went off and we had to secure ourselves within a bunker during our meeting and just continue it while it was going on," Smith said.
But Smith said she saw an inspiring level of unity in a country wracked by nearly two years of war.
"When I would compliment the Ukrainians on how contagious their patriotism was, their answer was almost kind of, I don't want to say insulted, but it kind of along those lines, because they're like, We don't have another option, right? We have to live this way," Smith said.
That trip to Ukraine became a launching point for many other conversations between Arizona and the country at war.
In September in Washington DC, AZDIC and Ukraine signed a formal agreement to establish these business partnerships in the presence of Ukrainian President Volodymyr Zelenskyy.
"Now that we have those formal agreements, we've already been working with companies start talking about how we actually implement their solutions in Ukraine," Smith said.
The coalition also presented Ukraine with a large document filled with business proposals from Arizona companies and the University of Arizona.
Brian Adair, the Executive Director of Industry Engagement for the UofA says the University is especially interested in partnering with Ukraine on multiple projects that could help restore the country's healthcare system.
"Implementing telehealth, so you can have doctors in different locations, like what we do in rural Arizona and translate that to Ukraine, treating trauma, treating long COVID, they have soldiers that need help with PTSD," Adiar said.
At a Nov. 16 meeting with Ukrainian officials at the University of Arizona, business leaders said there are many other opportunities for Arizona to help the country build an independent future after what they hope is a victory over Russia.
Many of the plans are still in the development phase, but Smith says what sets Arizona apart from other partnerships is commitment.
"There's a certain lack of follow through in some instances that I think they're really feeling. And so that was something that we were very adamant about," Smith said. "We are fulfilling that promise of a continued partnership… and hope that it'll last you know, not just in the coming months, but for years to come well after the success in the current war"