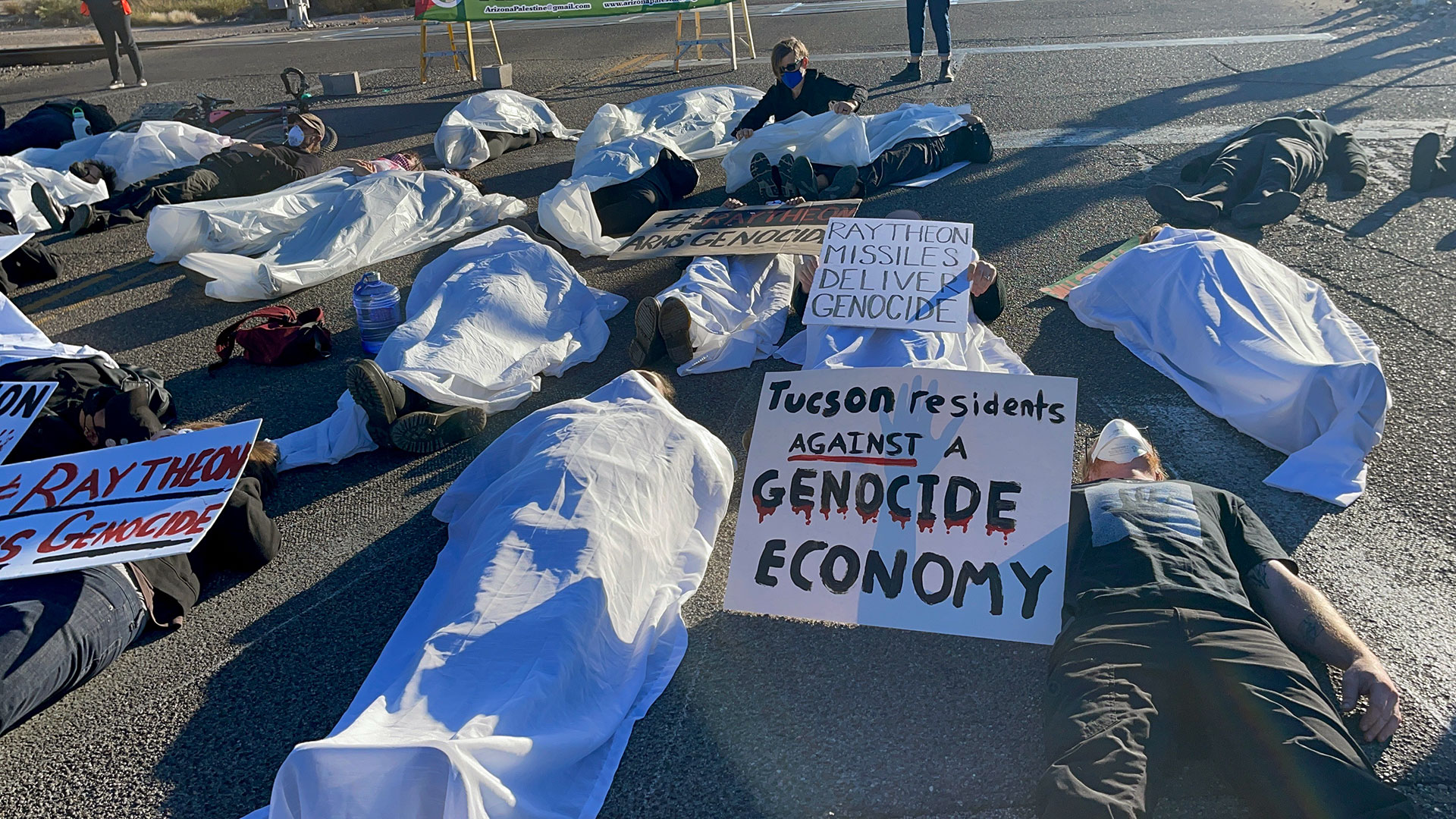 Demonstrators lie on the asphalt to "bring death to Raytheon's doorstep" in a protest of the company's (now RTX) weapons sales to Israel.
Hannah Cree
The Tucson Coalition for Palestine held a protest that blocked the entrance to weapons manufacturer RTX Corporation, formerly Raytheon Technologies, on Thursday.
Dozens of protesters lay down on the asphalt as part of a demonstration called a "die-in." Demonstrators brought small children, drums, and instruments, and signs that read "Raytheon Missiles Deliver Genocide" and "Stop Arming Israel." Some covered their bodies in white sheets.
"A die-in involves a bunch of different folks coming together and symbolically bringing the death and destruction that Raytheon has rained upon in Gaza to its doorstep," an organizer who preferred to remain anonymous said. "Most weapons companies do not see the death and destruction that they cause, so we want to make sure that we bring that to them where they can see it.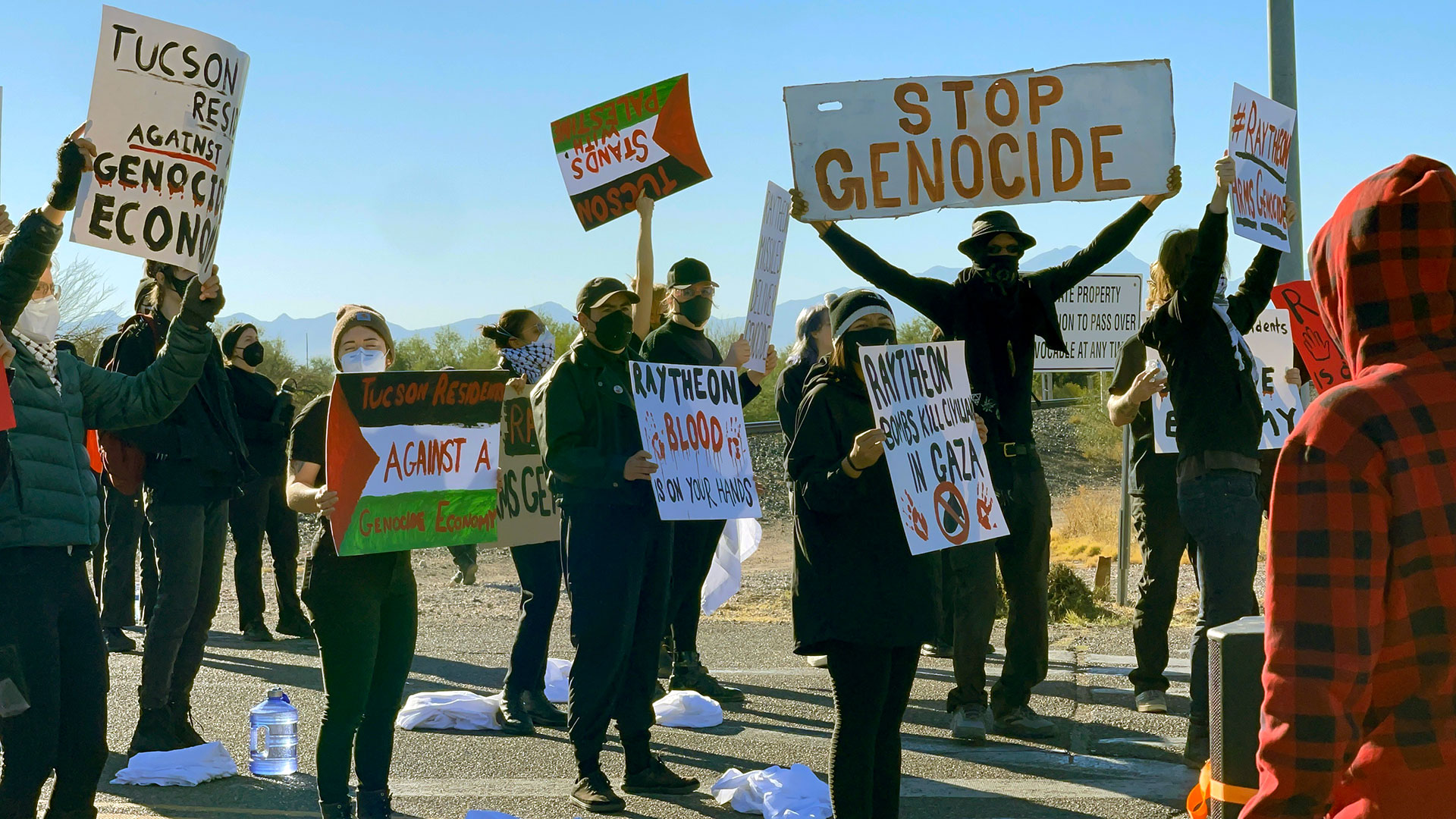 Protestors display signs reading "Tucson Residents Against Genocide Economy" and "Raytheon Bombs Kill Civilians in Gaza," at a protest at RTX Corporation in Tucson, Ariz., on Thursday, Nov. 2, 2023.

Hannah Cree
The road was blocked for more than an hour during the company's morning commute, but the demonstration remained peaceful.

RTX, a military contractor, is one of the world's top manufacturers of missiles, and has helped develop and supply Israel's Iron Dome defense system since 2014.
Since last month's initial attack by Hamas, shares of weapon's manufacturers like RTX have seen billions of dollars in market growth.
"We're here joining the calls for an immediate ceasefire," the organizer said. "We're also calling for Raytheon to take accountability, to stop sending missiles and removing contracts with Israel and the U.S Department of Defense."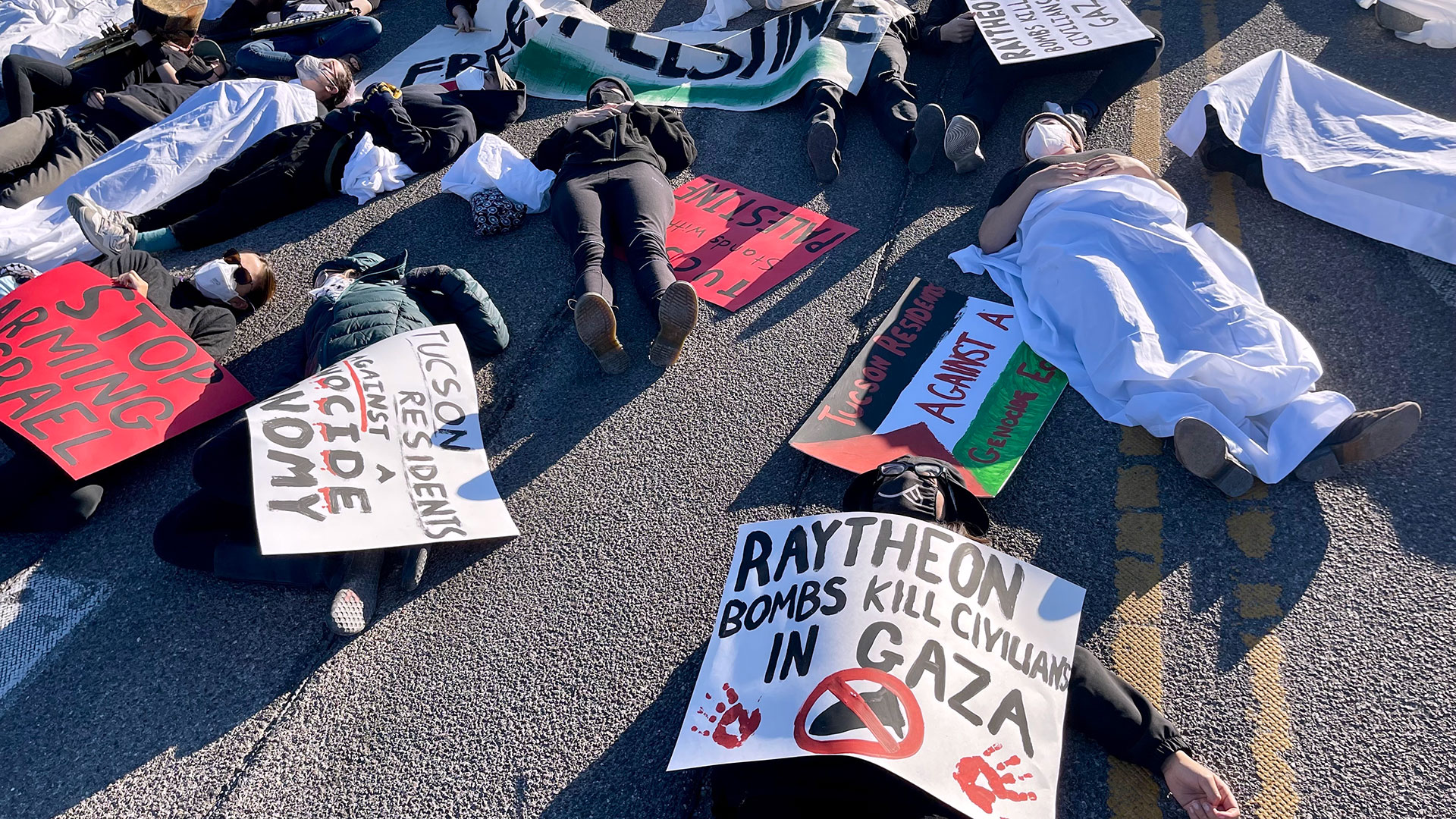 Protestors participate in a "die-in" on the road to RTX Corporation, formerly Raytheon Technologies in Tucson, Ariz. on Thursday, Nov. 2, 2023.

Hannah Cree
On a recent earnings call, RTX's CEO Greg Hayes said the company could stand to benefit from a budget increase in 2024 from the Department of Defense to fund more weapons for Israel.
1,400 Israelis and 9,000 Palestinians are reported to have died since Hamas' initial October 7th attack, according to the Associated Press.