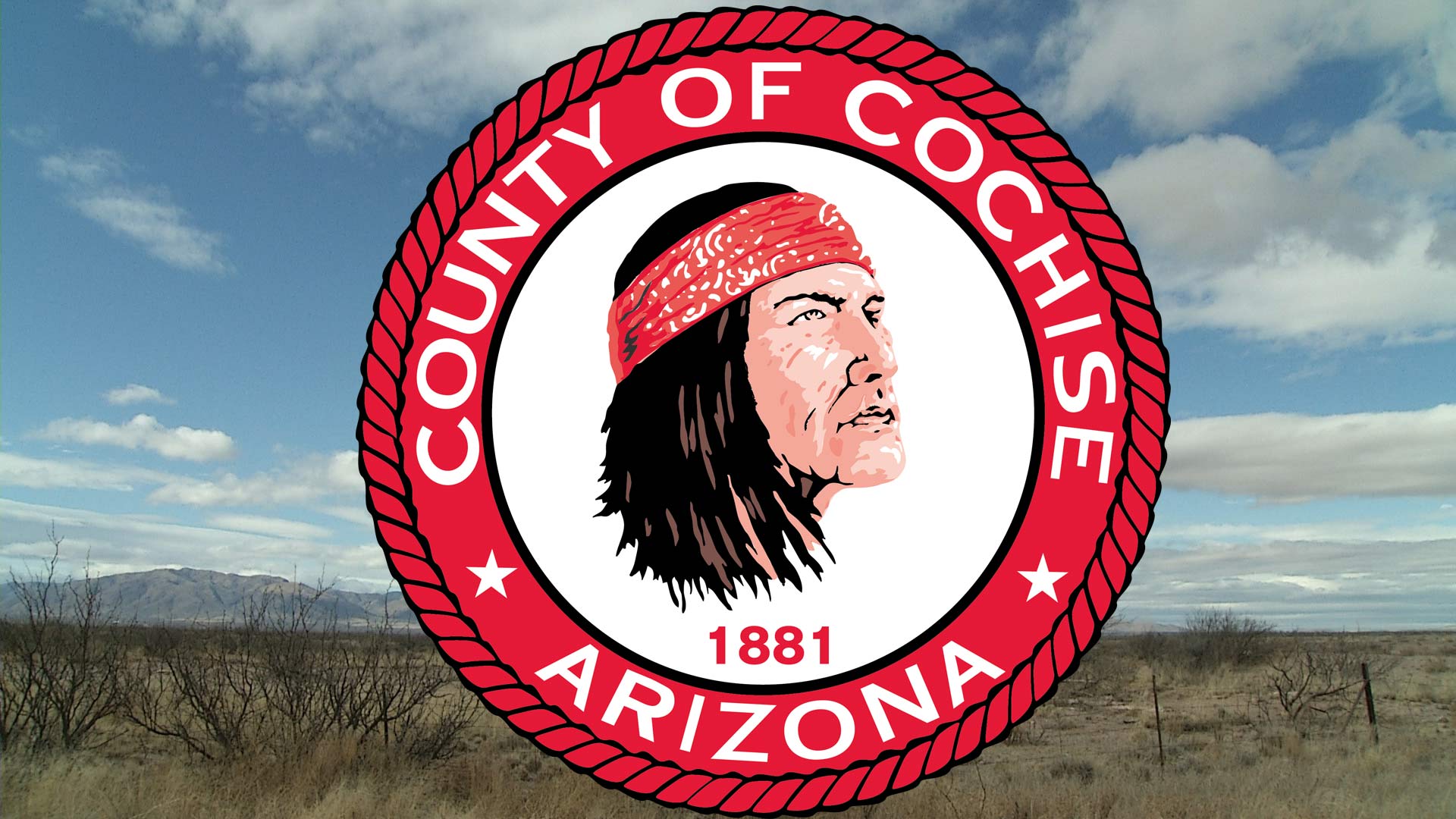 The seal of Cochise County.
The Cochise County Board of Supervisors voted on Friday evening to delay certifying the election results until Nov. 28, which is the last day to certify election results in Arizona.
After a two and a half-hour meeting with more than 30 speakers from the public, Republican Supervisors Tom Crosby and Peggy Judd said that they wanted to seek extra assurance from the Arizona Secretary of State's Office that the county voting machines have been certified for accuracy — thus proposing to postpone certifying the results until the last possible day to quell claims of fraud that have permeated meeting discussions this past week.
Democratic Supervisor Ann English voted against tabling the issue.
Election Services Director Kori Lorick said in the meeting on Friday that the voting machines have been tested and certified for accuracy.
"The equipment used in Cochise County is properly certified under both federal and state laws and requirements," said Lorick. "The claims that the SLI testing labs were not properly accredited are false."
She added that the claims of voting machine inaccuracy and fraud made by Daniel Wood, Brian Steiner, and Paul Rice were repetitive, as they were also the same arguments the trio brought to the Arizona Supreme Court; Lorick said that the court rejected their arguments. She said that an administrative error is what resulted in the SLI lab not receiving an updated certificate.
"This does not mean that the lab is out of compliance, nor does it mean that they had lost accreditation," said Lorick.
However, some citizens of Cochise County — along with some who traveled from Maricopa County to Bisbee to attend in person — were not convinced and were persistent in their allegations of fraud and inaccuracy.
"The issue at hand and the primary sticking point is the possible illegality of using the existing machinery in our election counts," said Radford Hyde, a Sierra Vista resident who spoke during the call to the public.
A common practice of those wishing to make a public comment opposed to certifying the election was to schedule a time to speak, and then, bow out and donate their time to the next speaker to expand the minimum 3-minute public comment to 6, 9, 12, 15 and one even 18-minute filibuster-like speech.
A candidate who ran in the 2022 election also vocalized that he was opposed to certification of the 2022 midterm results. Republican Henry "Steve" Conroy, who ran for mayor of Sierra Vista and who is trailing front-runner democratic candidate Clea McCaa by 1,490 votes, said that he is against certification, claiming that the machines haven't been properly certified, and said he is in favor of a hand-count.
Conroy publicly and formally conceded the mayoral race to McCaa on November 9.
Not all the members of the public were opposed, as some citizens spoke in support of certifying the results.
Former Sierra Vista City Council member Sarah Pacheco said that she has full confidence in the voting machines and election process in the county. She added that in 2014, she worked as a staffer on a congressional campaign in Cochise County, where she witnessed the proceedings of an automatic recount due to a close race.
"During the recount, I had the opportunity as a paid staff member to observe the process that took place in both the recorder's office and the election's office for three weeks that recount was conducted," said Pacheco, who resigned from city council in 2021 due to a change of residence outside of the city. "During that election, we had an abnormally large number of provisional ballots, because we weren't using vote centers. After the election, we learned a lot of lessons, we changed a lot of how we did elections. And one of those things was we went to vote centers, we changed our machines … I've been very, very confident and my confidence in our elections has been increasing and increasing ever since that time."
Members from both political parties in Cochise County completed their routine random sample hand-count audit on Nov. 12 of 1,802 ballots of the more than 47,000 total ballots cast with the results coming out to a 100% match according to the county.
The board concluded by asking Lorick to provide additional information attesting to the voting machines' accuracy and reliability.
But until 10-days from now, results will remain uncertified and unofficial, until the Nov. 28 meeting at 10 am.