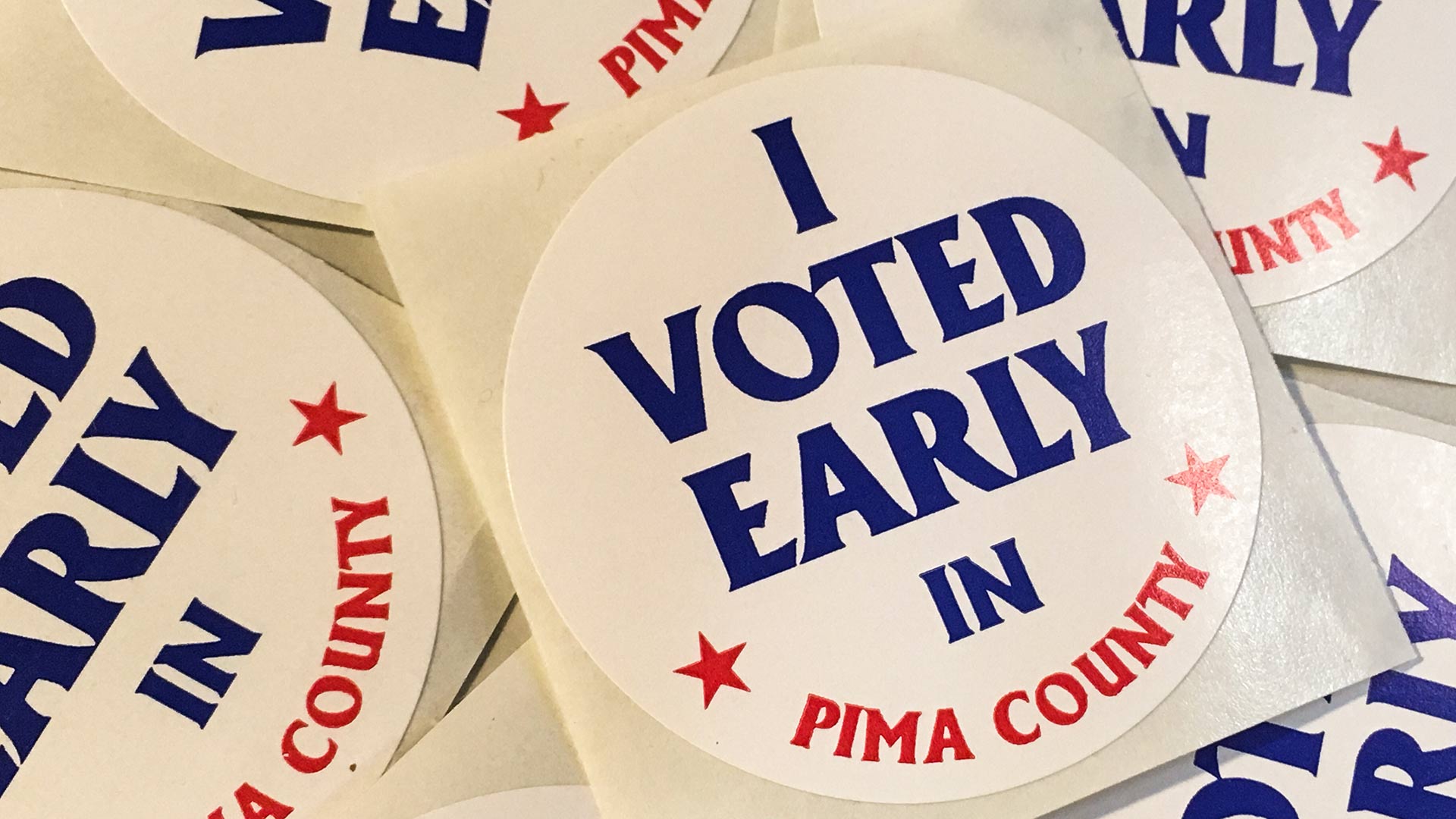 Early-ballot stickers for voters in Pima County.
AZPM
It may be 18 months away, but political parties are already gearing up for the 2020 election. In Arizona, a U.S. Senate seat will again be up for grabs, and the state could finally be a major player in presidential politics.
This week The Buzz got a preview of the 2020 election by talking with the state party heads and an Arizona pollster.
Mike Noble is the chief pollster with Phoenix-based OH Predictive Insights. His polls closely tracked last fall's U.S. Senate race between Democrat Kyrsten Sinema and Republican Martha McSally. Now that both have become U.S. senators, he's closely watching the 2020 contest between McSally and Democrat Mark Kelly. Noble told The Buzz early polling shows that race will be extremely close — but at least 10 percent of those polled are currently undecided.
---
In January, Arizona Republicans elected Kelli Ward to lead the party. She ran twice for U.S. Senate, losing to John McCain and Martha McSally. The Buzz talked with Ward about her priorities as the new head of the Arizona Republican Party, her approach to rallying support for Republican candidates in 2020, and lessons learned from the 2018 midterms.
---
Felecia Rotellini ran twice for Arizona attorney general, losing to her Republican challengers in 2010 and 2014. After Democrats scored significant wins in state and federal races last November, the party voted to keep Rotellini as its chair for another two years. The leader of the Arizona Democratic Party talked with The Buzz about her party's campaign strategy in 2020, and explained why efforts to coordinate her party's ground game in Arizona are already underway.

The Buzz
airs Fridays at 8:30 a.m. and 6 p.m. and Saturdays at 3:30 p.m. on NPR 89.1. You can subscribe to our podcast on
iTunes
and NPR One. See more from
The Buzz
.