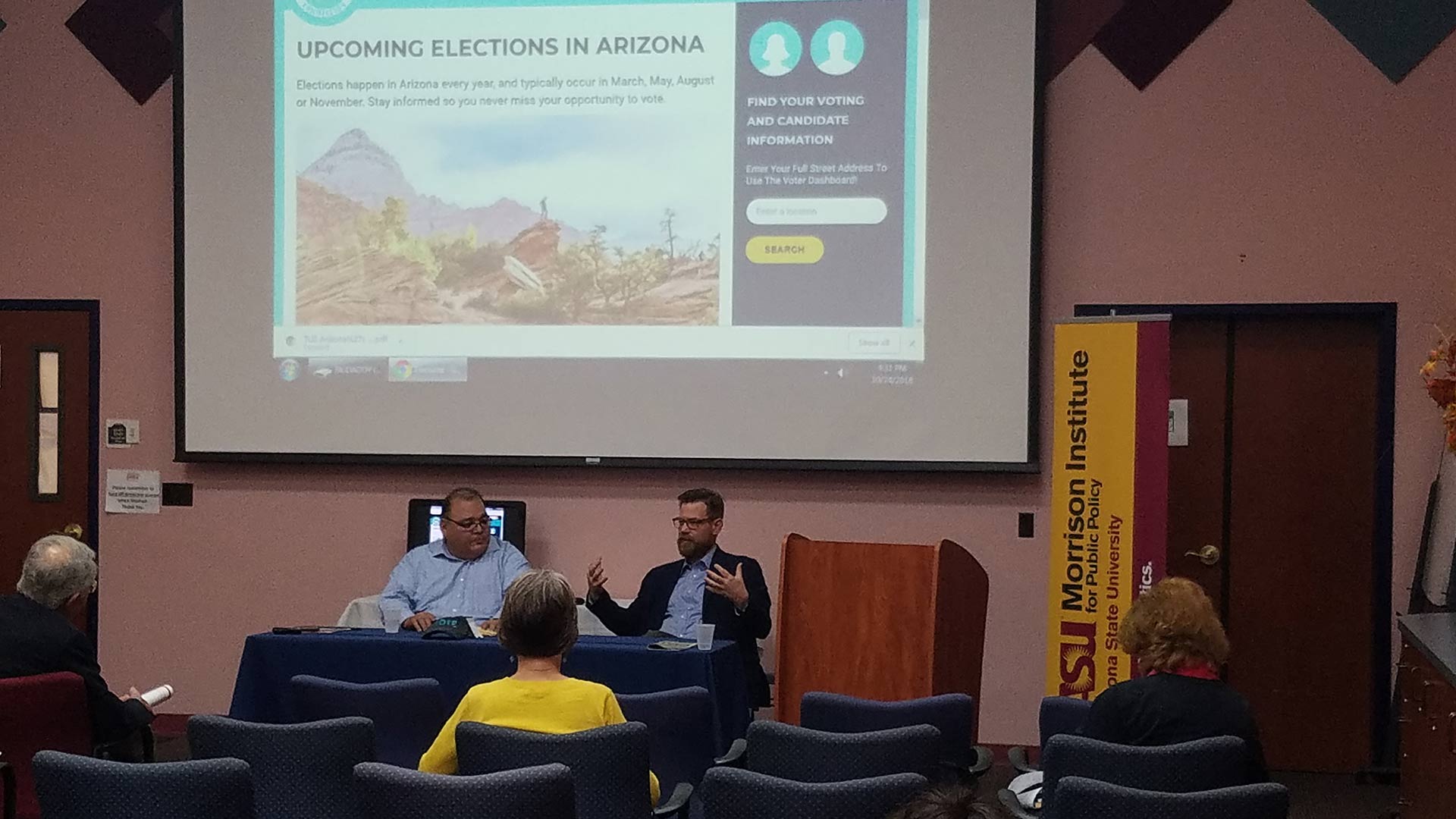 Joseph Garcia of the Morrison Institute, left, and Tom Collins, executive director of the Arizona Citizens Clean Elections Commission
Candace Manriquez Wrenn, AZPM
Representatives from the Arizona Citizens Clean Elections Commission and Arizona State University's Morrison Institute have studied the state's lack of voter turnout.
According to the Institutes's Crisis Report, Arizona ranks 43rd in voter turnout. Joseph Garcia of the Institute cited barriers such as the lack of same day registration on election day and a slow move to digital voting options. He also lays some blame at the feet of non-voters.
"Young people don't vote poor people don't vote and people with limited educational attainment thing and maybe they didn't finish high school or go to college they don't vote," he says.
As a result, he says, we have an electorate that is not representative of the greater population.
"Voters are richer, whiter and older than the Arizona population as a whole. The people that we elect and the people who are voting for who gets elected does not represent the population as a whole," he says.
Garcia says that means other communities are not being served.
Tom Collins, the executive director of the Arizona Citizens Clean Elections Commission says the presidential election is determined early, and by very few voters.
"The Democratic and Republican parties have maintained Iowa, New Hampshire and South Carolina are going to be the first three states to vote in the primaries. Those three states don't represent anybody."
And for those who think the word "crisis" is hyperbolic, Garcia says almost half the eligible population is not voting.

Read more coverage of national, Arizona, and local elections at our 2018 elections portal,
Your Vote 2018
.