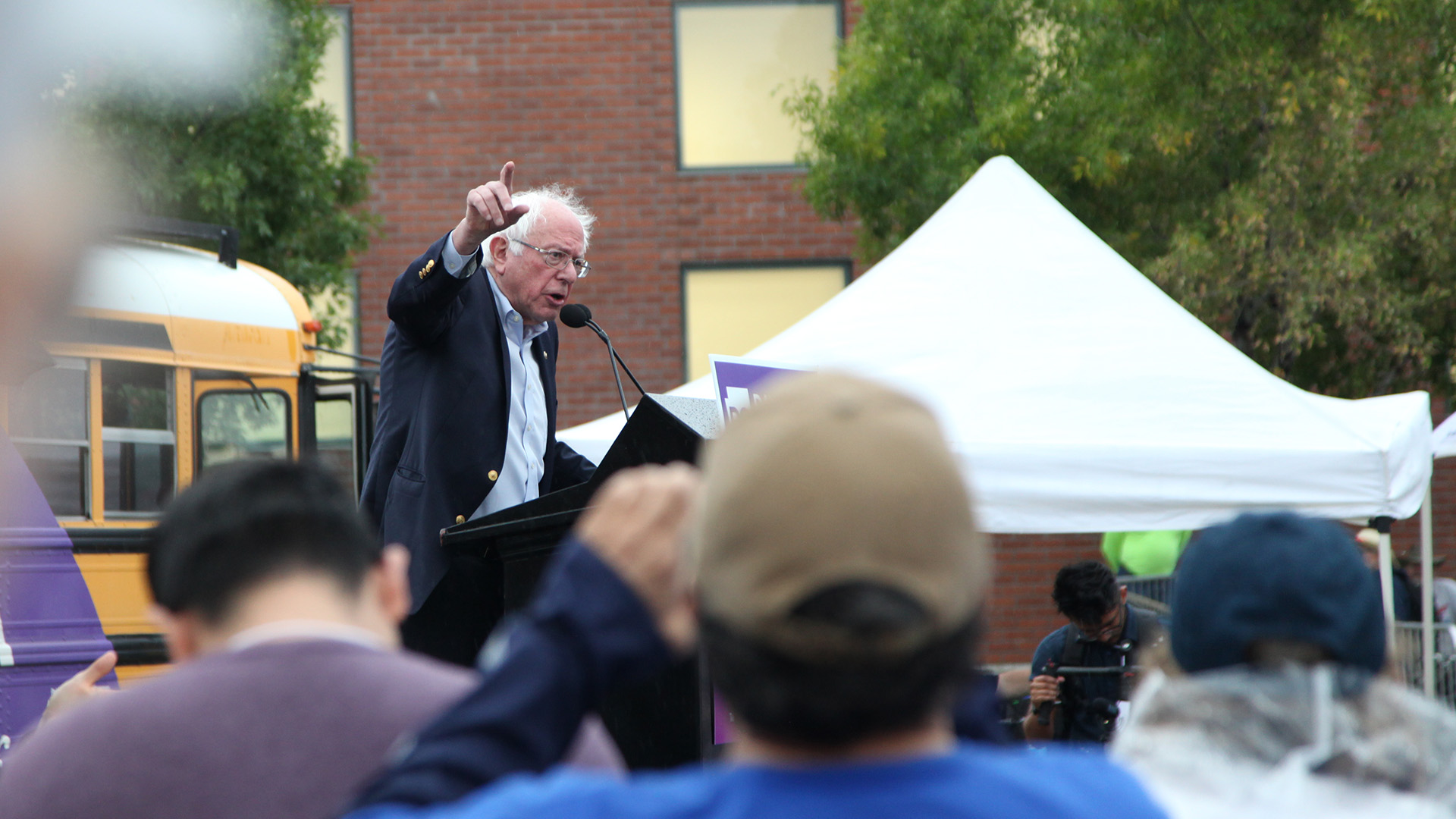 U.S. Sen. Bernie Sanders rallies people on the University of Arizona campus as he campaigns for Democratic candidate for governor, David Garcia, Oct. 23, 2018.
Sabrina Colonna, AZPM
In the latest in a series of high-profile stumping events, U.S. Senator Bernie Sanders visited the University of Arizona on Tuesday to campaign for the Democratic candidate for governor, David Garcia.
In his speech, Garcia touted his public school education, military service and experience as a university professor. He emphasized the importance of investing in teachers, improving Arizona's ranking in education nationwide, and, echoing a main campaign point of Bernie Sanders, to make education affordable for all.
"For those of you like me who took advantage of the GI bill, you know that to get an education, your country bet on you. They bet on me. And now I'm ready to bet on Arizona. All the young people, ready to change their lives, ready to work hard because those bets pay off," Garcia said.
Sanders followed Garcia with a brief speech, criticizing President Donald Trump on healthcare, climate change, and family separation at the border, as well as his divisive rhetoric.
"Our message to this president is we are not going to accept dividing people up by the color of their skin, where they came from, what their religion is, what their sexual orientation is, what their gender is," Sanders said. "This country has suffered from discrimination for too long. And we tell this president we are not going back to the bad old days, we are going forward together."
U.S. Senator Nina Turner of Ohio and Arizona U.S. Representative Raul Grijalva also spoke on behalf of Garcia.
Around 500 people withstood intermittent rain and thunder for the event. High school student William Aaronson echoed the sentiments of many young people in the crowd.
"I'm here because Bernie Sanders is here, and I really like Bernie Sanders and think he's a wonderful person. He stands for what I stand for and represents the working class. He's a good role model," Aaronson said.
While this event, and one later in the day at ASU, were clearly targeted at young voters, they didn't dominate the crowd. Mary Stuewe and Noreen Tirrell had criticism for Arizona's incumbent governor Doug Ducey.
"I'm afraid for this state, the way things it's been going, and the current governor," Steuwe said.
"Ducey, with the supreme court, and taking away the initiatives and dark money and his history with schools, it's all just very worrisome to me," Tirrell said.
President Trump held a rally in Mesa on Friday to campaign for Republican U.S. Senate candidate Martha McSally. Governor Doug Ducey welcomed the president at that event.