Customs and Border Protection displays the largest fentanyl seizure in agency history, at the Nogales Port of Entry, Jan. 31, 2019.
Nancy Montoya/AZPM
Southern Arizona has received a one year $200,000 federal grant aimed to come up with a plan to battle the opioid crisis in this rural county.
The grant is for rural communities to create an Opioid Response Program, in this case, a consortium of agencies that will work together. The Nogales Fire Department reports that between 2017 and 2018 there was a 56% increase in opioid overdose calls.

Fifteen community agencies have come together in Santa Cruz County to design a road map for dealing with treatment and prevention. The Mariposa Community Health Center will take the lead in organizing the groups. Patti Molina of the center says without a plan there would be chaos.
"It is a planning grant so the consortium made up of these 15 community partners will meet on a regular basis," Molina says.
She added that there will be a needs analysis, strategic plan, and workforce development plan in the program. Molina says that without a road map, every one of those agencies could be pulling in different directions.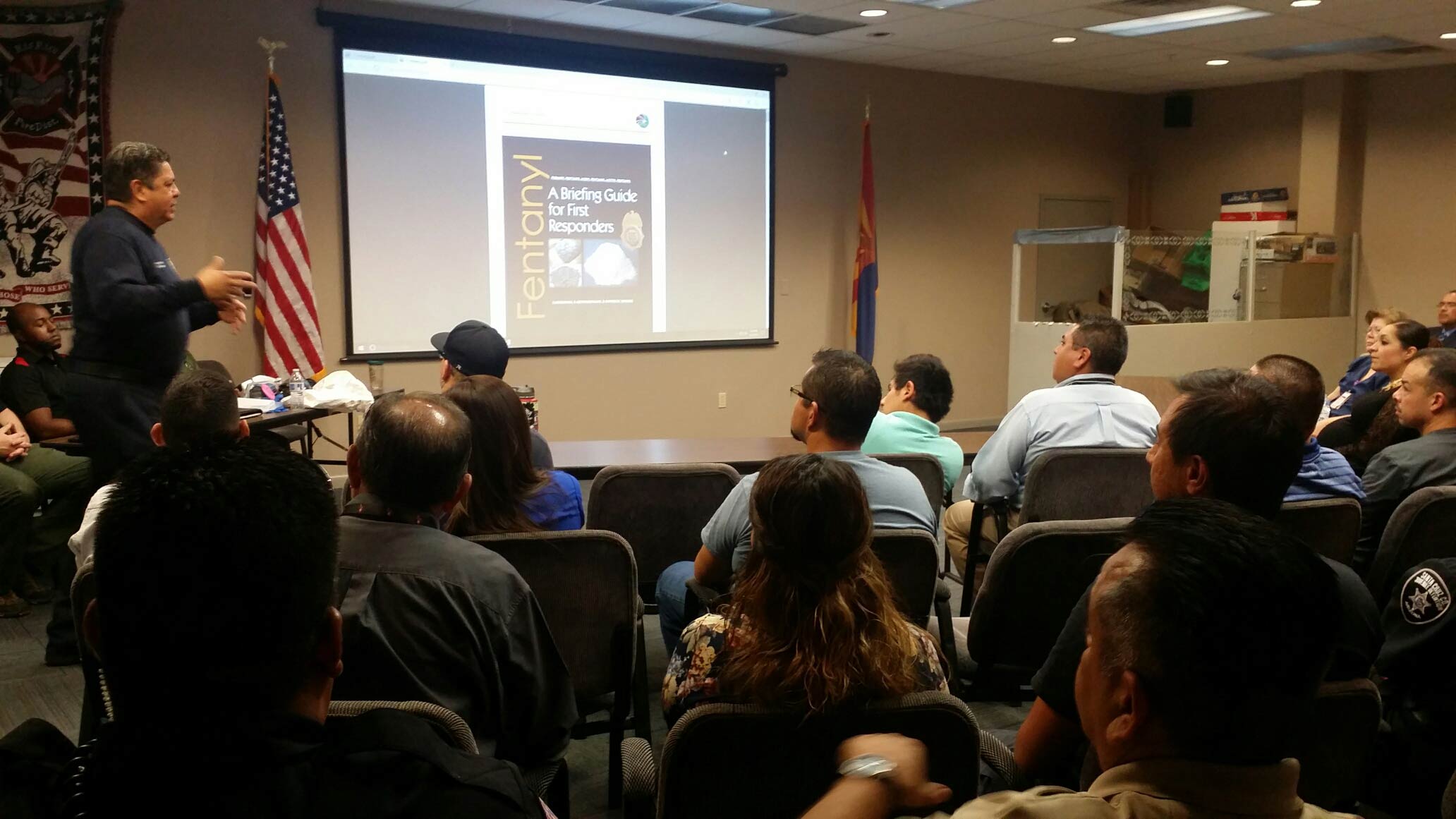 VIEW LARGER Frank Granados, with the Santa Cruz County Emergency Response Team, teaches a class for first responders on dealing with the the drug fentanyl.

Nancy Montoya, AZPM
Molina says for years Santa Cruz County has been seen as a pass-through area where illegal drugs crossed the border but then went on to other parts of the country. Molina says that's not the case anymore.
"With us living so close to the border, the U.S. Mexico border, we experience heavy illegal trafficking. A lot of emergency room opioid visits have increased within the past two years," she says.
Deaths from opioid overdoses have increased in Santa Cruz county by 33% since 2010. Molina says the federal grant is specifically for social service and medical providers in rural communities that must work together to maximize every resource.