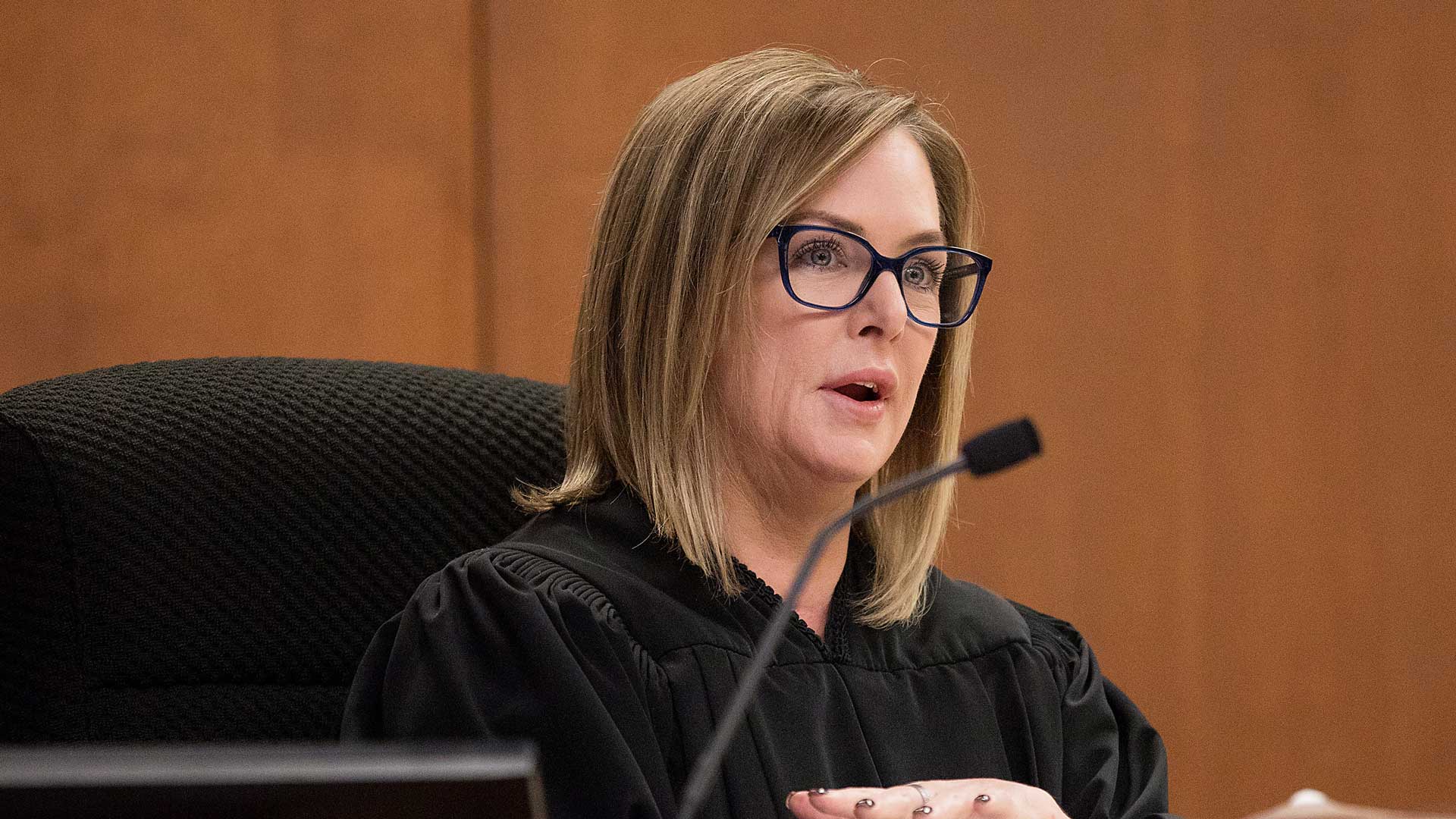 Judge Kellie Johnson listens to arguments over Arizona's abortion laws in Pima County Superior Court.
Pool photo/Mamta Popat, Arizona Daily Star
Lawyers for Attorney General Mark Brnovich asked a judge in Tucson on Friday to put an old ban on abortion back into force.
Pima County Superior Court blocked enforcement of the ban with an injunction in 1973 when the U.S. Supreme Court decided Roe v. Wade.
But after the Supreme Court overturned Roe v. Wade in June, Republican Attorney General Mark Brnovich filed a motion to end the injunction and put the ban back into force.
Abortions would be prohibited under the old law, except when necessary to save a pregnant person's life.
"This is the law and the court, as a court of law's job, is to apply the law and then all these policy arguments can go to the Legislature, which will of course convene in January," said Solicitor General Beau Roysden.
But Planned Parenthood attorney Sarah Mac Dougall says the old ban conflicts with half a century of other laws the Legislature has passed regulating abortion, such as a law signed this year that would ban abortions after 15 weeks of pregnancy.
"The AG wants this court to turn every principle of statutory interpretation on its head and grant him a undemocratic windfall by allowing the oldest statute on abortion in Arizona's books to resurrect and overtake all other legislative enactments on abortion," she said.
But Roysden noted that the new law expressly states that it does not repeal the older ban.
Most abortion providers in Arizona have already stopped providing abortion care amid the legal uncertainty surrounding the state's conflicting laws.
"There was immense confusion because our elected politicians in our state did not give us any clarity. In fact, they sort of sowed discord and didn't really give us any sense as to what would be legal," Dr. Jill Gibson, medical director of Planned Parenthood of Arizona, said after the hearing. "That really resulted in patients not having any understanding of what would be permissible in the state. So, we did see that patients really had to travel out of state in order to access care."
Judge Kellie Johnson, a former prosecutor appointed to the bench by Gov. Doug Ducey, said she would issue a decision after September 19.